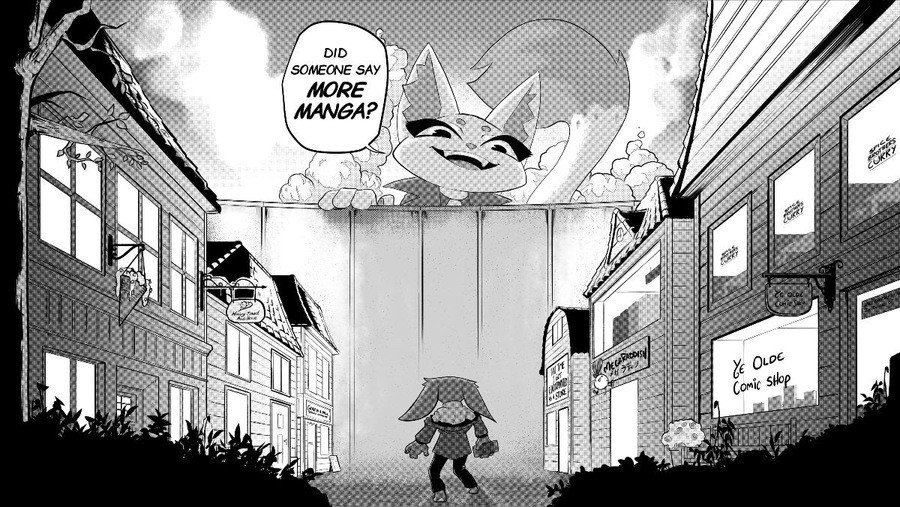 InkyPen is an "all-you-can-read" comic service on the Nintendo Switch, which offers both free-to-read comics and manga, and a whole bunch more if you subscribe monthly for $7.99 / $5.99.
Their latest update includes over 800 new manga books, including popular series like That Time I Got Reincarnated As A Slime and EDENS ZERO. The update also includes updates to some of the manga that already exist on the platform, like Attack on Titan, Your Lie In April, and Ajin: Demi-Human.
Brace yourself, the lists are really long.
New Manga Series:
Yozakura Quartet
Welcome to the Ballroom
Watari-kun's ****** Is about to Collapse
Tokyo Tarareba Girls
Tokyo Revengers
To The Abandoned Sacred Beasts
The Walls Between Us
The Quintessential Quintuplets
The Knight Cartoonist and Her Orc Editor
The Full-Time Wife Escapist
That Time I got Reincarnated as a Slime
Starving Anonymous
Smile Down the Runway
Say I Love You.
Real Girl
Princess Resurrection
Peach Heaven
Peach Girl
Our Precious Conversations
Our Fake Marriage
O Maidens In Your Savage Season
My Sweet Girl
My Boyfriend in Orange
My Boy in Blue
My Boss's Kitten
Missions of Love
Magical Sempai
Love Massage: Melting Beauty Treatment
Love in Focus
Kokkoku: Moment by Moment
Kiss Me At the Stroke of Midnight
Kiss Him, Not Me
Kira-kun Today
Kasane
Karate Heat
Kamikamikaeshi
Kakushigoto: My Dad's Secret Ambition
Kakafukaka
Interviews with Monster Girls
I'm Standing on a Million Lives
Hozuki's Coolheadedness
House of the Sun
Goodbye! I'm Being Reincarnated!
Golosseum
Gleipnir
Giant Killing
Elegant Yokai Apartment Life
EDENS ZERO
Domestic Girlfriend
Descending Stories
Defying Kurosaki-kun
DEATHTOPIA
Chihayafuru
Can You Just Die, My Darling?
Can I Kiss You Every Day?
Boarding School Juliet
Black Panther and Sweet 16
Beware the Kamiki Brothers!
Atsumori-kun's Bride-to-Be
Are You Lost?
Ao-chan Can't Study!
Alicia's Diet Quest
Again!!
A Springtime with Ninjas
A Silent Voice
A Kiss, For Real
Updated Manga:
Ace of the Diamond
Aho-Girl: A Clueless Girl
Air Gear
Ajin: Demi-Human
ALIVE
Aoba-kun's Confessions
Arisa
Atsumori-kun's Bride-to-Be
Attack on Titan
Attack on Titan: Before the Fall
Attack on Titan: Junior High
Ayanashi
Basilisk
Battle Angel Alita Mars Chronicle
Battle Angel Alita: Last Order Omnibus
Beauty Bunny
Beware the Kamiki Brothers!
Black Panther and Sweet
BLAME!
Bloody Monday
Cage of Eden
Cells at Work!
Chi's Sweet Home
Clockwork Planet
Complex Age
DAYS
Devils' Line
Drowning Love
Fairy Tail
Fairy Tail Blue Mistral
Fairy Tail Ice Trail
Fairy Tail S
Fire Force
Flying Witch
Fort of Apocalypse
Fuuka
Gakuen Prince
Ghost in the Shell Stand Alone Complex
Giant Killing
Happiness
Hotaru's Way
I Am Here!
I Want To Hold Aono-kun So Badly I Could Die
In/Spectre
Inuyashiki
Kitchen Princess Omnibus
Knights of Sidonia
Land of the Lustrous
Love and Lies
Love Hina Omnibus
Love in Focus
Love Massage: Melting Beauty Treatment
Maga-tsuki
Manga Dogs
Mardock Scramble
My Little Monster
My Wife is Wagatsumasan
Mysterious Girlfriend X
Negima!
Nekogahara
Parasyte
Pitch-Black Ten
Princess Jellyfish
Pumpkin Scissors
Real Girl
Sankarea
Sayonara Zetsubou-Sensei
Shojo Fight
Shugo Chara Chan!
Shugo Chara!
Space Brothers
Starving Anonymous
Sweetness and Lightning
That Time I got Reincarnated as a Slime
That Wolf-Boy Is Mine!
The Flowers of Evil
The Full-Time Wife Escapist
Tsuredure Children
Until Your Bones Rot
Wake Up, Sleeping Beauty
Yagyu Ninja Scrolls
Yamada-kun and the Seven Witches
Your Lie in April
Phew! That reading list should keep the manga fans among you busy until the Switch Pro is finally announced in 2052, huh?
Which series are you most excited to get stuck into? Let us know in the comments!
Nintendo Life | Latest Updates

Source link
Related Post: