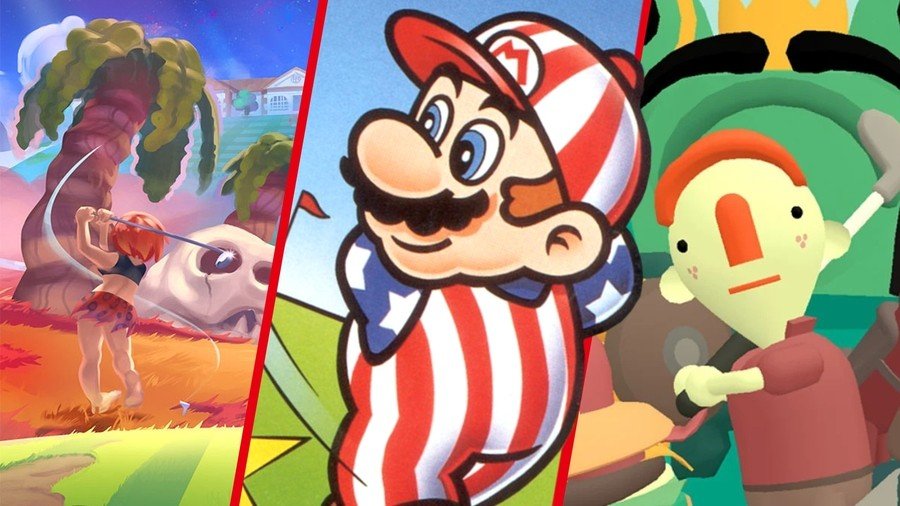 When it comes to golf, we're down for almost anything. Crazy golf, mini golf, putt-putt, or any other variant; we're always up for a round. We'll even play normal, proper, 'big' golf. After all, nothing beats walloping a tiny ball around the countryside in loud trousers.
We're also partial to video game versions of the sport and Nintendo consoles have a rich history of great golf games, many of which have featured a certain mustachioed mascot. Mario and his Mushroom Kingdom pals have recently brought their clubs and caddies to Switch, but even without the plumber and his crew, the console has built up a bagful of quality golf games since launch.
With that in mind, we've collected together our picks of the best golf games on Switch (or, more accurately, the best golf-inspired games on Switch). They run the gamut from crazy to contemplative… actually, they tend to congregate on the 'crazy' end of the scale, but PGA Tour 2K21 now provides some more sensible simulation if you prefer more decorum and less fireworks on the fairway.
Regardless, you're sure to have a good time with the games below whether you're a scratch player or you hack your way from bunker to bunker like us.
So, without further ado, let's check out the best golf games on Switch. Fore!
---
Not a bad collection if you like to whack little digital balls around, hmm? Until the two-ball pair of Mario Golf for N64 and Mario Golf for GBC arrive on Switch, these will do nicely. Let us know below which of these you think are up to scratch or if you think there are other Switch golf games worthy of this list.
This article is one of our Switch Essentials guides which cover a wide variety of genres, including the Best Switch FPS Games, the Best Switch RPGs, the Best Switch Games For Kids, the Best Switch Couch Co-Op Games and the Best Switch Fitness and Exercise Games. We can also help out hunting down the Best Switch Horror Games, the Best Switch Racing Games, the Best Switch Action-RPGs, the Best Nintendo Switch Roguelikes, Roguelites and Run-Based Games , the Best Free Switch Games, and even Games to Play After You've Finished Zelda: Breath of the Wild.
Whatever your favourite genre, we've got you covered: Strategy Games, Metroidvanias, Puzzle Games, Party Games, Online Multiplayer Games, Local Wireless Multiplayer Games, Shmups, Visual Novels, Fighting Games, Hidden Gems, 2D Platformers, 3D Platformers, Run and Gun Games, Sports Games, Beat 'Em Ups, Chill Games, Family Games, Retro-Inspired Games, Short Games, Card Games and Deck-builders, Flight Sim and Space Combat, Point and Click Adventure Games, and the Best Switch Exclusives, as well as Every Arcade Archives Game, Every ACA Neo Geo Game, Every SEGA AGES Game On Switch., and the Best Switch Collections And Compilations.
If you're looking for the best Switch games regardless of genre, our reader-voted selection of the Best Nintendo Switch Games should help you out, and you can also find the Best Nintendo Switch Games of 2017, 2018, 2019, and 2020. And finally, if you're interested in other Nintendo consoles and retro games, check out the Best Game Boy Games, Best Nintendo DS Games, Best Nintendo 3DS Games, Best SNES Games, Best N64 Games, Best GameCube Games, and Best Wii Games, as well as Every Nintendo Switch Online NES Game and Every Nintendo Switch Online SNES Game.
Nintendo Life | Latest Updates

Source link
Related Post: