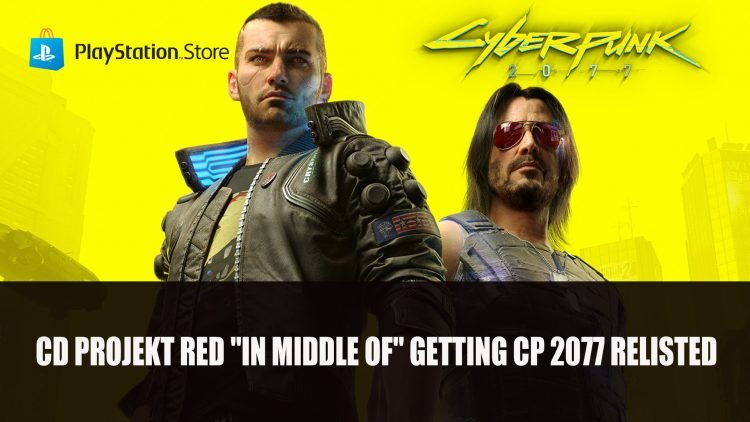 CD Projekt Red "in middle of" getting Cyberpunk 2077 relisted on the Playstation Store.
CD Projekt Red Are Currently In the Process of Relisting Cyberpunk 2077 on Playstation Store
According to CD Projekt Red's quarterly earnings call for Q1 2023, the developer shared a slight update for the current status of Cyberpunk 2077 getting reinstated on the Playstation Store. For a quick recap, Cyberpunk 2077 was taken down from the Playstation Store following feedback from those who had purchased the game and experienced problems since the launch. Sony decided to delist the game after a number of refund requests from fans.
The developer has been working on fixes for the game, and has shared through their earnings call that Cyberpunk 2077 is currently in the middle of the relisting process. When asked about what the conditions are for the game to return to the store they shared "couldn't go into the details" of exactly what the list of requirements were from Sony. CD Projekt Red will make an official announcement when the game is ready to be once again listed on the Playstation Store. You can catch the Q&A sessions roughly at the 35-minute mark in the earnings video:
Previously CD Projekt Red had planned to release further content after the release of Cyberpunk 2077, but vowed to focus on the issues at hand before moving onto the promised free DLC. The DLC which was expected to release in 2023 is not the main focus, as the studio plans to concentrate on the "most important fixes and updates first". As for when we'll be hearing more about the DLC, that will be in the upcoming months. The plan now for the DLC is for "the second half of the year". Cyberpunk 2077 since launch has receive a number of bug fixes and updates, hopefully translating to reinstating the game on the Playstation platform soon.
If you're curious to know what we thought of the game you can check out our Cyberpunk 2077 Review: The Final Verdict.
---
For more news find it here in Rumour: Bloodstained Ritual Of The Night Sequel Could Be In Development and Tales Of Arise Gets Mystic Artes Trailer. Want to know what's releasing this month? Check out our Top 5 Upcoming RPGs Of June 2023 (Dark Alliance, Scarlet Nexus And More!).
Fextralife

Source link
Related Post: