Dean Hall's Icarus will not be released in August as originally planned.
The space survival game Icarus, from the fella that brought you DayZ, will now be released in November.
According to Hall, the game needs a "little bit more time to bake to be the most awesome." An official statement from RocketWerkz, Hall's studio, says that the team is committed to providing the best experience for players at launch and that the team will be keeping a close eye on the development builds.
To make up for the delay, a series of beta weekends will be held through Steam starting August 28.
"[We] have decided that we want to give Icarus more love by delaying the game, and improving upon our beta process by spreading it across multiple weekends, with each having a specific focus," reads a statement from the studio.
"A plus side of this also means reducing Beta fatigue for our players. We acknowledge that this news may not be what you wanted to hear, but we are confident it will lead to the best possible Icarus launch."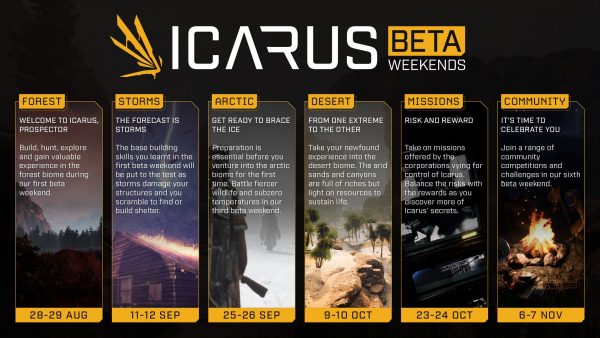 All pre-orders will gain access to beta weekends, the first of which will be held August 28-29. Forest, as it is called, will get players acquainted with base building, and learning to hunt. Torrential Storms will be disabled and the only biome available will be the forest.
September 11-12 will see Torrential Storms enabled in the forest biomes. The studio says to be sure to have your fire whacker and repair tool handy in case lightning strikes your base.
From September 25-26, the Arctic biome will be testable. Not only will you have to contend with the forbidding and demanding temperatures of the biome, but there will be Arctic animals around as well.
Beta testers will venture to the desert October 9-10. Here, you can expect desert animals and blizzards.
The October 23-24 beta weekend will focus on Factions and what it means to be a Prospector. Political lore will take precedence, as various factions and corporates have an interest in Icarus – and they need someone "expendable to run errands for them." Luckily, you will be rewarded for your trouble.
A final beta weekend will take place November 6-7 with more information to be shared in the future.
RocketWerkz will confirm exact start times closer to August 28.
Anyone who pre-orders the game before release will gain access to the beta, and pre-orders can be refunded at any time no matter how long you played the beta.
Announced in June 2023, Icarus is a session-based PvE game that tasks players with surviving on a strange and obscure alien planet. There is an emphasis on crafting, gathering resources, and surviving. It also features base-building mechanics, and while going about your business, you will need to keep an eye on your oxygen levels.
The game is playable with up to eight co-op others or can be played solo.