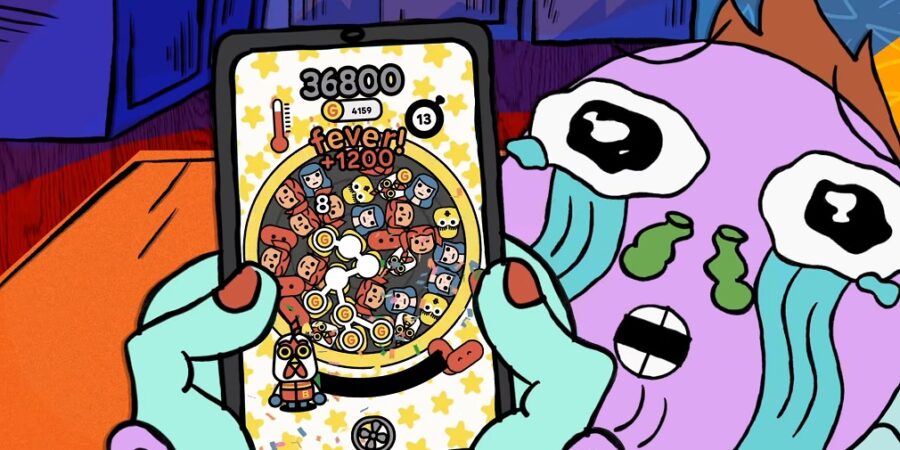 Devolver Digital is publishing a mobile game later this year that looks, uh, interesting.
It's called Devolver Tumble Time and appears to be a game that parodies mobile gaming with its aggressive monetisation strategies and brand integration. It features iconic characters from different Devolver Digital games such as Jacket from Hotline Miami.
Pick up your phone, it's Tumble Time!
Developer @nopopofun has crammed your favorite characters into a physics-based puzzle game with engaging monetization and strategic brand integration. Also, delicious ads!
Play for free later this year.https://t.co/ujtiENfleF pic.twitter.com/s45kVilPSp
— Devolver Digital (@devolverdigital) June 12, 2023
It also uses physics-based puzzle gameplay where you clear heads from a giant tumbler with the help of your character's special ability and power-ups to earn big points.
You can unlock new characters, compete in daily challenges, and buy new pieces of content for the game as well, with more characters from Devolver Digital games being added over time.
Keep in mind that Devolver Digital loves a good meme, having previously released Devolver Bootleg and Devolverland Expo in years' previous, and Tumble Time looks to be not only an ironic take on mobile gaming but should also feature some weird surprises later on.
It's being developed by nopopo, who has teased on Twitter that the game will be even weirder than we think.
funniest thing to me rn is ppl going "is tumble time a real game"
oh it is and it's even weirder than you think
— $ (@folmerkelly) June 12, 2023
You should be able to get Devolver Tumble Time later this year on the iOS App Store and the Google Play for Android store, where it is a free to play game presumably containing adverts and in-app purchases.
Looking for a new game to play? Read about some of our favourite mobile games that have been released so far this year.
Latest Articles | Pocket Gamer

Source link
Related Post: