Update (6/12): Amazon has opened pre-orders for Doki Doki Literature Club Plus here.
---
Original (6/11): The popular visual novel Doki Doki Literature Club is coming to Switch as a new "Plus" version, Serenity Forge and Team Salvato have announced. It will launch digitally on June 30.
Doki Doki Literature Club Plus will feature new content and features. Team Salvato is implementing six new side stories, thirteen additional music tracks and a music player, over 100 unlockable pictures for the picture gallery, higher resolution artwork with over twice the number of pixels, and more.
A physical version is also planned, which ships this summer. Pre-orders are open here. Copies include the physical game, poem notebook inner coversheet, 2" character standees, full soundtrack download code printed on a floppy shaped card, vinyl sticker sheet, membership card, and exclusive poem written by Monika.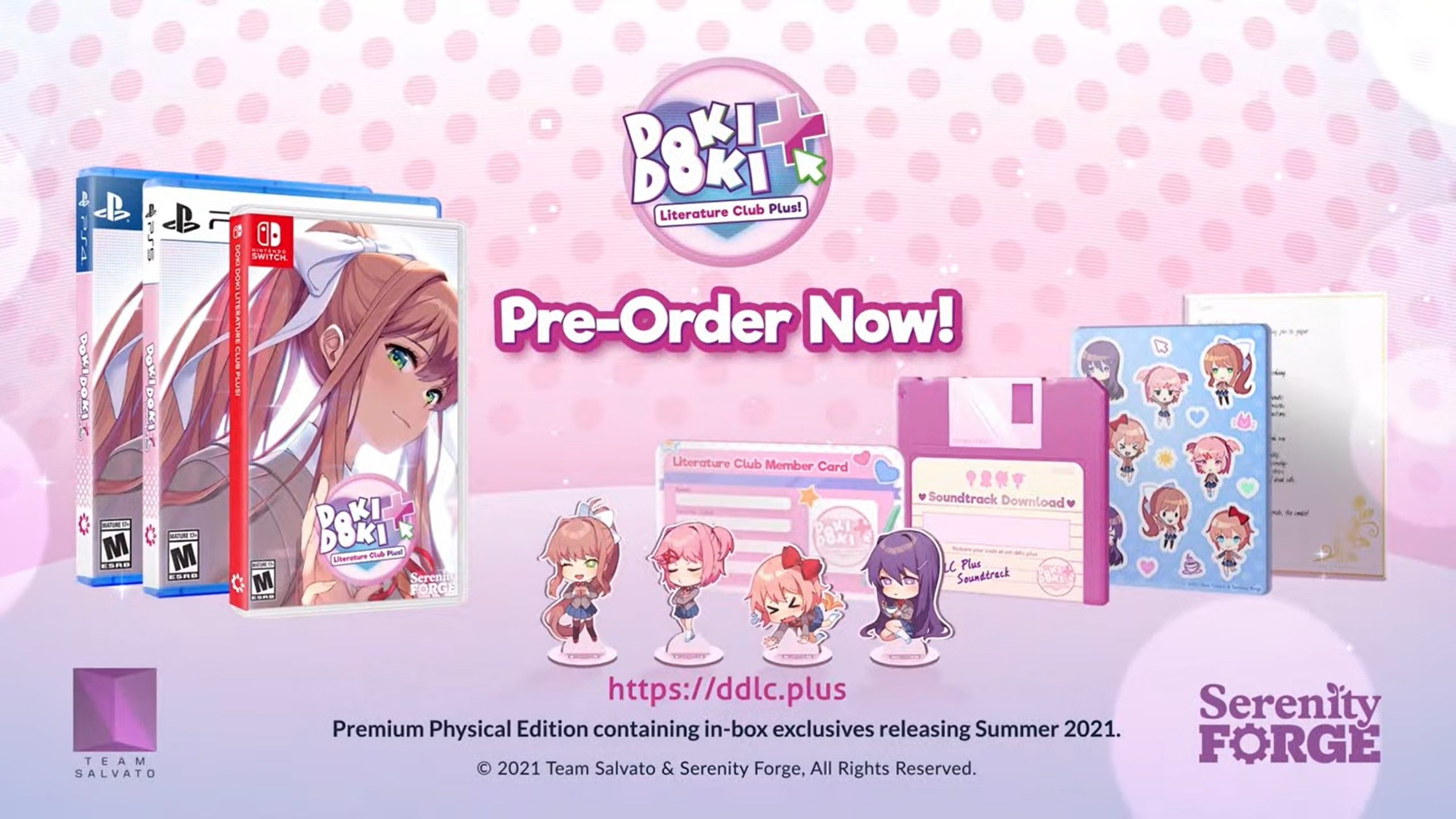 Here's an overview of the game, along with a trailer:
Hi, Monika here!
Welcome to the Literature Club! It's always been a dream of mine to make something special out of the things I love. Now that you're a club member, you can help me make that dream come true in this cute game!

Every day is full of chit-chat and fun activities with all of my adorable and unique club members:

Sayori, the youthful bundle of sunshine who values happiness the most;
Natsuki, the deceivingly cute girl who packs an assertive punch;
Yuri, the timid and mysterious one who finds comfort in the world of books;
…And, of course, Monika, the leader of the club! That's me!

I'm super excited for you to make friends with everyone and help the Literature Club become a more intimate place for all my members. But I can tell already that you're a sweetheart—will you promise to spend the most time with me?
---
Nintendo Everything is a participant in the Amazon affiliate program. The website may receive a partial commission through orders placed with the retailer.
Related
Nintendo Everything

Source link
Related Post: