Future has announced that the PC Gaming Show, now an E3 staple, will be taking place on Sunday, June 13 at 2:30pm PST / 5:30pm EST / 10.30pm BST.
The event will be broadcasting from Los Angeles during the E3 weekend and will boast 39 new trailers, game announcements, and interviews to audiences around the world.
"PC gaming retains its position as the world's most vibrant gaming platform," says PC Gamer Global Editor-in-Chief Evan Lahti. "The PC's library of weird, innovative, and genre-pushing games grows every week. The PC Gaming Show is about shining a bright light on as many of these new projects as we can."
Perhaps the most interesting thing about the show is the confirmed appearance of Valve. As per PG Gamer itself, Valve will be present at E3 2023 twith a "message regarding Steam."
Given that we don't typically hear from Valve at E3 events, this is curious. In the past few weeks, we've heard Gabe Newell offer vague hints about Steam coming to consoles and we've heard rumors that Valve is possibly working on a handheld Steam console called "SteamPal". Could we hear more about either of these rumors during the event? Only time will tell.
Expect things to get a bit… weird… during the show. "A special showcase of exciting games during E3, this year's 90-minute show will embrace an imaginative theme: outer space," says a press release.
"For the first time, PC Gaming Show hosts will 'beam' video content and interviews straight from the cosmos, in a custom spaceship built just for this year's E3."
Will this be as off-the-wall as your typical Devolver presser? It remains to be seen.
You will be able to watch the PC Gaming Show on Twitch and Youtube.
To keep up with anything and everything E3 related, be sure to bookmark our E3 2023 Schedule for full dates and start times.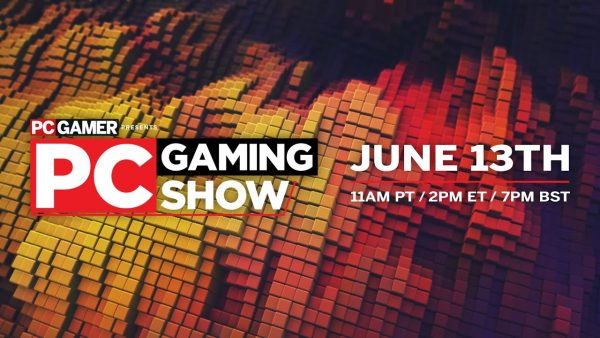 Below, you can see what announcements have been confirmed for the show so far:
The reveal of Project Warlock 2
New content from New Blood Interactive
Techland will be showing Dying Light 2 Stay Human and giving the first in-depth look at its main character Aiden and his internal motivation, alongside revealing more about the Dying Light 2 Stay Human universe
The first reveal of a new game from Kasedo Games & Bulwark Studios
Big news for the Orcs Must Die! franchise
New gameplay for Hello Neighbor 2, new modes revealed for Rawmen, and a world premiere of a new title from tinyBuild
A new announcement from Pixelated Milk
Exclusive content, along with beta and launch information for Naraka Bladepoint
A reveal of the next game from Shiro Games
SEGA and Amplitude Studios will have a major announcement and reveal for the highly anticipated strategy game, Humankind
Exclusive content from All In! Games and a significant announcement about Chernobylite
An announcement from EVE Online
A new Chivalry 2 announcement from Torn Banner Studios
NACON and Big Bad Wolf are showing a brand new trailer for Vampire: The Masquerade – Swansong
A new unannounced title from Modus Games
A special offer from GeForce NOW, NVIDIA's cloud gaming service
Other exciting unrevealed games
And a message from Valve regarding Steam