Bandai Namco have named their date and time for their E3 2023 appearance, as all eyes no doubt will watch intently for any sliver of Elden Ring news.
Elden Ring Publisher Bandai Namco E3 2023 Broadcast Date Announced; Will There Be Elden Ring?
Bandai Namco has announced their E3 2023 virtual stage date which is set for Tuesday 15th June at 2:25 PM PT. The publisher will hold a livestream which will cover current, upcoming games and updates. However there is one title which is eagerly awaited since 2019, Elden Ring has yet to reappear at E3.
One of the highly anticipated games due to the collaboration between the souls developer FromSoftware and Song of Fire and Ice/Games of Thrones author G.R.R. Martin behind the mythology. It first was revealed at E3 2019 during the Microsoft Press Conference and has only had one official trailer so far. But that of course hasn't stop the spark of great enthusiasm from souls and Game of Thrones fans alike. What really set off the bonfires this year were two particular moments, the release of some concept art for the game and the leaked trailer that showed glimpses of more of the game, possibly in the early stages of development.
There was also a provision age rating files in February this year, yet again sparking the debate of whether we'd be hearing something soon. But other than that there has been no official word from the publisher of the developer themselves. Bits and pieces of details have come from interviews but an update on the game itself is long overdue, as so far there is no release window.
If you want to check out more of the possible expected announcements and what we'll see during this busy gaming event season, be sure to check out our E3 2023 video:
This year's E3 of course is not like the previous ones, the fact that it's online and that the schedule did take some time to get finalised. Usually there is a schedule locked down much earlier, but down to the unusual non-physical side of the event this year, this could explain a slight slow down in hearing the final lineup. You can check out the schedule below which includes a number of major names including Ubisoft's Forward livestream, Square Enix, Xbox & Bethesda's joint Games Showcase, Capcom, Nintendo and more.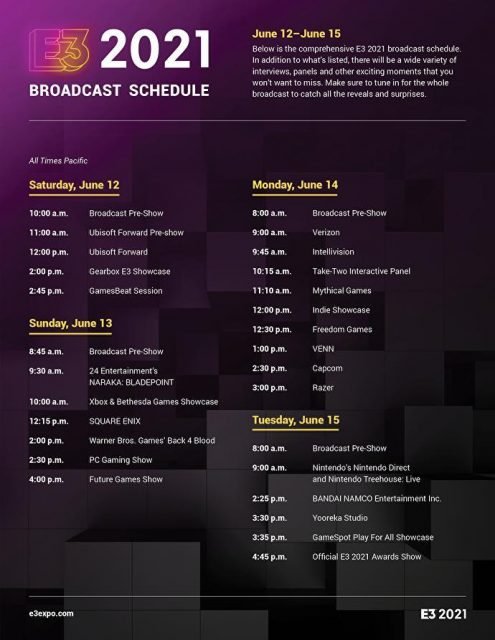 E3 2023 will run from June 12th to June 15th this year, with a number of broadcast happening over the few days plus kicking the season with Summer Game Fest. Don't forget to check out our official co-host stream on Twitch on June 10th at 11 AM PST for Summer Game Fest.
---
For more news be sure to check out next Genshin Impact Version 1.6 Update Is Now Available and Capcom Announces E3 2023 Showcase Featuring Monster Hunter Rise, Monster Hunter Stories 2 And More.
Fextralife

Source link
Related Post: