Zenimax covered a few things during the Bethesda broadcast this week for Elder Scrolls Online. This included the console enhanced edition which arrives this week, the fall release for Deadlands and what's coming in the future.
Elder Scrolls Online Deadlands DLC Revealed Releasing Fall 2023
During the Xbox & Bethesda Showcase this week the Elder Scrolls Online Console Enhanced was shown, previewing the update which will be coming to Playstation 5 and Xbox Series X|S on Tuesday, June 15th.
Elder Scrolls Online Console Enhanced
The Elder Scrolls Online Console Enhanced is a free upgrade for base-game for all ESO owners. The update will take advantage of Xbox Series X|S and Playstation 5 graphics capabilities, running at 4K or 60FPS. This includes a number of improvements including draw distance, textures, reflections, shadows, load times and more.
Elder Scrolls Online Deadlands DLC
Also announced was The Elder Scrolls Online Deadlands which will be releasing in fall 2023. This will conclude the year-long story for the Gates of Oblivion content. The zone DLC will be of similar size to previous DLC zones such as Markarth or Dragonhold. In Deadlands players will be able to explore the Prince of Destruction's realm of Oblivion. This will give players a chance to explore a Deadric realm for the first time in an explorable zone in-game.
In addition to the zone DLC, the name of the next dungeon DLC will be The Elder Scrolls Online: Waking Flame, this was also revealed with more details coming in the future.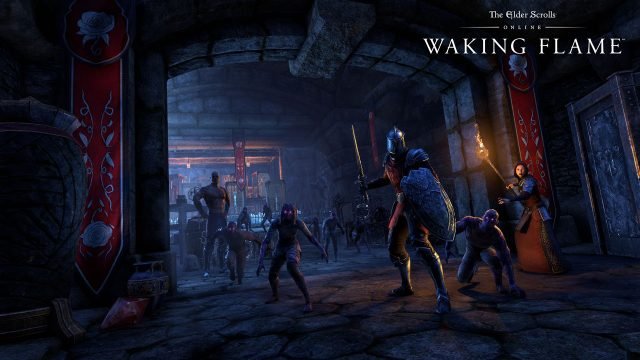 ESO Plus Free Trial
Celebrating reaching over 18 million players ESO Plus Free Trial will be available from Monday June 14th at 10AM EDT. You will be able to explore all of the game's DLCs including the recently added Greymoor zone and the Flames of Ambition dungeon DLC. ESO Plus also grants access to the Craft Bag, bonuses to XP and Gold gains and more. The Free Trial will run until June 21st. You can also play ESO on Xbox Game Pass which includes access to both the base game and Morrowind Chapter.
And last but not least: an ESO Plus free trial is coming soon! Starting tomorrow, June 14, you can access the Craft Bag, play all #ESO DLC, and more. pic.twitter.com/tEPakmcjZV

— The Elder Scrolls Online (@TESOnline) June 13, 2023
Recently the latest chapter Elder Scrolls Online: Blackwood released on PC and consoles. If you want to know what we thought of the latest expansion check out our The Elder Scrolls Online – Blackwood Chapter & Update 30 Review.
Elder Scrolls Online is available on PC, PS4, Xbox One, Xbox Series X, and PS5. The console enhanced version will launch on June 15th.
---
Want more Bethesda news? Be sure to check out next Starfield Release Date Announced; Xbox Console Exclusive And PC.
Fextralife

Source link
Related Post: