Fortnite Chapter 2 Season 7 has launched with a slightly different Battle Pass system. Instead of advancing through tiers and unlocking content linearly as you go, you'll now earn Battle Stars that you can spend to unlock content that appeals to you first.
If this sounds a bit too good to be true, you'll probably be unsurprised to learn that there are quite a few restrictions. Battle Pass content is divided into Pages, and you'll need to complete previous pages and/or level up before you can get to the higher ones which (for most people's money, I think) contain the best stuff.
You also still need to purchase a base item for a skin or tool before you can apply its variant styles.
How to earn Battle Stars in Fortnite Season 7
You will earn 5 Battle Stars every time you level up in Fortnite Season 7.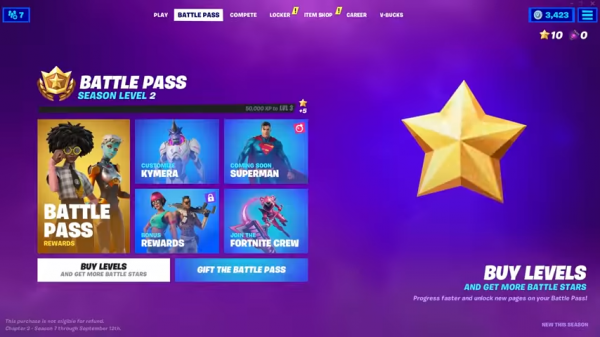 It seems quite likely there will be other ways to get hold of additional Battle Stars, but we don't know of any just yet.
How to unlock pages in Fortnite Season 7 Battle Pass
Upon purchasing the Battle Pass for the season, you will have access to Battle Pass Page 1 automatically.
To unlock the remaining pages, you need to either purchase enough items from previous pages or level up beyond a certain rank. Additional pages will unlock at the following points:
Page 2: Claim 5 rewards on Page 1 or reach Level 10.
Page 3: Claim 11 rewards on Pages 1-2 or reach Level 20.
Page 4: Claim 18 rewards on Pages 1-3 or reach Level 30.
Page 5: Claim 26 rewards on Pages 1-4 or reach Level 40.
Page 6: Claim 36 rewards on Pages 1-5 or reach Level 50.
Page 7: Claim 48 rewards on pages 1-6 or reach Level 60.
Page 8: Claim 61 rewards on pages 1-7 or reach Level 70.
Page 9: Claim 75 rewards on pages 1-8 or reach Level 80.
Page 10: Claim 90 rewards on pages 1-9 or reach Level 90.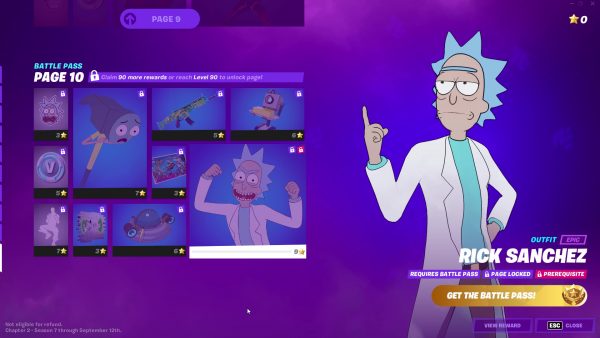 In addition to the main Battle Pass pages there are Bonus Rewards pages. You can only unlock these once you've claimed all 100 items from the main Battle Pass.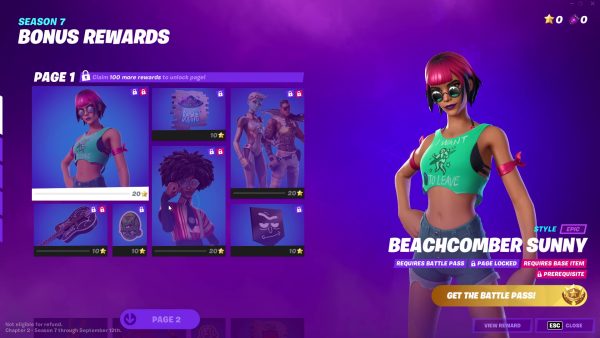 A second page of Bonus Rewards will become available once you've claimed 105 total rewards (i.e. all 100 from the main Battle Pass, plus five from the first page of Bonus Rewards). A further three pages of Bonus Rewards are currently locked and unavailable to view, presumably to be made available later in the season.
Finally, the season's DC Comics content unlocks through a unique set of Superman Pages separate from either the Battle Pass or Bonus Content. However, this content isn't due to launch properly until 65 days into the season — which, by our reckoning, is August 12th. Until then, you can browse the upcoming content, but can't claim anything.
How much do Fortnite Season 7's rewards cost in Battle Stars?
There are currently 114 items available in the Battle Pass and Bonus Rewards, with at least 31 more due to be added to Bonus Rewards and the special DC Comics pages over the course of the season.
Refer to the table below for the page and cost in Battle Stars of every reward item we know about so far:
| Item Name | Item Type | Page | Cost in Battle Stars |
| --- | --- | --- | --- |
| Kymera | Outfit (Legendary) | Battle Pass Page 1 | n/a (unlocked with Battle Pass purchase) |
| Banner Icon | Banner Icon (Uncommon) | Battle Pass Page 1 | 3 |
| Kymera Swarm | Loading Screen (Uncommon) | Battle Pass Page 1 | 3 |
| Mercurial | Spray (Uncommon) | Battle Pass Page 1 | 3 |
| Abduction! | Contrail (Rare) | Battle Pass Page 1 | 4 |
| 100 V-Bucks | Currency (Legendary) | Battle Pass Page 1 | 5 |
| Pulse Phase | Wrap (Rare) | Battle Pass Page 1 | 5 |
| Fishstick Janky | Back Bling (Epic) | Battle Pass Page 1 | 6 |
| Kymera's Plasma Pack | Back Bling (Legendary) | Battle Pass Page 1 | 6 |
| Lil' Saucer | Emote (Epic) | Battle Pass Page 1 | 7 |
| Alie-yum | Emoticon (Uncommon) | Battle Pass Page 2 | 3 |
| Banner Icon | Banner Icon (Uncommon) | Battle Pass Page 2 | 3 |
| Get Me Out Of Here | Loading Screen (Uncommon) | Battle Pass Page 2 | 3 |
| Visitors Welcome | Spray (Uncommon) | Battle Pass Page 2 | 3 |
| 100 V-Bucks | Currency (Legendary) | Battle Pass Page 2 | 5 |
| 100 V-Bucks | Currency (Legendary) | Battle Pass Page 2 | 5 |
| Oozey | Wrap (Rare) | Battle Pass Page 2 | 5 |
| Sunny's Song | Music (Rare) | Battle Pass Page 2 | 5 |
| The Fret Basher | Harvesting Tool (Epic) | Battle Pass Page 2 | 7 |
| Sunny | Outfit (Rare) | Battle Pass Page 2 | 9 |
| Banner Icon | Banner Icon (Uncommon) | Battle Pass Page 3 | 3 |
| Grand Finale | Loading Screen (Uncommon) | Battle Pass Page 3 | 3 |
| Cluttered | Contrail (Rare) | Battle Pass Page 3 | 4 |
| 100 V-Bucks | Currency (Legendary) | Battle Pass Page 3 | 5 |
| 100 V-Bucks | Currency (Legendary) | Battle Pass Page 3 | 5 |
| Laser Blaze | Wrap (Rare) | Battle Pass Page 3 | 5 |
| Patch Pack | Back Bling (Epic) | Battle Pass Page 3 | 6 |
| Sunny's Lander | Glider (Rare) | Battle Pass Page 3 | 6 |
| Ska-stra-terrestrial | Emote (Rare) | Battle Pass Page 3 | 7 |
| Voyager Sunny | Style (Epic) | Battle Pass Page 3 | 8 (+ requires Sunny base item) |
| Banner Icon | Banner Icon (Uncommon) | Battle Pass Page 4 | 3 |
| Fever Dream | Emoticon (Uncommon) | Battle Pass Page 4 | 3 |
| Guggi Vision | Loading Screen (Uncommon) | Battle Pass Page 4 | 3 |
| Guggi Was Here | Spray (Uncommon) | Battle Pass Page 4 | 3 |
| Axe 2 Grind | Music (Rare) | Battle Pass Page 4 | 5 |
| 100 V-Bucks | Currency (Legendary) | Battle Pass Page 4 | 5 |
| Chop Dropper | Glider (Epic) | Battle Pass Page 4 | 6 |
| Fashion Accident Janky | Back Bling (Epic) | Battle Pass Page 4 | 6 |
| Chop Chop | Harvesting Tool (Rare) | Battle Pass Page 4 | 7 |
| Guggimon | Outfit (Epic) | Battle Pass Page 4 | 9 |
| Banner Icon | Banner Icon (Uncommon) | Battle Pass Page 5 | 3 |
| Inside Out | Spray (Uncommon) | Battle Pass Page 5 | 3 |
| Mlem | Emoticon (Uncommon) | Battle Pass Page 5 | 3 |
| Spire Strike | Loading Screen (Uncommon) | Battle Pass Page 5 | 3 |
| Inversion | Contrail (Rare) | Battle Pass Page 5 | 4 |
| 100 V-Bucks | Currency (Legendary) | Battle Pass Page 5 | 5 |
| Zip Flip | Wrap (Rare) | Battle Pass Page 5 | 5 |
| Galactic Pack | Back Bling (Epic) | Battle Pass Page 5 | 6 |
| Kittanas | Harvesting Tool (Rare) | Battle Pass Page 5 | 7 |
| Joey | Outfit (Legendary) | Battle Pass Page 5 | 9 |
| Facets | Loading Screen (Uncommon) | Battle Pass Page 6 | 3 |
| Ink Wolf | Spray (Uncommon) | Battle Pass Page 6 | 3 |
| Sunburnt Galactic Pack | Style (Epic) | Battle Pass Page 6 | 4 (+ requires Galactic Pack base item) |
| Sunburnt Kittanas | Style (Rare) | Battle Pass Page 6 | 4 (+ requires Kittanas base item) |
| 100 V-Bucks | Currency (Legendary) | Battle Pass Page 6 | 5 |
| 100 V-Bucks | Currency (Legendary) | Battle Pass Page 6 | 5 |
| Beamers | Wrap (Rare) | Battle Pass Page 6 | 5 |
| Meowscles Janky | Back Bling (Epic) | Battle Pass Page 6 | 6 |
| Unzipped | Built-In Emote (Legendary) | Battle Pass Page 6 | 7 (+ requires Joey base item) |
| Vulcan Salute | Emote (Uncommon) | Battle Pass Page 6 | 7 |
| Banner Icon | Banner Icon (Uncommon) | Battle Pass Page 7 | 3 |
| Pluxarian Gothic | Loading Screen (Uncommon) | Battle Pass Page 7 | 3 |
| Stand Together | Spray (Uncommon) | Battle Pass Page 7 | 3 |
| Light Streak | Contrail (Rare) | Battle Pass Page 7 | 4 |
| 100 V-Bucks | Currency (Legendary) | Battle Pass Page 7 | 5 |
| Zyggy | Wrap (Rare) | Battle Pass Page 7 | 5 |
| Choppy | Pet (Epic) | Battle Pass Page 7 | 6 |
| Zyg Ray | Glider (Epic) | Battle Pass Page 7 | 6 |
| Zyg's Chainblade | Harvesting Tool (Epic) | Battle Pass Page 7 | 7 |
| Zyg | Outfit (Epic) | Battle Pass Page 7 | 9 |
| Slone | Spray (Uncommon) | Battle Pass Page 8 | 3 |
| Slone's Mission | Loading Screen (Uncommon) | Battle Pass Page 8 | 3 |
| Drop Jet | Contrail (Rare) | Battle Pass Page 8 | 4 |
| 100 V-Bucks | Currency (Legendary) | Battle Pass Page 8 | 5 |
| 100 V-Bucks | Currency (Legendary) | Battle Pass Page 8 | 5 |
| 8-Ball Janky | Back Bling (Epic) | Battle Pass Page 8 | 6 |
| IO Orchestrator | Back Bling (Epic) | Battle Pass Page 8 | 6 |
| IO Stealth Sail | Glider (Rare) | Battle Pass Page 8 | 6 |
| IO Eradicator | Harvesting Tool (Epic) | Battle Pass Page 8 | 7 |
| Doctor Slone | Outfit (Epic) | Battle Pass Page 8 | 9 |
| Banner Icon | Banner Icon (Uncommon) | Battle Pass Page 9 | 3 |
| Big Heef | Emoticon (Uncommon) | Battle Pass Page 9 | 3 |
| Cattle Royale | Loading Screen (Uncommon) | Battle Pass Page 9 | 3 |
| 100 V-Bucks | Currency (Legendary) | Battle Pass Page 9 | 5 |
| 100 V-Bucks | Currency (Legendary) | Battle Pass Page 9 | 5 |
| Detonation | Music (Rare) | Battle Pass Page 9 | 5 |
| Imagined Edge | Wrap (Rare) | Battle Pass Page 9 | 5 |
| Kick Back | Emote (Rare) | Battle Pass Page 9 | 7 |
| Battlesuit Slone | Style (Epic) | Battle Pass Page 9 | 8 (+ requires Doctor Slone base item) |
| Molten Midnight Zyg | Style (Epic) | Battle Pass Page 9 | 8 (+ requires Zyg base item) |
| * Buurrrpp * | Emoticon (Uncommon) | Battle Pass Page 10 | 3 |
| Interstellar Rick | Spray (Uncommon) | Battle Pass Page 10 | 3 |
| The Rickiverse | Loading Screen (Uncommon) | Battle Pass Page 10 | 3 |
| 100 V-Bucks | Currency (Legendary) | Battle Pass Page 10 | 5 |
| Rick's Portal | Wrap (Rare) | Battle Pass Page 10 | 5 |
| Butter Robot | Back Bling (Epic) | Battle Pass Page 10 | 6 |
| Rick's UFO Cruiser | Glider (Epic) | Battle Pass Page 10 | 6 |
| Hammerhead Morty | Harvesting Tool (Epic) | Battle Pass Page 10 | 7 |
| The Rick Dance | Emote (Epic) | Battle Pass Page 10 | 7 |
| Rick Sanchez | Outfit (Rare) | Battle Pass Page 10 | 9 |
| Banner Icon | Banner Icon (Uncommon) | Bonus Rewards Page 1 | 10 |
| I Believe | Spray (Uncommon) | Bonus Rewards Page 1 | 10 |
| The Fret Basher Encore | Style (Epic) | Bonus Rewards Page 1 | 10 (+ requires The Fret Basher base item) |
| Star Seer | Emoticon (Uncommon) | Bonus Rewards Page 1 | 10 |
| Battlestripe Slone | Style (Epic) | Bonus Rewards Page 1 | 20 (+ requires Doctor Slone base item) |
| Beachcomber Sunny | Style (Epic) | Bonus Rewards Page 1 | 20 (+ requires Sunny base item) |
| Sandstone Joey | Style (Legendary) | Bonus Rewards Page 1 | 20 (+ requires Joey base item) |
| Banner Icon | Banner Icon (Uncommon) | Bonus Rewards Page 2 | 10 |
| Eeeeh… | Emoticon (Uncommon) | Bonus Rewards Page 2 | 10 |
| Sunny Skull | Spray (Uncommon) | Bonus Rewards Page 2 | 10 |
| Doctor Slone (Shades) | Style (Epic) | Bonus Rewards Page 2 | 15 (+ requires Doctor Slone base item) |
| Guggimon (Masked) | Style (Epic) | Bonus Rewards Page 2 | 15 (+ requires Guggimon base item) |
| Mechaglow Zyg | Style (Epic) | Bonus Rewards Page 2 | 20 (+ requires Zyg base item) |
| Toxic Rick | Style (Epic) | Bonus Rewards Page 2 | 20 (+ requires Rick Sanchez base item) |
| Call to Action | Emoticon (DC Series) | Superman Page 1 | TBC |
| Superman Shield | Spray (DC Series) | Superman Page 1 | TBC |
| The Daily Planet | Back Bling (DC Series) | Superman Page 1 | TBC |
| Secret Identity | Built-In Emote (DC Series) | Superman Page 1 | TBC |
| Clark Kent | Outfit (DC Series) | Superman Page 1 | TBC |
| Banner Icon | Banner (DC Series) | Superman Page 2 | TBC |
| The Last Son of Krypton | Loading Screen (DC Series) | Superman Page 2 | TBC |
| Cal-El's Cape | Glider (DC Series) | Superman Page 2 | TBC |
| Solitude Striker | Harvesting Tool (DC Series) | Superman Page 2 | TBC |
| Clark Kent (Shadow) | Style (DC Series) | Superman Page 2 | TBC |