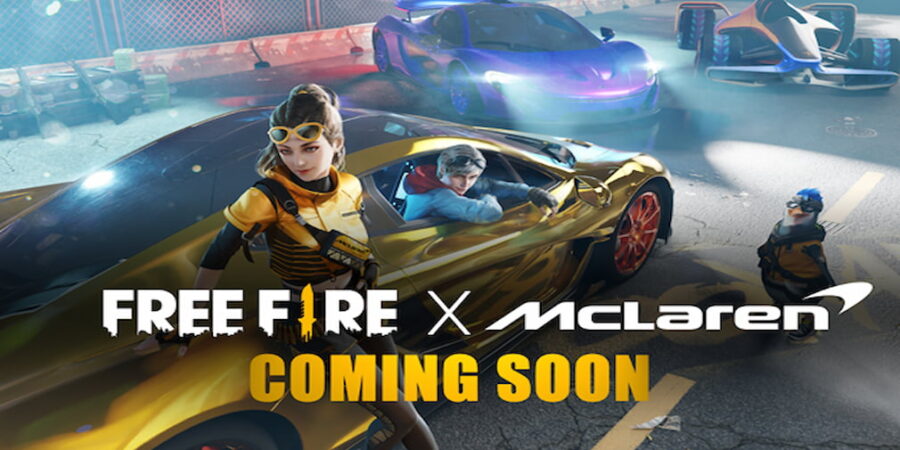 Garena is partnering up with McLaren Racing to bring exclusive content to their popular battle royale, Free Fire. Ace the Field is a new collaboration that will introduce various in-game features, promotional social media campaigns, and McLaren themed content to the survivors.
Both companies are planning to create an exclusive version of the game called MCLFF, the abbreviation for McLaren-Free Fire. MCLFF is set to represent McLaren's vision of the future. The collaboration will introduce McLaren's latest MCL35M.
During the crossover itself, the survivors of Bermuda, Kalahari, or Purgatory can now drive the exclusive McLaren vehicles. Yes, the game will feature the themed vehicles throughout the crossover.
In addition to that, players get to drive their cars in the newly added race track in the Free Fire's Training Island. The exclusive McLaren x Free Fire collection will also be available to allow the players to equip the characters with themed gear.
Beyond that, other small items including the Gloowall skins, surfboards, airships, and emotes are also inspired by McLaren. The papaya and blue colour can be seen in the items as the colour combination was first suggested by the founder, Bruce McLaren.
Mark Waller, Chief Commercial Officer, McLaren Racing, said: "We are thrilled to be collaborating with Free Fire for an in-game McLaren Racing integration. Our fans are always looking for ways to connect with our team and this integration gives this accessibility in a new and exciting way. It's a brilliant collaboration in a time when gaming is only continuing to grow, and McLaren wants to be a part of that growth!"
You can download Garena Free Fire now from the iOS App Store and the Google Play Store for Android, where it is a free-to-play game with in-app purchases.
If you enjoy playing action games on your Android device, be sure to check out some of our favourites that we'd recommend

Want more?
Check out our 59 other
Garena Free Fire news stories!

Latest Articles | Pocket Gamer

Source link
Related Post: