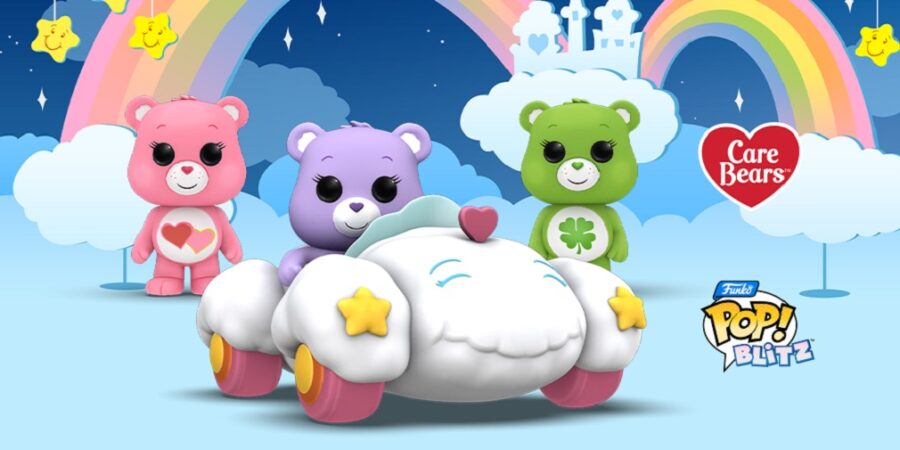 N3twork has released an update for its mobile match-3 puzzler Funko Pop! Blitz which adds a new collection to its growing roster of characters. The update is available now for iOS and Android devices.
The new collection in question is the Loveable Care Bears, where you can go the land of Care-A-Lot to join these cute new friends in Funko form for a limited time.
This new event for Funko Pop! Blitz starts today and lasts until 26th May, which is next Tuesday. Between now and then you have the chance to collect Trick-or-Sweet Bear, Love-a-Lot Bear, Good Luck Bear, Christmas Wishes Bear and the special Share Bear (with the Cloud Mobile) in their Funko Pop! forms.
If you want to collect them all, you must drop the Care N' Share Charms that appear in every match of Funko Pop! Blitz that you play to the bottom of the board. If you equip one of the Funko Pops from this event, meaning one from the Care Bears collection, you'll make even more of these items appear on the board.
By collecting charms, you can unlock new rewards from the event such as the Event Exclusive Share Bear (Cloud Mobile), who can be unlocked by completing the event. If you want to collect all these unlocks for the game, be sure to log into Funko Pop! Blitz before 26th May.
Funko Pop! Blitz is the match-3 puzzler where you collect Funko Pop versions of iconic characters from a variety of different franchises and collections. There's a new collaboration rotated in-game each week, with franchises such as Back to the Future, The Office, Parks and Recreation and How to Train Your Dragon being included.
You can download Funko Pop! Blitz now from the iOS App Store and the Google Play for Android store, where it is a free to play game containing adverts and in-app purchases.
Check out some of our favourite puzzle games right here.

Want more?
Check out our 18 other
Funko Pop! Blitz news stories!

Latest Articles | Pocket Gamer

Source link
Related Post: