Last week, we finally got our first proper look at what awaits us – and Aloy – in Horizon Forbidden West. Guerrilla tantalised us with new gameplay mechanics to master, new Machines to overcome and new locations to explore. And accompanying that visual showcase was the alluring yet all-too short debut of some of the game's soundtrack. Today, we get to linger on that score. 
Firstly, the chance to absorb four tracks from that State of Play demo in isolation, forming The Isle of Spires EP that's just released onto streaming services – listen to it here. 
Secondly, we're excited to reveal the composers behind the music of Horizon Forbidden West. Joris de Man, Niels van de Leest and composing duo The Flight all return from Horizon Zero Dawn, and are joined on the sequel by Oleksa Lozowchuk. 
To mark the EP's release, and share the first details of what players should expect from them for Horizon Forbidden West, we brought the composers and Guerrilla Music Supervisor Lucas Van Tol together for a roundtable discussion. That wide-ranging chat tackles amongst other things, the challenges of building upon what went before, deciding who worked on what ("we have a lot more music than in Horizon Zero Dawn," Van Tol explains of the necessity) and individual approaches to composing (fun fact: one composer builds their own instruments). But first, introductions: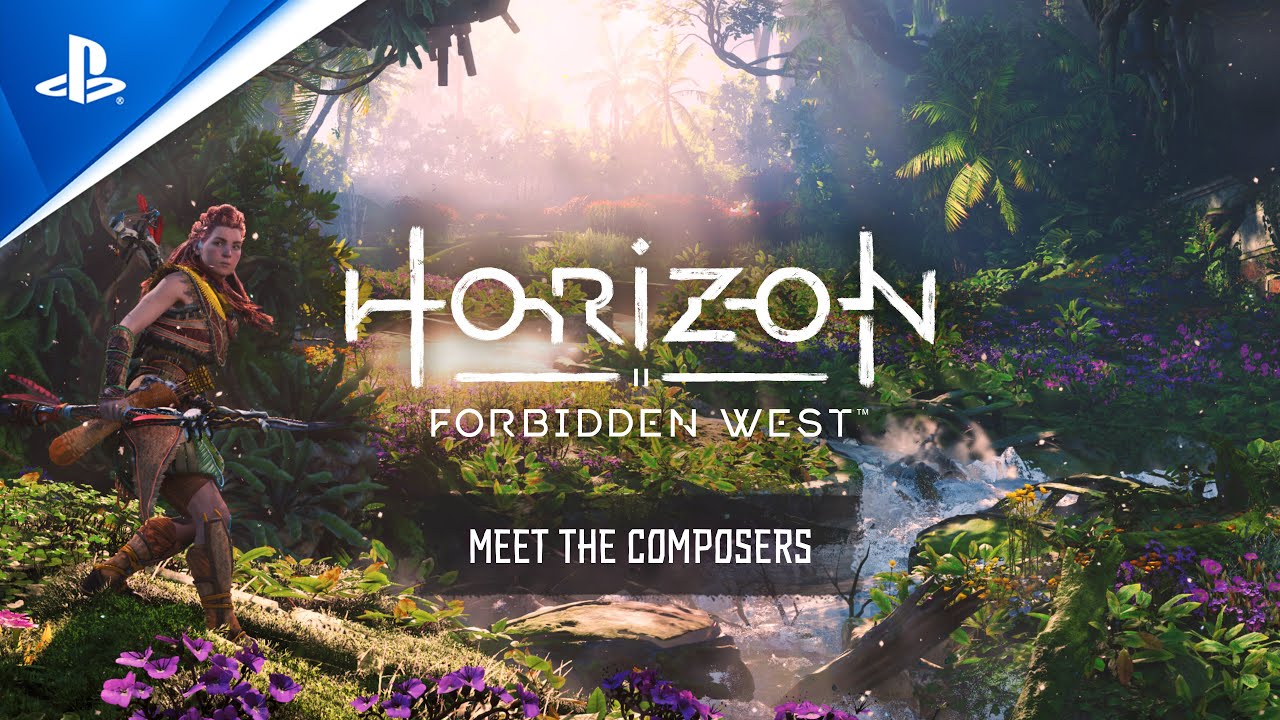 Getting the band back together 
Consideration for the sequel's music began "since the moment we knew there would be [one]," jokes Van Tol. 
Guerrilla's Music Supervisor is credited not only with defining which aspects of Horizon Forbidden West's music each of the four composers would work on but keeping track of everything. Creating the sequel's open world soundscape – covering but not limited to tribes, characters, enemies, locations, cues – as well as evolving it from what came before was understandably a herculean undertaking. It made sense to split and divide. Van Tol played both ringmaster and conductor, briefing and guiding the group throughout production. He also wanted a different approach to the game's score. "In Horizon Zero Dawn our initial focus was on locations," he explains. "This time around we wanted to follow the story a lot more closely and create a more fluent and emotional experience, also outside of the cutscenes."
That previous collaboration helped the studio decide the best way forward. The Flight's Alexis Smith notes that Van Tol gained valuable insight as to each composer's sounds and strengths: "He usually has a pretty good view on which parts he wants us to compose." So Joris de Man worked on emotional cues "that weren't specifically linked to an area", while as with the original, Niels van der Leest handled percussive music for specific events like hunting and music for every tribal region in the game. There were exceptions: character arcs, including key cinematics and quests were wholly owned by a single composer, ensuring thematic continuity. 
Oleksa Lozowchuk's remit was more extensive, covering "all types." "That really helped me develop a stronger sense of how the different types of music dovetailed with each other, weaving in and out through the game arc." By all accounts, he had an ear for this world from the start. Lozowchuk, an industry veteran who worked at Capcom Vancouver for over seven years, joined the composing roster after impressing the team with his audition pieces. 
That said, he kept checking the other composers' work periodically to make sure there was cohesion. As did the rest; stationed as they are in different countries around the world, group calls and a shared cloud drive were the quickest ways to check in. These offered guidance, and during enforced breaks due to Covid ("we just moved our rigs home and carried on from there," remembers Alexis) a chance to connect with peers. Sharing also led to unexpected collaborations. "The Flight ended up reusing and remixing my vocal assets from one of the 9-part choral pieces I wrote for one of the game's tribes," remembers Oleksa. "They used it in their own way to flesh out another scene in an entirely different context of the game." 
Meet the musicians behind Horizon Forbidden West. From left to right: composer duo The Flight (Alexis Smith, Joe Henson), Guerrilla Audio Lead Bastian Seelbach, Guerrilla Music Supervisor Lucas Van Tol, and composers Oleksa Lozowchuk, Niels van der Leest and Joris de Man. 
Familiar themes
Lozowchuk first fully immersed himself in the original's soundtrack to get into the mindset of Aloy's world, then set out to "compliment and contour" what had come before, building variations and fragments of previous themes, while also creating new emotional beats for players. He wasn't alone. The Flight loaded up original recording sessions to remind themselves of the process, while Joris de Man looked back on his own pieces to "figure out what made those tracks work". 
All tease that we'll hear returning themes from the original. Aloy's Theme is one, "albeit adapted to the new game," confirms de Man. With that track capturing Aloy's growing confidence over the course of the first game, how can they evolve further yet retain that familiar resonance? "That's probably one of the most interesting aspects of [this sequel] for me," he responds. 
For him and the other returning composers, they were eager to find new additions to layer onto a world the musical DNA of which they defined. "We were aware this was new sonic territory, it couldn't be retread of the previous game," de Man admits of the challenge ahead. 
They all looked to both the real world and Aloy's for inspiration. "You read up on the backstory of the part of Horizon Forbidden West's world you're working on," van der Leest outlines as his way back in. "Try and find similarities with our own (musical) history and then distil from that to create something new." Oleksa feels the team has found a great balance of interweaving returning music and new score. "You never want to alienate those who love the first game, but want to give them plenty to explore and journey through for the sequel."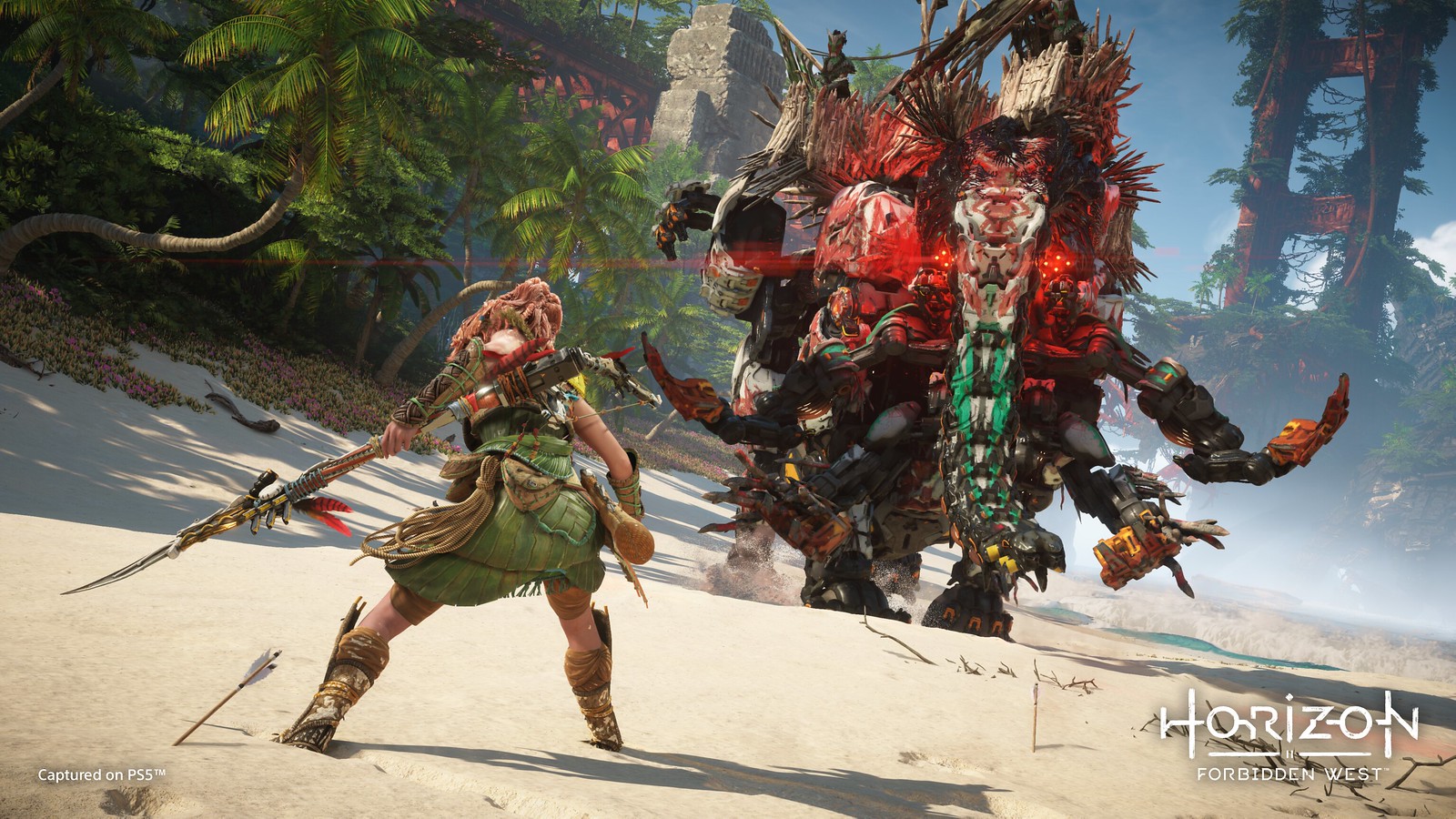 Finding the new sound
Was anything off limits, or felt ill-fitting for the game's sonic palette? Once again, all point to Lucas Van Tol keeping everyone on the right track. "He could give us feedback when we submitted pieces, such as 'don't use this instrument, as that's linked to this tribe'," outlines de Man. "'Use some of these textures or listen to what one of the other composers has done to get the right vibe for this area'." 
The composer elaborates further. "The key focus was to come up with organic textures and sounds, that fit the aesthetic of the Horizon Forbidden West game world, whilst upgrading it from the sound that Horizon Zero Dawn was based on; that means that there's a bit more synthesizer work and synthetic textures complementing the organic tones than there was in the previous game." For van der Leest, he always keeps our protagonist in mind. "The key theme for me was to always see the world through the eyes of Aloy. She is once again set with a difficult task which influences the way she looks at the world around her." 
One interesting fact pops up off the back of the question: alongside tracking down little-known instruments and researching which would fit each tribe, Niels van der Leest further immersed himself in Aloy's world by building his own. "The people in that world don't have any recollection of our society," he reasons. "As such they are creating their instruments from scratch and in many cases unlike anything from what you've seen in our world." 
Everyone's creative process is different. Joris de Man noodles with a piano or tries some unique tricks, such as a plectrum on a violin with paper stuck between the strings ("why not?"). He talks of his palette being more grittier and raw this time round, a style to reflect the Forbidden West, "a more dangerous area with more uncertainty ahead".  
Van der Leest takes a 'day off' from the studio and his keyboard to ensure a clean slate before starting to track a new region. The Flight cover their workspace in visuals of their subject matter to inspire experimentation. Oleksa rattles off an eye-widening list of instruments, including organic sources, indigenous percussion instruments and synthetic sources that he's using to build his corner of the world. "I try to listen to the ebb and flow of energy that passes through all the melodies, harmonies and textures at different listening levels, making sure it still keeps my attention until I simply hit a point of saturation. Once I've heard enough to release it I can move on."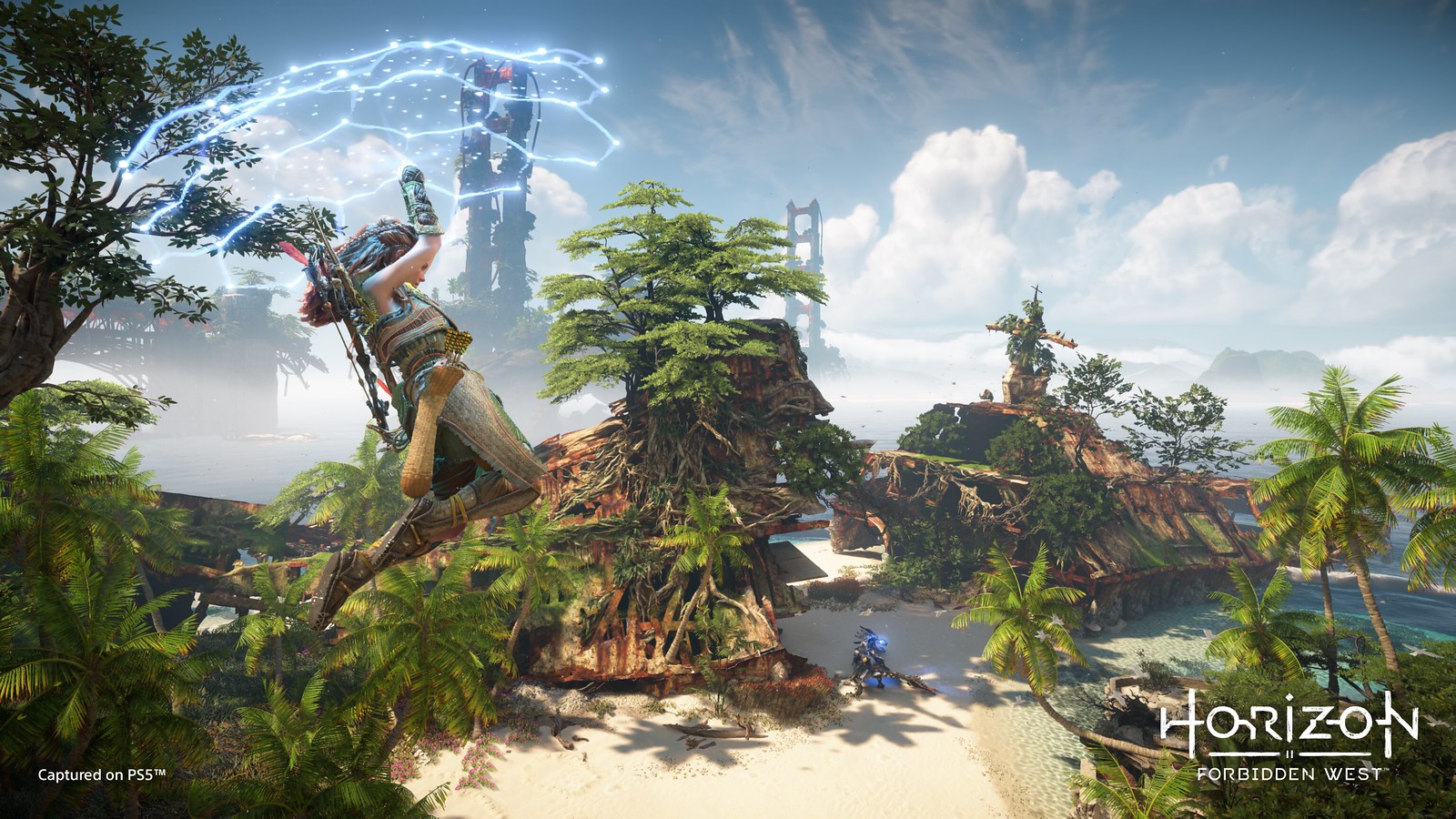 A soundtrack unlike any other
"One of the things I'm proud of that the composing team achieved on Horizon Zero Dawn was that the music seemed to be a natural fit – people listened to it and thought 'of course it's supposed to sound like that, this feels like a natural part of Horizon's world'," says Joris de Man about their success in forging a distinct soundscape back in 2017. Van der Leest is equally emphatic. "This was one of the most exciting parts of creating the music. Creating a sound that somehow sounded familiar but one you couldn't necessarily put your finger on. Sure there are instruments that you'd recognize, but the combination with other more unworldly instruments and electronics made them sound new and fresh." 
For the original game, the approach was to create a soundtrack unlike anything players had heard before. The composers have kept that in mind for the sequel. "Same vein, but different," Alexis intriguingly says of the throughline between original and this latest work. Oleksa calls the results "sonic alchemy". "On this project, I got human voices to create non-human sounds and acoustic instruments to approximate human voices and phrasing." All have been invigorated at the chance to step back into this world and grow its soundscape. Niels van der Leest sums it up best: "Horizon Forbidden West is a special project as it challenges you to think outside of the box the whole time. Making the music for this game is a unique experience."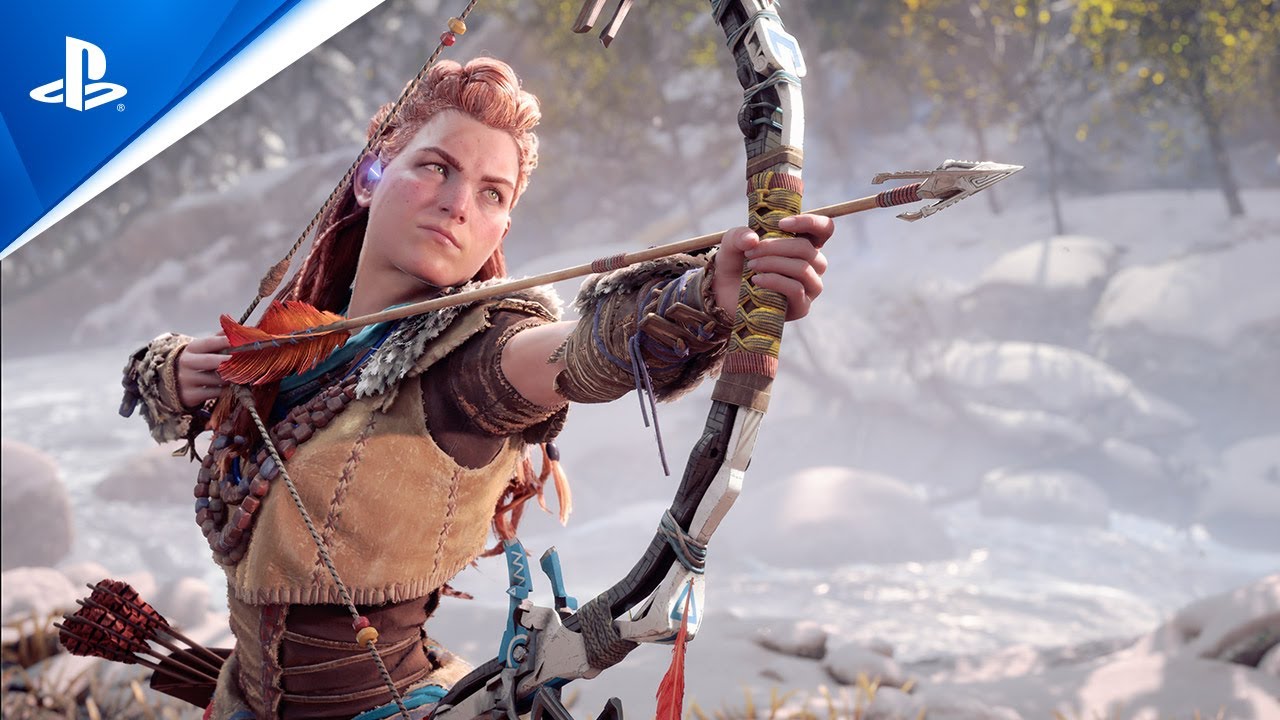 PlayStation.Blog

Source link
Related Post: