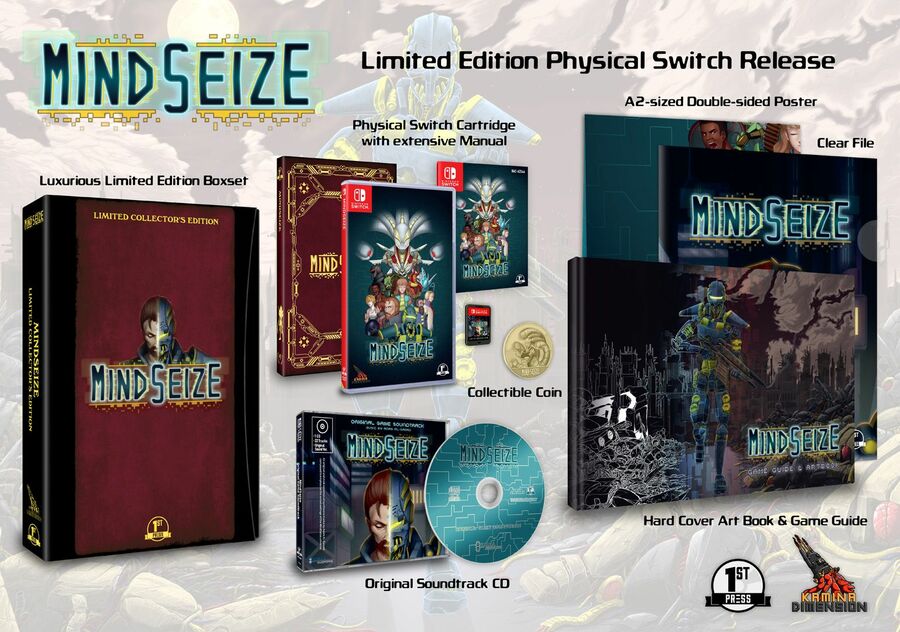 MindSeize was an intriguing eShop arrival late last year, as it promised a blend of Metroid Fusion and Mega Man X, which was a pretty bold claim from developer Kamina Dimension and publisher First Press Games. Ultimately the final game turned out pretty well; we enjoyed it in our MindSeize review.
For those that are already fans or are interested but prefer collecting physical copies, the good news is that First Press Games is ready to oblige. In Q4 this year there'll be two versions – a 'Regular Edition' at €39,99 and the Collector's Edition (limited to 1000 copies) that will cost €69,99; you can see its various goodies in the picture at the top of the article.
Pre-orders open on 12th June at 6am Pacific / 9am Eastern / 2pm UK / 3pm CEST; they'll go live on the First Press Games Store. Orders before 18th July are also promised a bonus item, too.
Beyond that, developer Kamini Dimension has said that a version 1.1.0 update is on the way, "which does not only add further polish, but actual new features and even some new content to the game". No date is given for the update, but we'll keep our eyes peeled.
So, is this another one for the collection?
Nintendo Life | Latest Updates

Source link
Related Post: