Recently one Battle Royale game gone viral as PUBG Mobile Chibi name. if you have seen that then you are in right place to download the PUBG Mobile Chibi Game.
The PUBG Mobile Chibi Game real name is Sausage Man and it's a cartoon Styled similar version of PUBG Mobile Published by XD Entertainment.
Also Read:- Don't Forget to Participate in PUBG New State Aplha Test
Why PUBG Mobile Chibi (Sausage Man) Gone Viral?
Because of the Gameplay Theme, PUBG Mobile Chibi or Sausage Man game is quite similar to the PUBG Mobile in Map/Gameplay/Battle type.
But when you play PUBG Mobile it becomes an intense fighting game whereas when you play this Sausage Man the game becomes Smart+Adorable at the same time.
Watch the Gameplay given below to understand why this game went viral.
PUBG Mobile Chibi Download -Step By Step Guide:
This game is available on Google Play Store and Apple App Store but not for Global Region. Maybe this game is area restricted or in the Beta phase so that it's not available in all countries.
If you are not able to download The Sausage man game from the play store follow the steps given below.

Step 1: First you need to download the most popular App Store Tap Tap App Store
Step 2: Then Search Sausage Man game on Tap Tap and Download it. (Connect VPN if you don't see download Button)
Step 3: Once the Installation is done, create your Account and Start Playing the game
Step 4: If you are not able to play this game because of your Country IP Use any VPN App and connect to the Indonesia/Singapore Region.
Sausage man – PUBG Mobile Chibi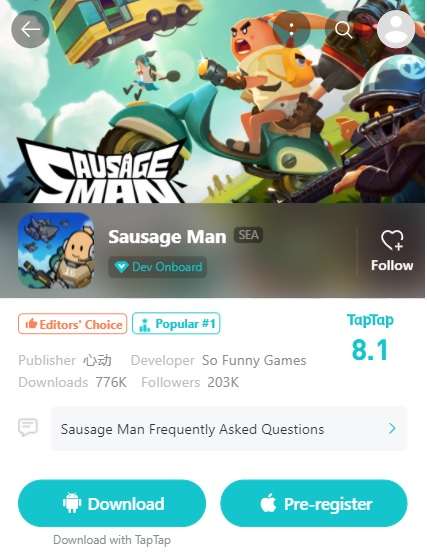 Battle Royale Game
Items with Special Power
Cartoon Style game
Available in Singapore, Malaysia, and Indonesia.
Online Multiplayer Shooter Game
Version: 10.45
Size: 105MB
Date: 2022-06-28
Downloads: 1Million
PUBG Mobile Update

Source link
Related Post: