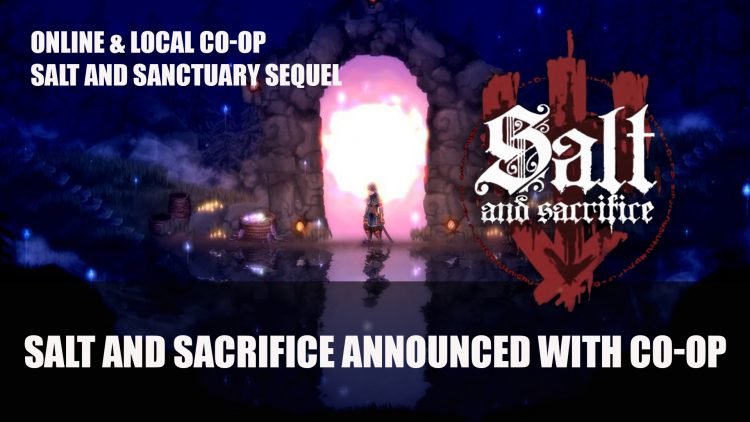 Kicking off Summer Gamefest 2023 a number of announcements were made including the sequel to the acclaimed indie title Salt and Sanctuary. Salt and Sacrifice will be releasing in 2023.
Salt and Sacrifice a Sequel to Salt and Sanctuary Announced with Co-op
The return of the unforgiving souls-like side-scroller was announced at the opening of Summer Gamesfest 2023, the sequel titled Salt and Sacrifice will be released in 2022. It has been confirmed so far for platforms Playstation 4 and Playstation 5. The game was announced by Sony's Shuhei Yoshida during the Summer Game Fest kick-off.
The beloved 2D Action-RPG title is getting a sequel which will bring the return of everything fans loved about the prequel, but this time follows a new protagonist who is on the hunt for mages. But there are in fact two playable characters in this entry that can be played in online and local co-op.
Salt and Sacrifice is the upcoming follow-up to the hardcore action RPG platformer, Salt and Sanctuary. Explore a new era and region, as well as a new role: a Marked Inquisitor. A Marked Inquisitor is a criminal condemned, yet spared the hand of justice in exchange for a lifetime of service in the unending war against Mages: twisted, irredeemable creatures of elemental malice.
The first title Salt and Sanctuary originally release in 2016 on PS4, PS Vita and PC, then later came to Switch in 2018 and Xbox One in 2019.
Salt and Sacrifice will be releasing in 2023, so far confirmed for PS4 and PS5.
---
For more news find it here in Elden Ring Gameplay,Release Date, Screenshots Revealed At Summer Games Fest 2023 and Dark Alliance Receives Gameplay Trailer And Post-Launch Content Announced
Fextralife

Source link
Related Post: