There's Racing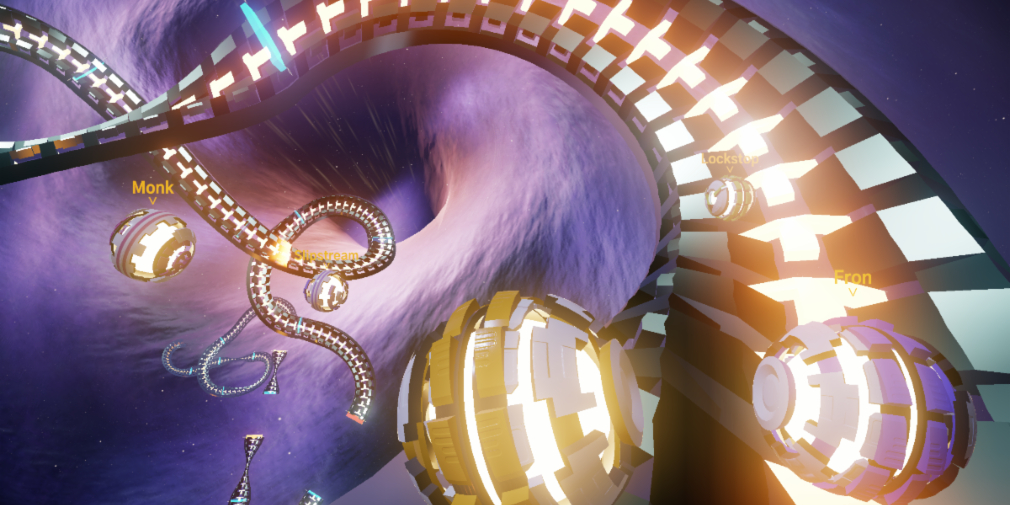 The main element of Super Impossible Road is the fact that you can race other players. Using the game's signature ability to "cheat" by jumping from one part of the track to another, races can be pretty chaotic. The original game had the cheating feature too, only, it was just you against the track.
In this case, you can now race against other players online or against the CPU. It can be risky taking shortcuts, as you can fall into space, but it can certainly be rewarding if executed properly. Just don't be surprised if others don't follow suit or are already doing the jumps right out of the gate.
It's a unique way to race, and with the different types of track designs, there's never a dull moment. On top of that, you get the beautiful, space atmosphere, going all around you as you go. As wild as things can get, you may not be able to enjoy the visuals as much though, I suppose.
Vessel Customization
In Super Impossible Road, you can actually customize your vessel. It's not bad either, allowing you to change the colours and even tweak the attributes based on the parts of it you switch. The attributes include steering, air control, boost capacity, recharge rate, and bounce damping.
You can mix and match with the wheel, cap, and core to get the attribute style you want. You can do this at any time before your race. It's sometimes fun to just experiment a bit with the options. If you think your turning is a bit questionable, then feel free to make an adjustment to boost steering or, if you want an extra boost, then you can bump up its capacity.
Now, for what it's worth, you can save your settings across different vessels, so you'll only have one to use. However, your settings do save for that particular vessel if you really liked how you had it. And, of course, you can switch things up at any time.
Survival Returns
Ahh, yes, remember how we discussed the first Impossible Road and how it was played? Well, now this classic style of play is available as an extra game mode. So, if you did play the OG game, but haven't fired up Super Impossible Road, then you might appreciate this. Then again, you may also not be surprised either, but it's still cool.
Now, you get to tackle different track layouts instead of just one, so you'll have some options. Aside from Survival, you have Time Gate, which is about going through as many checkpoints as possible before the time runs out. This too is an extra mode.
There's also the fun Daily Track mode where you play a randomly generated track each day. You have the aforementioned racing modes too, which we already alluded to a bit as well. So, all in all, you have a fairly strong variety of modes, and the return of Survival can give you a little throwback experience.
Latest Articles | Pocket Gamer

Source link
Related Post: