Thanks to the latest generation of graphics cards, 4K 60 fps ultra gaming is definitely here. As we discovered in our recent review of the RTX 3070, even the most demanding titles can manage smooth framerates at high resolutions, which leads to the question of what comes next. That's the very question monitor manufacturers must ask themselves, as the name of the game is being first to market to prepare for the future. As one might expect, high-refresh 4K gaming monitors based on the HDMI 2.1 spec are the next big thing.
While 4K gaming offers a visual experience that makes 1080p pale in comparison, high resolution gaming still hasn't quite caught on among most gamers. According to the Steam Hardware Survey, less than 3% of survey participants actually game in 4K. There are obvious reasons for this, though. Many PC gamers still have older graphics cards or monitors that are unable to play at 4K. Others might prefer higher framerates in their games. In fact, 1440p is just now starting to catch on. Even still, only about 8% of participants use that resolution. Sorry Nvidia, it's not quite time for 8K gaming.
Is it time for 4K gaming monitors?
The overwhelming demand for new graphics cards will likely result in reevaluations of display resolutions for many. As more and more gamers realize how powerful the new graphics cards actually are at higher resolutions, 4K gaming monitors will likely grow far more popular over the next several years. Costs for 4K gaming monitors have already fallen significantly, but it will take better features to capture gamers' attention as well. As already mentioned, high refresh rates will be important to sell new displays.
High-refresh 4K displays have been around for a couple years already, true, but not always with the sufficient throughput bandwidth. Previous models based on HDMI 2.0 were only rated for 4K at 60Hz without compression, meaning DisplayPort 1.4 was the practical way to achieve native 4K high refresh rates for gaming. Even then, some compromises had to be made in regards to color accuracy to ensure images could be sent through the DisplayPort cable at the higher refresh rates. The recent revision to the HDMI 2.1 spec largely resolved this color issue though, as it now features significantly more bandwidth than DisplayPort 1.4. The HDMI 2.1 spec is officially rated for 4K  at 120Hz in an uncompressed mode, though there are already plenty of HDMI 2.1 gaming monitors that are advertised at 144Hz. There are likely some minor sacrifices in color fidelity to achieve the extra frames, but probably not enough to actually notice anymore.
There are already a few HDMI 2.1 high refresh 4K gaming monitors on the market and more on the way later this year. If you've been interested in making the jump to 4K for a while, now is arguably a good time to finally do so. You can get the best of both worlds in terms of resolution and refresh rates provided your system is able to deliver such levels of performance. One of these monitors will also serve you well for many years to come due to the high specs. Even if you don't have a GPU that can keep up with one of these monitors yet (as shortages are a big problem right now), you'll still benefit from a better daily experience like when using Windows, an internet browser, and other apps in the meantime.
The best HDMI 2.1 gaming monitors right now
While nice monitors are sexy, the naming schemes are most certainly not. It can get very confusing when trying to figure out what you need to get. For this reason, we've put together this hand-picked list of the best HDMI 2.1 gaming monitors to consider getting right now. All of these monitors also include HDR and G-Sync or FreeSync.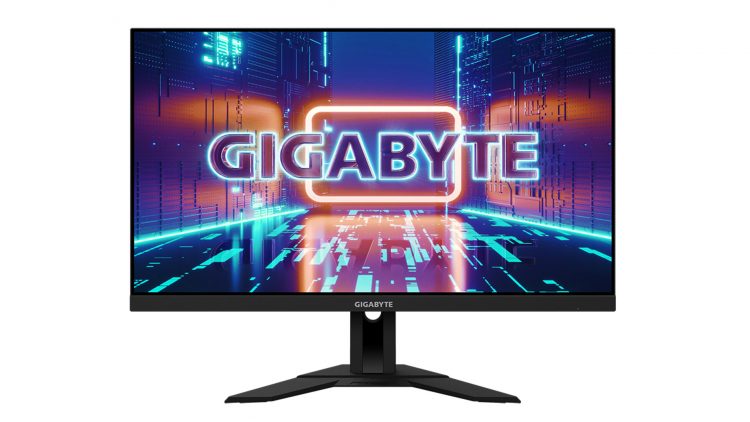 Gigabyte Aorus M28U
This 28″ 144Hz IPS monitor comes with a response time of just 1ms. Gigabyte released this monitor recently, so it's still hard to find in many stores — or in stock for that matter. The monitor comes with the VESA HDR400 rating, which is pretty basic. If you're wondering about RGB lighting, there's none of that either. It is easy to adjust to the ideal height and viewing angel though. Newegg surprisingly has it listed at just $599 USD. That makes it one of the most attractive options on this list for anyone on a budget that still wants a premium monitor. It's out of stock at the moment, but definitely worth checking back for. You can find the full specs here.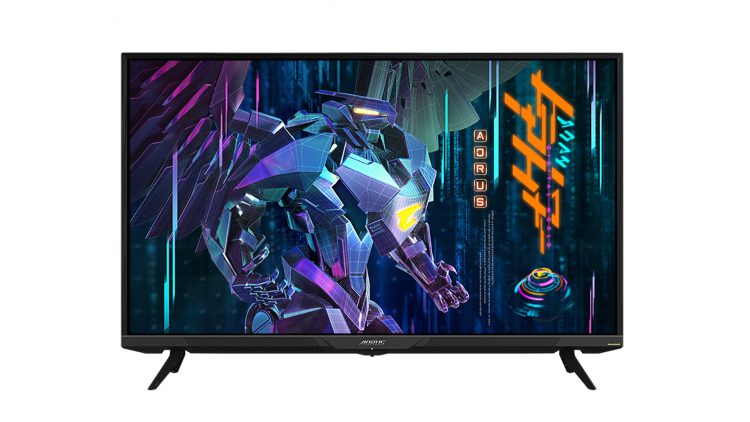 Gigabyte Aorus FV43U
This monitor released alongside the previous mention on this list, but it's a big step up in image quality, screen size, and of course, price. The FV43U is a 43″ QLED display with a refresh rate of 144Hz and a response time of 1ms. Due to the large size, this monitor is more like a TV, and adjustability is limited. The display itself appears to be manufactured by LG, which is known for its domination of the QLED market at the moment. This upgraded display features a contrast ratio much great than the IPS panels on the list and comes with HDR1000. It's sure to deliver an incredible viewing experience, but you'll have to cough up $1099 USD to look at this one. You can find out more about it here.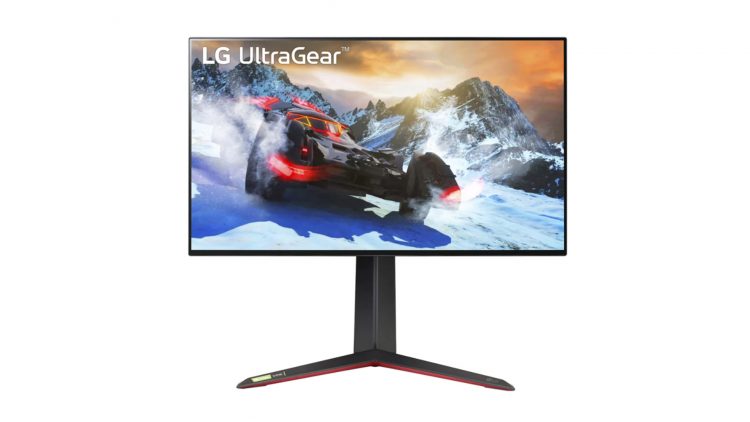 LG UltraGear 27GP950
The LG UltraGear 27GP950 features a 27″ mini-IPS display capable of 144Hz and 1ms response times. As a note, you can overclock the LG 27GP950 to 160Hz with Display Stream Compression (DSC). As for HDR, it comes with the HDR 600 rating, which many users claim is a much better compromise for affordability and fidelity compared to the HDR 400 spec. You also get customizable RGBs on the backside and full display height and angle adjustability. This 4K gaming monitor is more expensive at $899 USD, but the additional features may make it worth it depending on your preferences. Learn more here.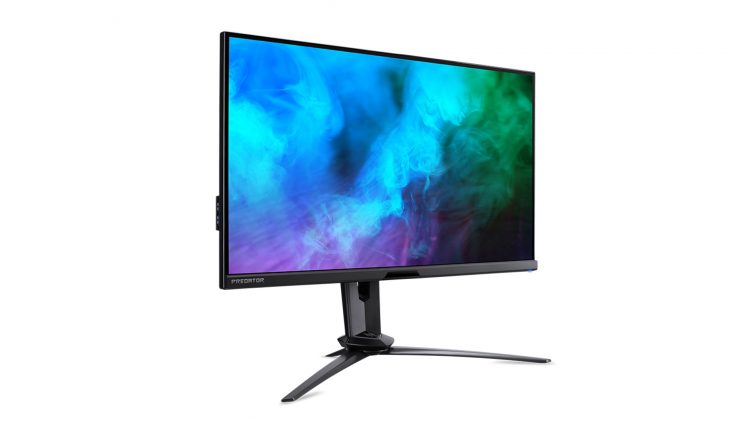 Acer Predator X28
This 28″ IPS Acer Predator gaming monitor comes factory overclocked to 155Hz and with a 1ms response time. This sleek gaming monitor is still on the way to market, set to arrive in August. It should feature an adjustable stand for height and angle control, impressive HDR, and a suite of other built-in features. For $1299 USD, one would certainly hope so. As for RGBs, it doesn't appear to have any, though they could be concealed. You can keep an eye on the product page here and we'll update this article when we learn more about it.
Acer Predator XB323QK NV
Like the previous entry, this is another Acer Predator IPS monitor capable of 144Hz and 1ms response times, but sized up to 31.5″. Announced last summer, the release date for this monitor is a bit of a mystery. It appears to be on the way to market still, but could be undergoing a spec change or simply suffering from production constraints. The MSRP is advertised at $1199 USD, so it should be a relatively high end product. The advertised HDR400 rating is somewhat disappointing. Maybe that's getting a rework. It will also feature an RGB "ring" on the back along with height and angle control.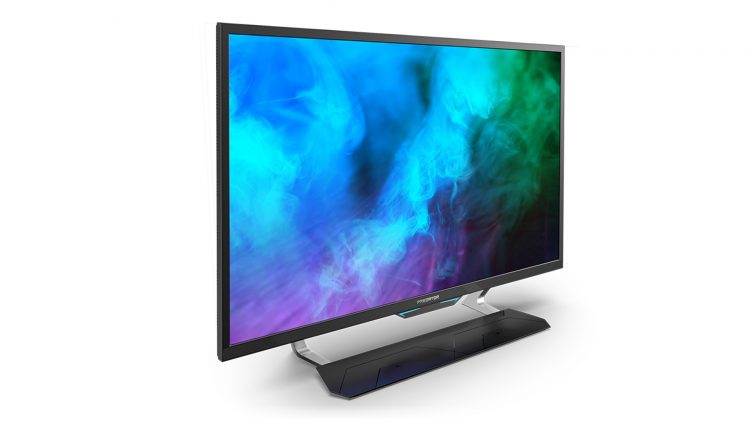 Acer Predator CG437K S
If big is your thing and you like having options, here's another huge screen. The Acer Predator CG437K S is a display sized at 42.5″ with a 144Hz refresh rate and a 1ms response rate. It sounds like the flagship monitor for this category of products, and we'll break down why. The QLED LG displays we mentioned earlier are likely in use in this design as well. This monitor features HDR1000 and a high contrast. You also get accent RGB LEDs and some other fancy tech like sensors that will turn the monitor on when you approach it and a dimming feature based upon the lighting of the room. There's no surefire launch date, but it's on the way to market presumably this year and priced at $1799 USD.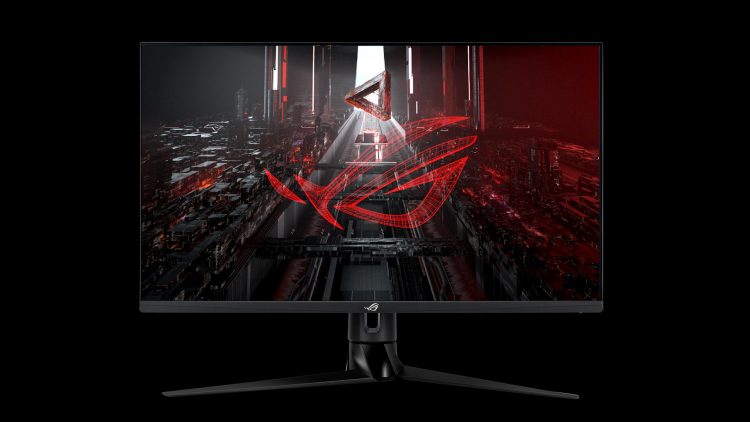 ASUS ROG Swift PG32UQ
This 32″ IPS display carries the ASUS ROG name and comes with the same 144Hz refresh rate and 1ms response times as the other monitors featured in this list. We're definitely starting to see a pattern here for minimum specifications. This monitor features HDR600, addressable RGB lighting, and full tilt and height control. ASUS also totes its own integrated technologies for this one which the company claims to make for a better gaming experience. We'll let you be the judge of that. No release date has been announced, but the ASUS ROG Swift PG32UQ will likely come to market this year. Pricing is currently unknown.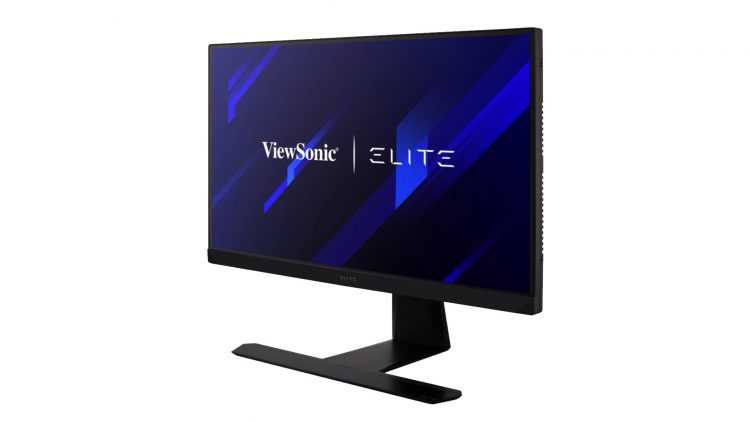 ViewSonic ELITE XG320U
Perhaps the most low-key entry on this list is the ViewSonic ELITE XB320U. This 32″ IPS display is just as good as the rest though when it comes to what's inside. It too comes with a 144Hz refresh rate, 1ms response time, and HDR600. ViewSonic advertises an emphasis on color coverage, blur control, and more.  Despite the low-key design, it will also feature RGB lighting. There's also something called a mouse cord bungee and it will feature a headphone hook, presumably hidden on the backside. No information about pricing has been put forward by ViewSonic, but the ELITE XB320U is expected to arrive in Q3 this year. You can read the announcement here.
---
Admittedly, most of these monitors are still a bit pricey and only come with entry-level HDR ratings. Competition will likely change that over the next few years though, so don't spend big right now if you really can't afford it or plan to keep using a gaming PC that barely manages 60 fps in 4K. If you can upgrade your monitor though, your eyes will thank you for the superb clarity and smoothness these options provide. You might even find one these HDMI 2.1 4K gaming monitors good enough to use until the day it dies on you.
PC Invasion – FeedDDD

Source link
Related Post: