Peripheral maker expands into console pads and flight yokes with first pair of Xbox and PC offerings
Turtle Beach today announced that it is expanding its lineup of gaming peripherals to include controllers and simulation hardware.
The first two products in this new expansion are the Recon controller for Xbox and the VelocityOne Flight PC and Xbox simulation set-up.
"These two new accessory segments add another $1 billion of global addressable market, with third-party gamepad controllers at roughly $600 million, and PC/console flight simulation hardware adding roughly $400 million in global market," said Turtle Beach chairman and CEO Juergen Stark. "Both of these markets are growing rapidly, and our entrance with these first products will be the start of an expanding portfolio into other adjacent PC simulation hardware categories."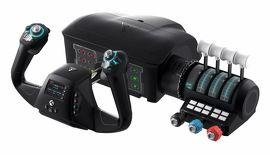 The Recon pad will sell for $60 and have a 3.5mm headphone jack and Turtle Beach's audio presets, adjustable thumbstick sensitivity, and support for multiple profiles.
The VelocityOne Flight set-up has a $350 price tag and includes a 180° yoke handle, a modular throttle and swappable lever handles.
GamesIndustry.biz

Source link
Related Post: