Violence and combat continues to dominate the game reveals and showcases at E3 and its adjacent events, as a returning study by GamesIndustry.biz finds that one third of all titles shown can be considered as non-violent.
The research follows analysis we did after E3 2019, where we looked at 239 games over nine events. Back then, only 41 (17%) were non-violent and only 17 of those were from major publishers — and that's including indie-developed titles from the likes of [email protected] or Square Enix Collective.
Like-for-like comparisons with E3 2022 and other events over the past week are nigh on impossible due to notable absences — such as Electronic Arts, since EA Play has been pushed back to July — but the overall numbers look a little more promising.
The vast majority of non-violent games were from indies, with Wholesome Direct alone accounting for more than half of them
This year, we looked at 349 video games showcased across 15 events, including all presentations by major publishers and platform holders such as Nintendo, Xbox and Ubisoft, plus E3-adjacent events such as Summer Games Fest Kickoff Live, Devolver Digital, Wholesome Direct and more.
In total, 115 titles can be considered non-violent, representing 33% of all games shown.
Unsurprisingly, the vast majority were from indies, with Wholesome Direct alone accounting for more than half of them: 63 non-violent titles, representing 54% of the week's complete line-up.
In contrast, there were only 15 non-violent games either published by major publishers and platform holders, or featured during their showcase. The majority of these were either developed in-house or published directly by the host company, with only two indie titles among them (Somerville and Shredders, both shown during the Xbox & Bethesda Showcase). But those 15 games only represent 4% of the full roster.
At this point, we should back up and explain what we consider to be non-violent when it comes to video games.
This year, we're following the same guidelines as we laid out in our 2019 study, focusing on violence as an action by and around the player. Our requirements for a game to be classed as non-violent are:
No title where you are required or encouraged to harm or kill another living entity.
No title with graphic or realistic depictions of violence.
We have also counted cartoon violence, e.g. Mario Party mini-games that involve knocking out the other players or Party Animals hurling each other off levels.
Games around contact sports are considered violent.
Reference to unseen violent acts, e.g. a game where you are solving a previous murder, does not count as violent.
Minimalist depictions or representations of conflict, e.g. a Hearthstone-style card game, do not count as violent.
Games in which you give direct orders that lead to violence, e.g. strategy titles or turn-based RPGs, are considered violent.
Any games announced with no indication of gameplay are discounted; for example, Sam Barlow's next title Immortality. While the gameplay of Barlow's past titles have been non-violent, Telling Lies (for example) included violent scenes.
It's important to stress again that this endeavour is not intended to decry violence. It is to offer a look at just how much of the industry's output relies on selling the same fundamental mechanic: the ability to fight and kill. You can read more about the motivation behind this analysis in the previous piece.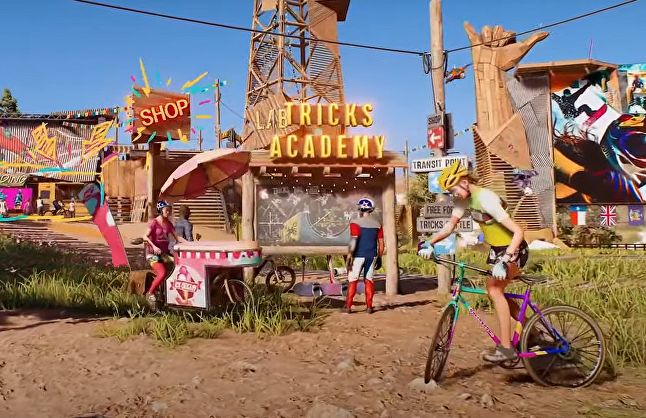 Let's look at the biggest showcases of the week: of the major companies, Nintendo had the highest proportion of non-violent games: 22% of its line-up, mostly thanks to third-party reveals such as racer Cruis'n Blast, the return of Super Monkey Ball and a Switch port of Tony Hawk's Pro Skater 1+2.
That's a big improvement on the 7% Nintendo achieved in 2019, also lower than the previous study's leader: Electronic Arts with a 33% non-violent line-up. Of course, that company has an annual wave of non-violent games in its sports titles and the fact EA Play isn't until July means we can't compare directly with Nintendo just yet.
Square Enix, Koch Media, Capcom and Gearbox all showcased multiple games, but without a single non-violent title among them
Xbox was the next highest with 13% of its games classed as non-violent. That's down from the 24% in 2019 and it actually showed a little under half the number of non-violent games this year: four titles in its 2022 line-up — Forza Horizon 5, Flight Simulator, Shredders and Somerville — rather than ten.
It's worth noting Microsoft's showcase featured fewer games this year — 31 vs 2019's 51 — and didn't get a non-violent boost from the usual [email protected] montage. The showcase also encompassed Bethesda for the first time, which in 2019 hosted its own showcase. Back then, the Fallout firm only had one non-violent title — collectible card game The Elder Scrolls Legends — whereas its line-up this year was entirely focused on violence and combat.
Ubisoft suffers in comparison with its 2019 performance, down from 31% to just 10%. The publisher showed off only four non-violent games — Riders Republic, Rocksmith+, Just Dance 2022 and a new Assassin's Creed Discovery Tour, which is usually released as a standalone game on PC. The publisher was hurt by no-shows such as Roller Champions or an update or follow-up to The Crew.
However, Ubisoft's line-up was still leaps and bounds ahead of those by Square Enix, Koch Media, Capcom and Gearbox Entertainment. All three presentations showcased multiple games, but without a single non-violent title among them.
While the non-violent offering from each of the major companies shrank, Devolver Digital's line-up actually improved. 37% of the titles from the indie publisher's showcase were non-violent, up from 28% in 2019 — despite having roughly the same size line-up at eight titles vs seven last time.
It was followed by Future Games Show, where 36% of the 57 titles featured could be classed as non-violent. The vast majority of these were indie-developed, although there were some familiar brands in the form of Overcooked, OlliOlli and Story of Seasons.
If we were to only focus on E3 events, the numbers shrink even further. Across the 193 games shown on the official livestream, only 35 were non-violent — only 18%.
You can find a full table of all the presentations we studied below. Note: The total number of games exceeds 349 due to multiple showings for certain games, such as Two Point Campus and Just Dance 2022.
| | | | |
| --- | --- | --- | --- |
| Wholesome Direct | 76 | 63 | 83% |
| Devolver Digital | 8 | 3 | 37% |
| Future Games Show | 57 | 21 | 36% |
| Nintendo Direct | 27 | 6 | 22% |
| Guerilla Collective 2 | 35 | 7 | 20% |
| Summer Games Fest Kickoff Live | 25 | 5 | 20% |
| Xbox & Bethesda Showcase | 31 | 4 | 13% |
| UploadVR Showcase | 34 | 4 | 11% |
| PC Gaming Show | 20 | 2 | 10% |
| Ubisoft Forward | 20 | 2 | 10% |
| E3 Indie Showcase | 24 | 2 | 8% |
| Square Enix Presents | 16 | 0 | 0% |
| Koch Primetime | 11 | 0 | 0% |
| Capcom | 5 | 0 | 0% |
| Gearbox | 4 | 0 | 0% |
GamesIndustry.biz

Source link
Related Post: