In theory, coming up with an entertaining origin story for 101 Dalmatians villain Cruella de Vil could be more of a challenge than, say, a Joker movie. The Batman baddie could have been transformed into an unhinged killer by factors out of his control. But Cruella wants to turn puppies into coats for the sheer fashion value! That's a choice.
Cruella director Craig Gillespie had his work cut out for him. "The dogs [were] something that we knew we had to address," he tells Polygon. There's no 101 Dalmatians prequel without at least one Dalmatian.
How Gillespie factors the spotted pets into the plot of the new Disney film is a squeal-worthy moment of depravity. And it's a sequence the director couldn't imagine pulling off 10 years ago. But in some ways, it now defines his entire career.
[Ed. note: This story contains major spoilers for Cruella.]
Cruella opens with young Estella, the girl who will eventually become the fur-coat-wearing, cigarette-puffing haute couture designer of Roger and Anita's nightmares. Kicked out of school for aggressively fighting back against bullies, she and her mother Catherine hightail it to London, where they hope to get an assist from The Baroness (Emma Thompson). Instead, The Baroness' three guard-Dalmatians leap on Estella's mom, pushing her off a cliff to her death. These dogs have blood on their paws!
"There were executives," Gillespie admits, "that said, 'Well, maybe they can scare her, and she can sort of stumble—' I'm like, 'No.' That's splitting hairs. It had to be this very aggressive moment. It's one of those places where you're going to lean in."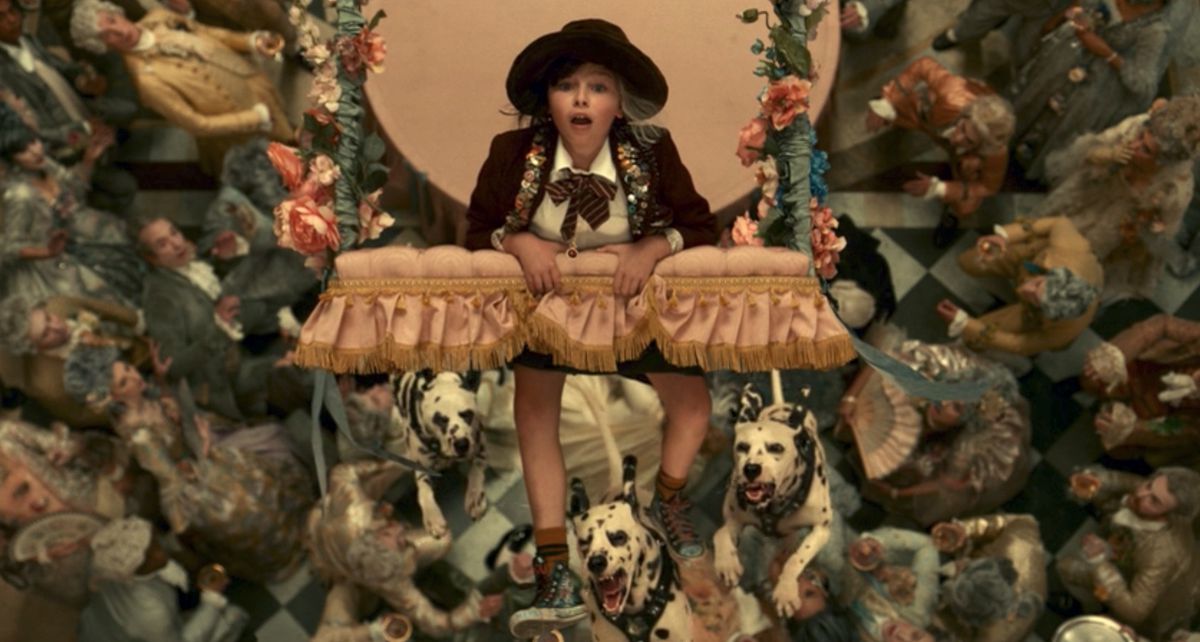 Gillespie, a longtime commercial director who made his feature debut with the ill-begotten comedy Mr. Woodcock, found his feature career stalling in the early 2010s. While his follow-up indie, Lars and the Real Girl, garnered acclaim, his remake of Fright Night and the Disney sports drama Million Dollar Arm felt like safe bets. He says he discovered his voice again with I, Tonya, his gnarly look at the career arc of figure skater Tonya Harding.
"I had been doing commercials for 25 years, and in some ways, I had taken more chances in commercials," Gillespie says. "From the sheer volume of them and the stakes that are involved, you get to explore things more." Gillespie's wife eventually pushed him to find a film that would fit his risk-taking approach on commercials. Then I, Tonya came along. "Rather than trying to second-guess what an audience or the studio [might want], I just went with my instincts and what I really gravitated toward and enjoyed."
For that film, Gillespie mashed up the beats of a biopic with streaks of violence and prickly humor. Every day was a balancing act of being respectful to the characters, and pushing them to more heightened places. I, Tonya went on to become the director's biggest box-office hit, picking up three Oscar nominations. So when Disney knocked on his door to direct Cruella, he brought on I, Tonya cinematographer Nicolas Karakatsanis, and approached the prequel "with the same abandon. I'm really going to go with my instincts, and fight for my instincts."
Disney spent years developing Cruella with different teams — the finished film has five credited writers, between "Screenplay" and "Story." But while the structure had been mostly cracked by the time Gillespie signed on, there was no bark or bite. So the director enlisted the help of playwright Tony McNamara, who had just worked with Emma Stone on The Favourite, "to find a tone that I felt that I could really deliver something unique with."
McNamara delivered on the film's much-needed banter. Gillespie points out a scene where Estella discovers that, years after those Dalmatians pushed her mom off a cliff (off a cliff!), The Baroness is now wearing Catherine's family-heirloom necklace. "The way it's written on the page, the Baroness is so flippant," the director says. "There's a lot of gravity to the scene, but the humor and the callousness with which the Baroness is talking about it threw some people off." A few Disney producers wondered if the tone was appropriate for such a serious moment. "And I sort of looked at it like, 'This is one of my favorite scenes!'"
Catherine's demise by dogs was only momentarily debated; Gillespie says once people saw the (literal and creative) execution, there were no more questions.
"What I love about the way it's constructed is that you kind of have no idea it's coming. It happens very quickly in the film, and the music that we decided to put on, The Animals, doesn't tell you what's going to happen. Typically in a film, you would have a score that's building to this moment, so you know something bad is about to happen. It puts tension in there. My editor and I talked about it a lot, the idea that it's as shocking to the audience as it is to young Estella — the violence of that, and actually seeing what happens. I really wanted to lean into it in a gratifying way, and Disney never backed down from it once they saw it."
Gillespie and the team of credited writers chose not to demonize Cruella with an actual, vengeful dog-scalping. Instead, when she dons a Dalmatian-pattern gown in one of her big punk-rock moments, the media speculates on whether the pattern is real dog, in "let them eat cake" fashion. The anti-hero never crosses the line of dog murder, but the reputation sticks.
"She owns it," Gillespie says. "And she says 'Sometimes it's better to be what they expect you to be,' and then takes advantage of that. It's a bit of commentary on society today."
Gillespie will follow I, Tonya and Cruella with Hulu's upcoming Pam & Tommy, which reframes the salacious drama surrounding the release of Pamela Anderson and Tommy Lee's sex tape in the 1990s. The miniseries feels like an unofficial trilogy-capper to everything that's absorbed the director during this refreshed stage of his career. Olympic figure-skater plots, sex-tape capers, Dalmatian deaths — the wild turns are all in orbit of female characters whose lives are written one way, and played out in another.
"I'm always drawn to these outsiders and misfits and misunderstood characters," Gillespie says. "I feel like I really found my voice."
---
Polygon – All

Source link
Related Post: