Developer Tuque Games behind upcoming Dungeons & Dragons Dark Alliance have released a new gameplay trailer ahead of its launch later this month. The developer has also announced post-launch content.
Dark Alliance Receives Gameplay Trailer and Post-Launch Content Announced
Tuque Games will be releasing their Action-RPG Dark Alliance on June 2nd. Ahead of the launch they have unveiled a new gameplay trailer narrated by the amazing Jemaine Clement who gives a colourful look at the features of the game including each playable character, combat, online co-op and the enemies players will come face to face with.
The party will contain Drizzt, Catti Brie, Wulfgar and Breuenor Battlehammer. Each of these heroes has over 50 moves and abilities to unlock, which sounds like an extensive combat system. Attacks can be chained together to unleash some powerful combos. You can dodge, parry and block, but this will reduce your stamina. Gaining an ultimate will require you to fill your ultimate meter.
As for the enemies, there are over 30 different enemy types which include goblins, and of course Beholders, which we got a preview off with the last trailer featuring the Hagedorn boss battle. The trailer also details a little about the story which follows the Crystal Shard which every enemy wants to get their hands on, ultimately teaming up to take it, and only the heroes of this story stand in the way of them doing that.
You can check out the trailer below:
The post-launch content for Dark Alliance has also been announced, with the first free DLC hitting summer 2023 which will launch alongside couch co-op. While the game launched with online co-op at launch, the split screen co-op will be coming in the summer. According to the roadmap, the first DLC will contain new levels. A second DLC will be arriving in fall 2023, adding new levels and further new difficult rankings. Also coming in fall will be the first expansion called Echoes of the Blood War, adding a new playable character, new levels and more.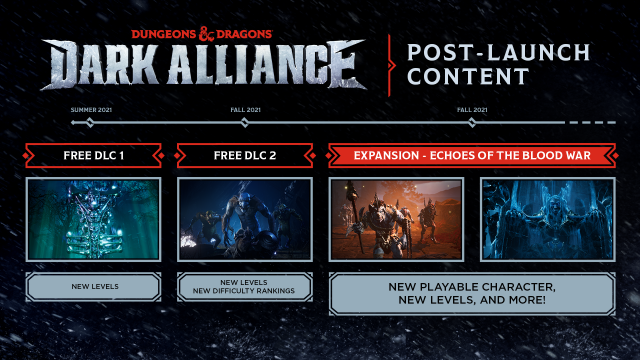 Blood War in the 5th Edition D&S is all about an endless battle between devils and demons of the Nine Hells. It will be interesting how Tuque will be implementing this hellish war in Dark Alliance.
In case you missed it, this entry for the D&D series is a reboot of the franchise, this time straying away from the top-down isometric view, putting players straight in the action with the over-the-shoulder point of view.
Dark Alliance will release for all platforms in US and Canada, as well as on PC and Xbox in Australia and Europe, on June 22. The release date for PlayStation®4 and PlayStation®5 in Australia and Europe is July 6. In the meantime head to our Dark Alliance wiki for all the latest.
---
For more news find it here in Vampire: The Masquerade – Swansong Confirmed For PC Gaming Show 2023 And Nacon Connect and Elden Ring Publisher Bandai Namco E3 2023 Broadcast Date Announced; Will There Be Elden Ring?.
Fextralife

Source link
Related Post: