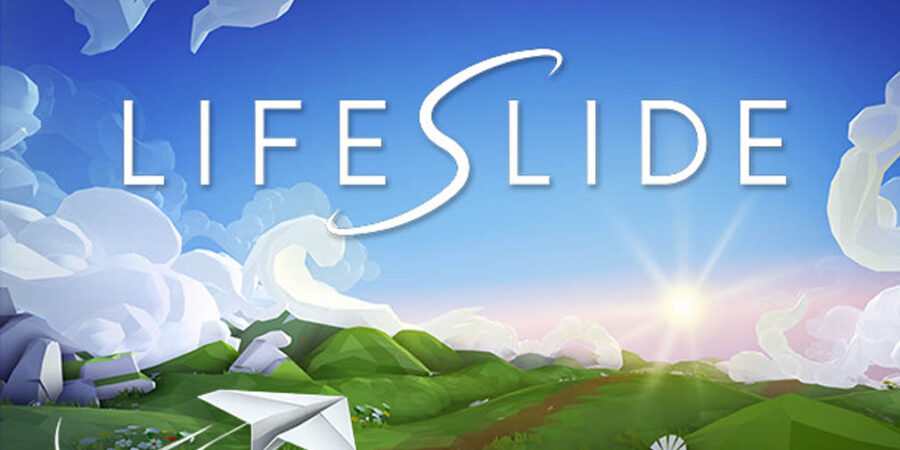 Lifeslide, the meditative paper plane experience from Dreamteck, flies into Steam as part of this year's E3. The former Apple Arcade exclusive will appear on June 12th with a playable demo on Steam, giving non-mobile players a chance to get a taste of the relaxing flight adventure.
As E3 kicks things off with its yearly smorgasbord of games showcases, variety streamer Waterlynn will show E3 attendees a quick playthrough of Lifeslide to give everyone a taste of the atmospheric game. Dreamteck will also be hosting Zoom meetings along with Twitch streams of Lifeslide, so if you're interested in giving the game a go yourself, be sure to tune in as Lifeslide keys are up for grabs during the streams' giveaways.
Lifeslide will officially launch on Steam on August 6th. It will feature full controller support as you navigate the skies in an engineless adventure, soaring higher and farther through an ever-changing landscape. A breathtaking soundtrack serenades you in the background with orchestral notes and electronic rock. Also, the absence of any text and narration makes the story more profound, as you'll have to decipher the meaning of the story told implicitly through the world around you.
In Story Mode, the game features 28 procedurally generated stages while the Zen mode lets you customize replays of your favourite Lifeslide moments. There are regular challenges you can take part in every week, plus eight kinds of paper planes with unique styles of play for each. There will also be other improvements for the PC port (like stages apparently rebuilt from scratch) – we'll just have to wait until the official release to see these upgrades for ourselves.
Looking for more adventure games to satisfy your thirst for epic questing? Check out our list of the top 15 best adventure games for iPhone and iPad (iOS)!
Latest Articles | Pocket Gamer

Source link
Related Post: