The CRPG Empire of Sin is getting a new expansion called Make It Count, releasing later this year.
Empire of Sin Make It Count Expansion Announced Releasing Later in 2022
Paradox Interactive and Romero Games announced during the PDXCon Remixed today, that their mobster boss CRPG Empire of Sin will be getting a paid expansion later this year.
Make It Count will add a new boss, Meyer "the Accountant" Lansky. It will also introduce new gangsters called "the Fixers" who run the Loan Sharking Racket.
Check out the list of official features below:
Meyer Lansky – Play as the "Mob's Accountant," a boss that excels at economics and creates synergy in combat. He uses his smooth-talking to "make peace" with money and connections.
"The Fixers" – Five gangsters are up for hire, bringing their loan sharking Racket and combat abilities. This Racket unlocks Blackmail over other characters and factions.
A string of missions that tell the story of Lansky and the Fixers, unlocking game features like Loan Sharking, and introduce Lansky's mentor, Arnold Rothstein.
New rackets, new abilities, new gangsters, and new missions – more details to come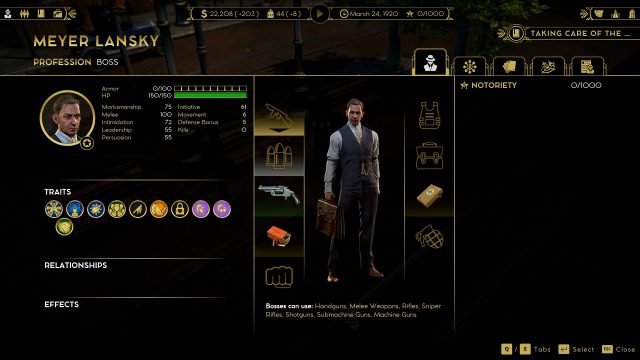 Empire of Sin released on the tail end of last year, introducing players to the life of crime as a mob boss in the 1920's Prohibition-era in Chicago. The game is in top-down perspective, letting you build your crime empire with upgradeable illicit businesses to run including breweries, brothels, and speakeasies. Players also need to manage their crew and compete with rivals.
Combat is turn-based, with players making moves and attacks from a menu. There are also various weapons including firearms, knives, brass knuckles and even nail bats.
Previously Paradox also announced an update called Precinct which will introduce a level of management, adding a new win-mechanic and support for mods.
Most recently the Gangster Update released for Empire of Sin adding Diplomacy improvements, combat auto-resolve, an updated weapon proficiency system, as well as gangster, combat, faction adjustment. There were also a number of gameplay and UI fixes.
Empire of Sin: Make It Count will released on PC, PS4, Switch, and Xbox One later this year. This expansion arrives alongside the Precinct update.
---
For more news find it here in Rumour: Xbox And Bethesda To Hold Joint Conference In June and Bandai Namco Confirms Ni No Kuni 2 Is Coming To Switch With DLCs This September.
Fextralife

Source link
Related Post: