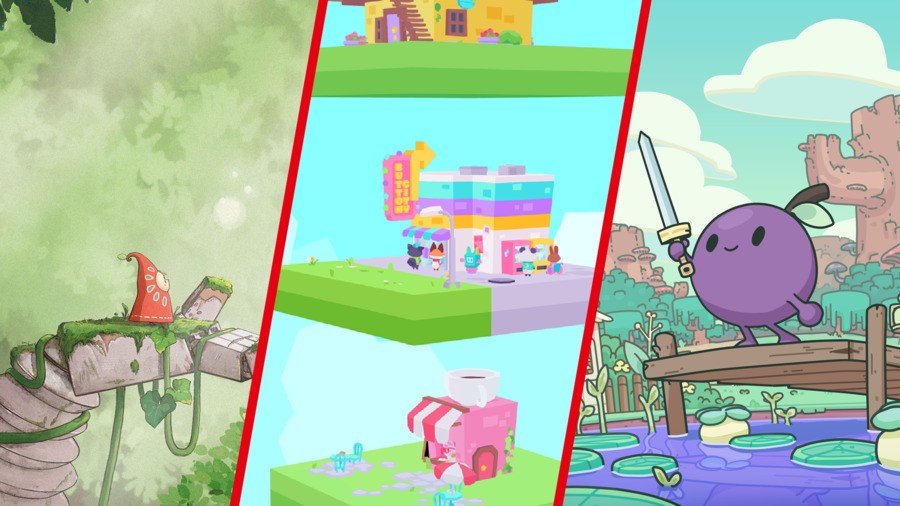 If you thought the Summer Game Fest ran through a lot of announcements really quickly, then the Wholesome Direct must have looked like a blur in your rear-view mirror. With 75 "wholesome" games to run through in just an hour, we managed to get quite a few "coming to Switch" titles but very little time to get to know them before they were gone again.
(Also, if you missed the Wholesome Direct, you can watch it again here!)
But we've got you covered!
Here's a list of every game from the Wholesome Direct that's coming to the Nintendo Switch, with short descriptions from the developers and release windows or dates, if they exist:
Amber Isle is a shop management/social sim set in a quaint, friendly world of prehistoric animal villagers called Paleofolk! Tasked with opening the only shop in a small, sleepy village, you find yourself crafting and selling items to solve unique problems of the unusual clientele. A table big enough for a brontosaurus, a water-proof picnic set for a plesiosaur, or a special toothbrush for a sabre-toothed cat!
Build and run a Bed+Breakfast in the woods, but you're a Bear. Tourists are flooding in, your decoration senses are tingling, and the woods are making a kooky noise.
Release Date: 2023
Embark on your adventure as an aspiring wildlife photographer in the hidden, magical jungles of Maravilla Island. Explore this mysterious island and solve puzzles to discover extraordinary creatures, interact with them in their natural habitat, and photograph the enchanting, unique behaviours you reveal!
Release Date: Out now!
Button City is a colourful low poly narrative adventure game about friendship and community. Enter a pastel diorama world inspired by 90's nostalgia and filled with cute characters to befriend. Complete quirky quests around town, play arcade games, collect fun costumes, solve puzzles and more as you follow a story about growing up and saving the things that are important to you.
Release Date: Q3 2023
Dordogne is a narrative adventure game in which you play as Mimi, a 32-year-old woman visiting the house of her recently deceased grandmother. As a souvenir of the childhood summers Mimi spent with her in Dordogne, her grandmother left her letters and puzzles to solve, to remind her to make the most out of life.
Release Date: 2023
Dreamland Confectionery is a comforting narratively driven exploration game about baking desserts to transform your world. Journey throughout the land to reclaim a lost childhood dream with the help of a vibrant cast of old friends.
Inspired by Information Society's song of the same name, Fire Tonight is a light-hearted but thoughtful walk through the story of a relationship. A story about believing in each other when the whole world tries to keep them apart.
Release Date: 12th August, 2023
A dozen dozen dazzling donut dilemmas await you, that's 144 (and, perhaps more…) puzzles to please your particular puzzley passions. To excite and delight there are mechanics galore; from splitters to pushers, mergers and cloners, randomizers, teleporters, and more!
Release Date: 2023
Unify a broken community as the newly-appointed Guardian of The Grove. Traverse a vibrant island to combat invasive Rot, inspire its inhabitants, and rebuild your home. You won't have to do this alone: fruity friends await, ready to lend a hand!
Release Date: Summer 2023
In Here Comes Niko! the cozy 3D platformer for tired people, you'll play as Niko traveling across scenic islands. Make new friends, catch fish, solve puzzles, snag bugs, and more! Oh, Did I mention your boss is a frog? With Here Comes Niko! you're in for the most laid back adventure of your life!
Hoa is a beautiful puzzle-platforming game that features breath-taking hand-painted art, lovely music, and a peaceful, relaxing atmosphere.
Release date: 24th August, 2023
KeyWe is a cute, co-operative postal puzzler starring Jeff and Debra, two small kiwi birds working in a whimsical post office. They must jump, flap, peck and butt-slam their way across an interactive landscape of levers, bells and buttons to get those messages delivered on time!
Release date: 31st August, 2023
Kokopa's Atlas
After crash-landing on a new planet unknown to all who previously passed by this sector of the galaxy, Kokopa and Pollimero soon realize their plight. With a ship that's too damaged to resume flight (What else would you expect? They crashed from outer space!), Kokopa and Pollimero set out to see what adventures they can find. Join them and explore a world full of beautiful landscapes, quirky characters, and untold secrets.
KreatureKind
In KreatureKind, the heroes – Riley, Yui and Mitra – have all found magic swords which enhance their inherent abilities. It just so happens that they are really good at hugging, listening, and sharing memes!
LEGO Builder's Journey is an atmospheric, geometric puzzle game that asks us to sometimes follow the instructions… and sometimes to break the rules.
Release date: 22nd June, 2023
Letters – A Written Adventure
Letters is a fun word puzzle game about friendship, growing up and finding your place in life. Follow Sarah, a shy girl from Switzerland, by moving through her pen pal letters and chat messages. Use the power of words to solve riddles, interact with her friends and decide who she will grow up to be.
Release Date: Late 2023
Mythic Ocean
Teach the gods to create a better universe – or mess it all up in Mythic Ocean, a narrative exploration game where your choices shape the fate of the cosmos.
Release date: 2nd July, 2023 (Demo on Switch available now)
Please Be Happy
A story of love and friendship, and about understanding not just how to be happy, but how to be human.
Release Date: 2023
Rainbow Billy: The Curse of the Leviathan
Save whimsical creatures with the power of kindness in order to recolor a black-and-white world in Rainbow Billy: The Curse of the Leviathan, a wholesome 2.5D Adventure-RPG!
Seasonspree
A game about nurturing friendships and celebrating the changing of seasons, where you play as Sunny, a cute little tanuki with the ability to control the flow of time just by walking around.
Release Date: 2023
Grind on bendy straws, kickflip over staplers, and carve killer lines through cardboard and sticky tape parks. Above all else, skate birds try their best!
Release Date: 12th August, 2023
Snacko
Former big city kitties Momo and Mikan are starting a new life on a seemingly deserted island. Unravel its mysteries while you rebuild a community, farm, fish, and explore the island and beyond!
Release Date: 2023
The Gecko Gods
Explore a mysterious island as a tiny lizard. Complete ancient puzzles, effortlessly climb cliffs, and eat bugs as you make your way across an island civilization lost to time.
The Magnificent Trufflepigs is a first-person, romantic, metal-detecting game. You play as Adam, a sharp-witted but compassionate man returning to his childhood village of Stanning. There he'll help a woman named Beth on her mission to unearth a local treasure.
Release date: Out now!
The Outbound Ghost
An adventure game about a ghost figuring out the cause of their own death, and helping others come to terms with the afterlife.
Release date: 2023
We Are OFK
We Are OFK is the story of how four friends came together to release their debut music without throwing their phones at walls in frustration. A making-of-the-band series & Interactive EP about dreaming, dating, and paying rent in Los Angeles.
Release date: 2023
Witchery Academy
Witchery Academy is a life simulator where you live the adventures of a wizard apprentice with your spirit companion. Train your magical skills and learn how to brew potions, grow vegetables and catch spells to challenge the curse that lurks in the world.
Woodo
Woodo is an upcoming puzzle game with a striking artstyle inspired by wooden construction toys. "With imaginary friend Woodo, we build tiny things bit by bit, immersed in a calm, peaceful world where time stands still."
Release date: 2023
---

Phew. That's a lot of games. Still, you won't catch us complaining about a host of excellent indies making their way to Switch. Which one do you have your eye on? Let us know in the comments!

Nintendo Life | Latest Updates

Source link
Related Post: