Summary
Deluxe Edition content revealed for F1 2022.
F1 2022 Deluxe Edition includes three days of early access – start playing from July 13.
Iconic drivers will be available in My Team, plus more exclusive items for F1 2022 Deluxe Edition.
The illustrious history of F1 is full of icons from every decade and era, right through to today's superstars, like Lewis Hamilton, Max Verstappen, and Charles Leclerc. In F1 2022, the official video game of the Formula One World Championship from Codemasters and EA Sports, seven of those F1 icons will be yours to race alongside, with F1 2022 Deluxe Edition, along with plenty more exclusive content revealed today!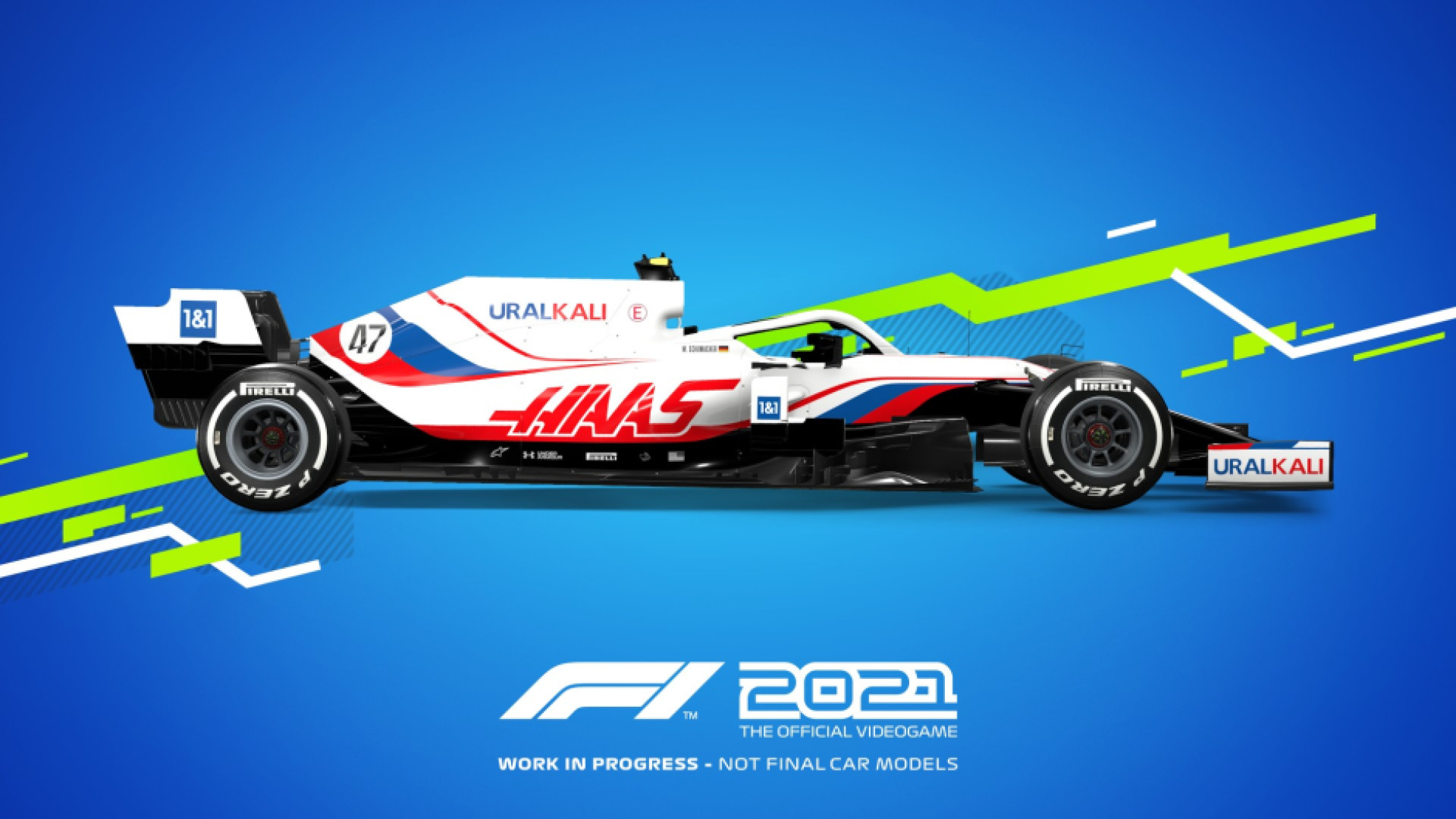 Iconic Drivers in F1 2022
Players of the Deluxe Edition, available to pre-order digitally right now, will receive the My Team Icons Pack, which includes seven iconic drivers across almost 40 years of F1 history. More on My Team in a moment – for now, let's say hello to our seven famous faces…
---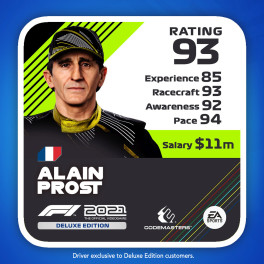 Alain Prost, often known as "The Professor" for his calculated, intelligent approach to motor racing, was a mainstay of F1 podiums for over a decade, taking a quartet of World Drivers Championships over the 1980s and early 1990s.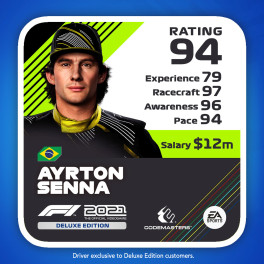 Prost's fiercest rival, Ayrton Senna, is one of sport's most legendary figures – his passion for racing and raw talent guiding him to three drivers' titles, all with McLaren.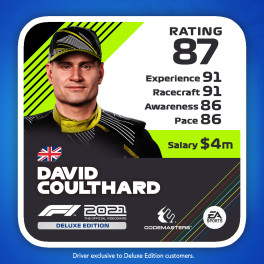 Scotsman David Coulthard was Senna's replacement after his untimely passing in 1994, and 'DC' carved out a fantastic career of his own, with nearly 250 races and 13 race wins.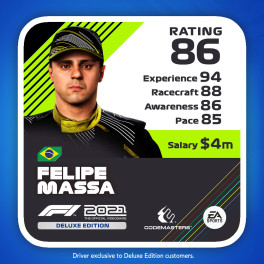 Felipa Massa often shared the grid with Coulthard – another Brazilian prodigy who notched up 11 wins, and came agonisingly close to defeating a certain Lewis Hamilton to the 2008 World Championship.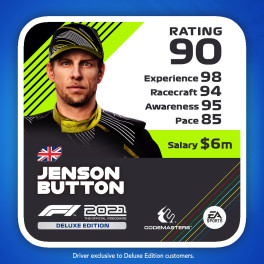 Another incredible driver from this century, Jenson Button's F1 world title came behind the wheel of the unforgettable Brawn GP car of 2009, between race-winning stints at BAR and McLaren.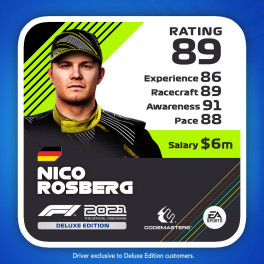 Nico Rosberg achieved what so many have tried and failed this century: defeating Lewis Hamilton in a straight World Championship fight, taking the title in 2016, shortly before retiring from the sport.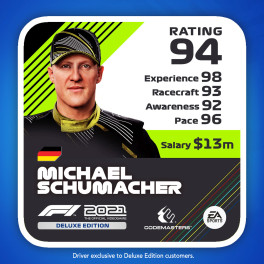 Last but not least, the legendary Michael Schumacher. 91 race wins. 68 pole positions. Seven World Drivers' Championships. Schumacher is the measuring stick that so many of today's F1 drivers aspire to reach – including his son, Mick.
Recruit F1 Icons in My Team
For F1 2022 Deluxe Edition players, these seven drivers will be added to My Team – our mode that allows you to live the dream of creating, running, and racing for your own official F1 team. On top of racing against the real-world F1 grid, My Team puts you in control of all manner of key team decisions – from choosing your colours and badge, to improving your facilities, to picking your teammate on the track from the driver market. Deluxe Edition owners will have these seven iconic drivers added to the driver market, meaning you can recruit and race alongside a selection of true F1 icons. Don't get starstruck!
More Exclusive Content for F1 2022 Deluxe Edition
This is just the beginning of what F1 2022 Deluxe Edition has to offer, though. Pre-ordering this version will also give you three days' early access to the full game, so you can hit the track from July 13.
The Braking Point Content Pack is also included in F1 2022 Deluxe Edition, containing exclusive in-game items inspired by the fictional characters from our new 'Braking Point' story experience with Character avatars, liveries, helmets, and more. Want to further customise your look? 18,000 PitCoin virtual currency is included in the Deluxe Edition, to spend in-game on visual items.
F1 2022 Coming to Xbox Series X|S
Whether you're brushing virtual shoulders with F1 icons, or mixing up your look on the track, there is plenty to get stuck into F1 2022 Deluxe Edition – and of course, you'll be able to do it all three days earlier.
Don't forget: F1 2022 is also the series' debut on Xbox Series X|S, so expect even faster load times, even greater graphical fidelity, and the most detailed F1 experience to date. July can't come quickly enough!

F1® 2022 Deluxe Edition
• Three days early access

• The entire F1® 2022 game

• My Team Icons Pack –
Seven iconic drivers to enhance your 'My Team' game experience: Schumacher, Senna, Prost, Rosberg, Button, Massa and Coulthard.
Exclusive in-game customisation items: Car livery | Suit | Gloves | Helmet | Victory radio call.

• Braking Point Content Pack –
Celebrate the release of F1® 2022 with exclusive in-game items inspired by the fictional stars of the new 'Braking Point' story experience. Equip them to race as Devon Butler, Aiden Jackson, and Casper Akkerman: Character avatar | Car livery | Suit | Gloves | Helmet | Victory radio voices.

• 18,000 PitCoin virtual currency to spend in-game.


Every story has a beginning in F1® 2022, the official videogame of the 2022 FIA FORMULA ONE WORLD CHAMPIONSHIP™. Enjoy the stunning new features of F1® 2022, including the thrilling story experience 'Braking Point', two-player Career, and get even closer to the grid with 'Real-Season Start'. Take your team to the top in the acclaimed ten-year 'My Team' Career mode, or race head-to-head in split-screen and multiplayer. Immerse yourself in the greatest racing spectacle on the planet and race with the authentic lineup of twenty heroic drivers and ten iconic teams from the 2022 season:
– 'Braking Point' – the thrilling new story experience
– New ways to play: two-player Career and 'Real-Season Start'
– Acclaimed 'My Team', split-screen and multiplayer

* Online connection required to download the final F1® teams' 2022 cars, full-season circuit selection, content (as applicable) and F2™ 2022 season update.

INTERNET CONNECTION & ALL GAME UPDATES REQUIRED TO ACCESS THE FINAL F1® TEAMS' 2022 CARS, CERTAIN CIRCUITS, CONTENT (AS APPLICABLE) AND F2™ 2022 SEASON UPDATE. SEE www.formula1game.com/2021 FOR DETAILS & AVAILABILITY OF THREE NEW CIRCUITS: PORTIMÃO, IMOLA AND JEDDAH. ACCEPTANCE OF EA USER AGREEMENT (terms.ea.com) REQUIRED TO PLAY. EA'S PRIVACY & COOKIE POLICY APPLIES (privacy.ea.com). YOU CONSENT TO ANY PERSONAL DATA COLLECTED THROUGH YOUR USE OF EA'S SERVICES BEING TRANSFERRED TO THE UNITED STATES, AS FURTHER EXPLAINED IN THE PRIVACY & COOKIE POLICY. EA MAY PROVIDE CERTAIN FREE INCREMENTAL CONTENT &/OR UPDATES. MANDATORY CONTENT UPDATES MAY BE DOWNLOADED AUTOMATICALLY, REQUIRE ADDITIONAL STORAGE, INCUR BANDWIDTH USAGE FEES & REQUIRE AN ADDITIONAL PURCHASE TO ACCESS. EA MAY RETIRE ONLINE FEATURES AFTER 30 DAYS NOTICE POSTED ON ea.com/service-updates.

F1® 2022 Game – an official product of the FIA FORMULA ONE WORLD CHAMPIONSHIP. © 2022 Electronic Arts Inc. The F1 logo, F1, FORMULA 1 and related marks are trade marks of Formula One Licensing BV, a Formula 1 company. Licensed by Formula One World Championship Limited. The F2 FIA FORMULA 2 CHAMPIONSHIP logo, FORMULA 2, F2 and related marks are trade marks of the Federation Internationale de l'Automobile and used exclusively under licence. All rights reserved.


F1® 2022
• The entire F1® 2022 game
• Braking Point Content Pack
• Celebrate the release of F1® 2022 with exclusive in-game items inspired by the fictional stars of the new 'Braking Point' story experience. Equip them to race as Devon Butler, Aiden Jackson, and Casper Akkerman: Character avatar | Car livery | Suit | Gloves | Helmet | Victory radio voices
• 5,000 PitCoin virtual currency to spend in-game

Every story has a beginning in F1® 2022, the official videogame of the 2022 FIA FORMULA ONE WORLD CHAMPIONSHIP™. Enjoy the stunning new features of F1® 2022, including the thrilling story experience 'Braking Point', two-player Career, and get even closer to the grid with 'Real-Season Start'. Take your team to the top in the acclaimed ten-year 'My Team' Career mode, or race head-to-head in split-screen and multiplayer. Immerse yourself in the greatest racing spectacle on the planet and race with the authentic lineup of twenty heroic drivers and ten iconic teams from the 2022 season:
– 'Braking Point' – the thrilling new story experience
– New ways to play: two-player Career and 'Real-Season Start'
– Acclaimed 'My Team', split-screen and multiplayer


* Online connection required to download the final F1® teams' 2022 cars, full-season circuit selection, content (as applicable) and F2™ 2022 season update.

INTERNET CONNECTION & ALL GAME UPDATES REQUIRED TO ACCESS THE FINAL F1® TEAMS' 2022 CARS, CERTAIN CIRCUITS, CONTENT (AS APPLICABLE) AND F2™ 2022 SEASON UPDATE. SEE www.formula1game.com/2021 FOR DETAILS & AVAILABILITY OF THREE NEW CIRCUITS: PORTIMÃO, IMOLA AND JEDDAH. ACCEPTANCE OF EA USER AGREEMENT (terms.ea.com) REQUIRED TO PLAY. EA'S PRIVACY & COOKIE POLICY APPLIES (privacy.ea.com). YOU CONSENT TO ANY PERSONAL DATA COLLECTED THROUGH YOUR USE OF EA'S SERVICES BEING TRANSFERRED TO THE UNITED STATES, AS FURTHER EXPLAINED IN THE PRIVACY & COOKIE POLICY. EA MAY PROVIDE CERTAIN FREE INCREMENTAL CONTENT &/OR UPDATES. MANDATORY CONTENT UPDATES MAY BE DOWNLOADED AUTOMATICALLY, REQUIRE ADDITIONAL STORAGE, INCUR BANDWIDTH USAGE FEES, & REQUIRE AN ADDITIONAL PURCHASE TO ACCESS. EA MAY RETIRE ONLINE FEATURES AFTER 30 DAYS NOTICE POSTED ON ea.com/service-updates.

F1® 2022 Game – an official product of the FIA FORMULA ONE WORLD CHAMPIONSHIP. © 2022 Electronic Arts Inc. The F1 logo, F1, FORMULA 1 and related marks are trademarks of Formula One Licensing BV, a Formula 1 company. Licensed by Formula One World Championship Limited. The F2 FIA FORMULA 2 CHAMPIONSHIP logo, FORMULA 2, F2 and related marks are trademarks of the Federation Internationale de l'Automobile and used exclusively under licence. All rights reserved.
Xbox Wire

Source link
Related Post: