N3twork has launched a new weekly event for its mobile match-3 game, Funko Pop! Blitz, which adds characters from the Masters of the Universe franchise to the game. The update is available now on iOS and Android.
The event starts from today and will run until 15th June, which is next Tuesday. It adds iconic characters from the newly-revived Masters of the Universe franchise in Funko Pop form such as He-Man, who is unlocked by gathering special He-Man shields that appear when you clear glowing chunks of Coridite from the puzzle board.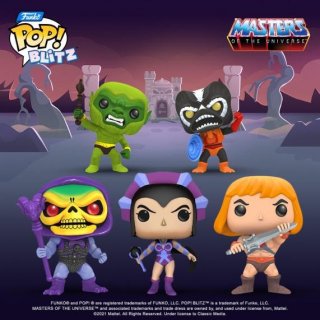 You can also collect other characters from the series too, such as Moss Man, Stinkor, Evil-lyn, and even Battle Armor Skeletor, all while being surrounded by the magical Castle Grayskull.
This event in Funko Pop! Blitz is just one part of the current and in-production projects in store for Masters of the Universe, which has recently seen a resurge in popularity due to new entries to the franchise. There's a new reimagining of the classic animated series, as well as a popular toy and collectible line, and a new Netflix animated series.
Meanwhile, Funko Pop! Blitz is also featuring a special VIP Pass which comes with a bunch of in-game bonuses. If you purchase the VIP Pass, you'll get immediate access to 15,000 coins, a silver chest with Pop! Tickets, and ongoing benefits such as an increase in max hearts and access to a daily VIP Spin Wheel and VIP Event Boxes.
The Funko Pop! Blitz VIP Pass is available today from the in-game store for only $10 and it lasts for 28 days from the moment of purchase. Meanwhile, you can download the game from the iOS App Store and the Google Play for Android store where it is a free to play game with adverts and in-app purchases.
Check out some of our favourite puzzle games on Android.

Want more?
Check out our 21 other
Funko Pop! Blitz news stories!

Latest Articles | Pocket Gamer

Source link
Related Post: