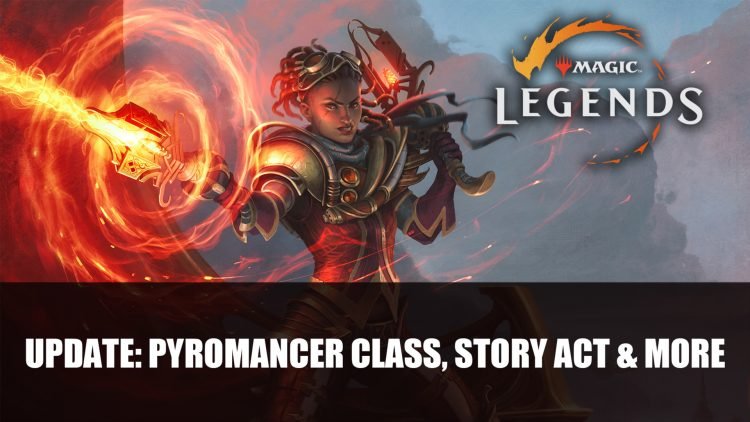 Cryptic Studios has released a new class for the free-to-play online Action-RPG Magic: Legends.
Magic Legends New Update Adds Pyromancer Class, Story Act and More
Developer Cryptic Studios of the Magic: The Gathering based title, Action-RPG Magic: Legends has released a new class Pyromancer which harnesses the power of Red mana and is a ranged caster. The fiery Planeswalker joins the online title in a brand new update free for all through the in-game store. Players can access the Planeswalker soon as they log into the game. The Pyromancer also has its own costume and extra spells which can be added to early levels in the free track of the current Battlepass, and will be available in every subsequent Battlepass. This will continue after the free claim period ends.
The new update also comes with a brand-new story act that will continue the player's journey in the Multiverse, improved performance, and adds a host of quality of life updates. Magic: Legends is currently in Open Beta on Arc Games and the Epic Games Store. It will be releasing on Xbox One and Playstation 4 later this year.
You can check out the Pyromancer class below to see this Planeswalker in action:
Below you can find the official details for the Magic: Legends latest update which is available for free today:
Story Act IV: Chasing Answers -The ancient and forgotten force that has moved silently in the darkness is stirring. The mysterious Planeswalker that players have been chasing through the various planes has been tracked to Benalia and Ral Zarek requires aid in confronting her, to finally get some answers.
New Class Pyromancer -Harnessing the unbridled fury of Red mana, the Pyromancer is a ranged caster class that quickly hurls damage from a distance, igniting the battlefield with reckless abandon.
Performance Upgrade-The dev team has upgraded various environmental and software optimization elements, providing frame rate and compatibility increases across various PC specs.
Added Features-Today's update adds several quality-of-life features, including a Random queue system for easier party formation, additional adjustments to the New User Experience for faster onboarding into the heart of Magic: Legendsdeckbuilding and customization, various social/chat improvements and more.
Magic Legends is a fast-action-paced RPG, using the Magic: The Gathering card system to provide spells for your character at random. If you're curious to know what we thought of the game, be sure to check out our Magic: Legends Hands-On Impressions. You can check out our latest Planeswalker builds in Magic Legends Builds: Whirlwind Wizard (Dimir Assassin Deck) Geomancer Guide and Magic Legends Builds: Demonic Horde (Black Creature Deck) Necromancer Guide.
Magic Legends is currently in open beta on PC via Arc Games and the Epic Games Store. Be sure to drop by our Magic: Legends wiki for all the latest and you can also learn more about the Pyromancer class.
---
For more news be sure to check out next Final Fantasy VII Remake Intergrade Gets Details On Nero, Scarlet, Battle Mechanics And More and Baldur's Gate: Dark Alliance Switch Release Had "Issues" According To Developer.
Fextralife

Source link
Related Post: