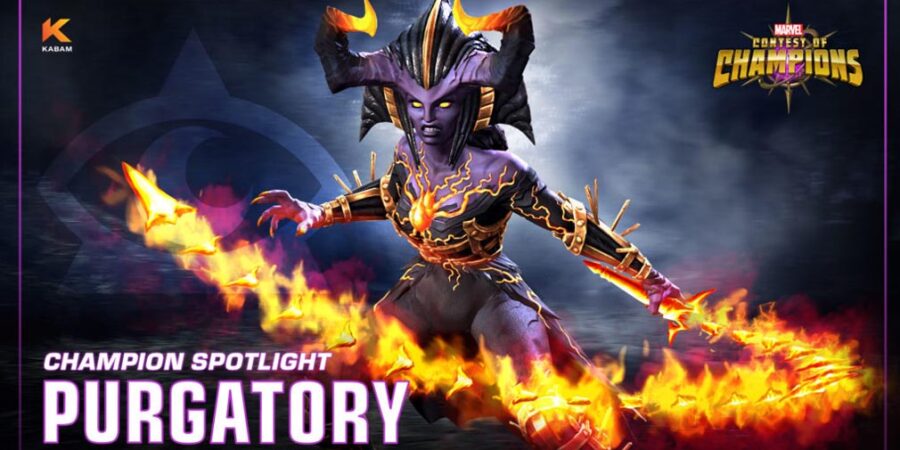 Marvel Contest of Champions introduces a new champion into the arena. Now transformed into a corrupted demonic creature, Queen Haasen will stop at nothing to vanquish foes who dare stand in her way, for Purgatory's Bloodthirst knows no bounds.
Kabam's action-packed fighting game now lets you play as Purgatory in The Contest, using her deadly (and totally cool-looking) moves to claim the souls of your enemies and reign supreme. With a Mystic character class, Purgatory's basic abilities include Incinerate Immunity, Demonic Rampage, Power Gain, and Degeneration. Players with an aggressive playstyle will find her enhanced Demonic Rampage state an absolute thrill – you can enter Demonic Rampage for a limited period of time when Bloodthirst reaches 100.
Bloodthirst is accumulated with every attack that lands, and once she's in her Demonic Rampage state, she gains extra Attack Rating as well as bonus effects on Special Attacks (Spiral Punishment, Stinging Souls, Calamity Symphony). Her second Medium will also have the ability to Incinerate the Opponent, making her a truly unstoppable force no matter who you're up against.
Are you ready to duke it out with the best of the best from Marvel's roster of capes and cowls? Marvel Contest of Champions is available to download on the App Store and on the Google Play Store. It is a free-to-play game with in-app purchases. Meanwhile, you can discover more about the unholy origins of how Purgatory came to be in the Bloodlines motion comic, or study her detailed moves and abilities from the official website's Champion Spotlight to know how you can maximize her skills on the road to becoming the ultimate champion.
Itching for more ways you can wreak havoc and inflict virtual violence on your unwitting foes? Check out our list of the top 25 best fighting games for Android phones and tablets!

Want more?
Check out our 26 other
Marvel Contest of Champions news stories!

Latest Articles | Pocket Gamer

Source link
Related Post: