Amazon's MMORPG New World will be having its Closed Beta this month. If you were wondering how to take part, date and time look no further as we have you covered.
New World Closed Beta: How to Join, Details, Date and Time
Ahead of the launch of New World which will be releasing on August 31st, Amazon are holding a Closed Beta ahead of release. The Closed Beta will have further content and features since its last Preview Event last summer. New content includes Territories, Expeditions, Outpost Rush, new weapons, and many more quests, adventures, and activities for players to experience.
New World Closed Beta Date and Times
New World Closed Beta will begin July 20 at 9:30AM PT (4:30PM UTC) and will continue until August 2 at 11:59M PT (6:59AM UTC).
New World Closed Beta How to Join
In order to participate in the New World Closed Beta there are three ways to sign up for a chance to be invited or to secure access:
Sign-up through the sign-up tester page.
Pre-order the game on Amazon
Pre-order the game on Steam
Participants will be invited randomly through the tester sign-up page at regular intervals while the beta is happening, so make sure you check your email in case you've been sent an invite.
Players who pre-order on Amazon by July 17 at 11:59PM PT (6:59AM UTC) will receive an invite on July 19. Pre-orders on Amazon after July 17 will receive an invite up to 48 hours after order confirmation.
Those who get invited to the Closed Beta through the tester sign-up page or preordered on Amazon will receive a Steam Key which can be redeemed through the Steam Library. Instructions of how to activate the Steam key can be found here. Those who preorder on Steam will automatically receive access to the Closed Beta and the "New World Closed Beta" should appear in your Steam Game Library.
The Closed Beta will have servers in North America, Europe, Australia and Brazil, with support for English voice-over and text in English, French, German, Italian, Spanish (Spain & LATAM), Polish, and Brazilian Portuguese.
Players should note that the progress made in the beta will not carry over to the final version of the game, with progress being wiped before New World's official release on August 31st.
New World Weapons & Combat
Players will not be adopting classes in New World, instead what you gain in Weapon Mastery will unlock skill points and abilities for your weapon of choice.
Combat and questing will gain your character experience, also granting attribute points to spend in strength, dexterity, intelligence, focus and constitution. You gain additional bonuses in these attributes when reaching 50, 100, 150, 200, 250 and 300.
Weapons fall into categories: Swords & Shields, Hatchets, Rapiers, War Hammers, Great Axes, Spears, Bows, Muskets, Fire Staves, Life Staves and Ice Gauntlets. You can learn more about each of these weapons types on our New World wiki.
New World uses a real-time combat system that is very skilled based, so if you've had experience with games such as Dark Souls, you'll feel at home with taking on higher levelled enemies in New World according to the devs.
New World Territories
In New World will have different settlement locations which are pre-determined within the world of Aeternum. These distinct territories will have their own Settlement and Fort. Settlements allow players to socialise, craft, trade, work on Town Projects and support their Faction through Faction Missions.
Players can also claim Settlements by first joining one of the three Factions:  The Marauders, The Syndicate or The Covenant. These three factions will fight each other for control over Aeternum for territories and resources. In order to join, players will need to complete the Quest line leading to one of these factions.
Within these Factions, you can create Companies, which are organisations run by players, sort of like guilds or clans. Companies that have successfully taken over a Settlement will also be able to claim the Territory they are located in.
New World Expeditions
New content arriving with this beta includes the addition of Expeditions. Expeditions are not too dissimilar to dungeons, which allow up to five players to take on challenges from solving puzzles to defeating menacing beasts. Players are encouraged to work together to overcome these challenges which include bosses, mechanics all with the chance to gain loot such as unique armor and weapons.
There are a few different Expeditions to explore including Amrine Excavation, Garden of Genesis, Lazarus Instrumentality, Dynasty Shipyard, The Depths and Shattered Obelisk.
There is a level requirement for Amrine Excavation, players will need to be level 25, meaning it is an "introductory experience" for those experiencing Expeditions for the first time. Mechanics of the puzzle's difficulty as well as AI will be scaled accordingly.
New World Outpost Rush
Another additions to experience in the Closed Beta are Outpost Rush. These are 20 v 20 PvPvE battlegrounds which you can solo or join with a small group. These Outposts can be upgraded, defended and used as forward operating bases to drive back the enemy. Here players can create everything from respawn points to pots of boiling oil to drop on their enemies. You can also build turrets for some extra firepower.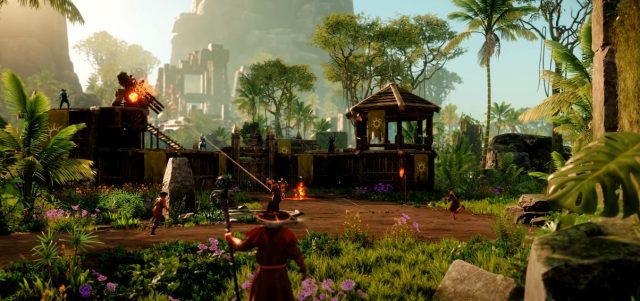 Taking on PvE foes will mean strengthening their side with buffs. The map has a variety of win conditions, so having the best firepower isn't always the route to victory.
If you want to check out New World with us, be sure to follow our Fextralife Twitch channel as we'll be streaming the game when the beta goes live.
Fextralife

Source link
Related Post: