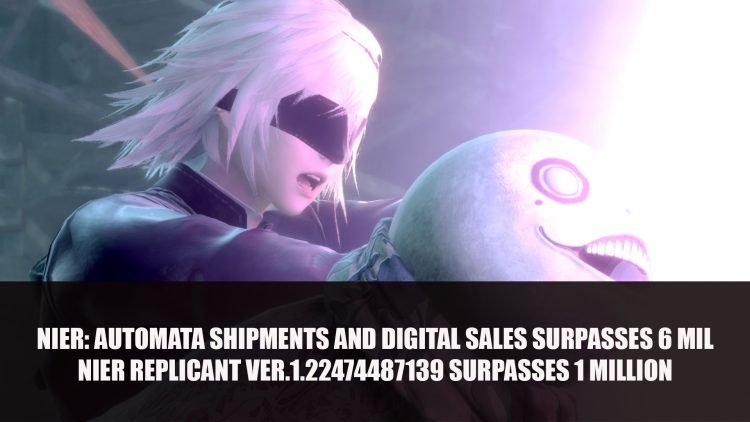 Square Enix has revealed new milestones for both NieR Automata and NieR Replicant Ver.1.22474487139 in terms of shipments and digital sales.
NieR: Automata Shipments and Digital Sales Surpasses Six Million; NieR Replicant Ver.1.22474487139 Surpasses One Million
The total worldwide shipments and digital sales for NieR Automata has now surpassed six million units, while NieR Replicant Replicant Ver.1.22474487139, deemed the upgraded version of the original which released this year has now surpassed one million. These new figures were announced by Square Enix.
Just in February Square has reported NieR: Automata had reached 5.5 million units, meaning it's gained another 0.5 million in units sold since then. NieR Automata first launched on the Playstation 4 in Japan on February 23rd 2017, which was followed by the North America release on March 7th and Europe on March 10th. The PC version via Steam launched on March 17th and Xbox One a year later on June 26th in 2018. The "Game of the YoRHa Edition" launched on PS4 and PC worldwide in February 2019.
#NieR:Automata and #NieRReplicant ver.1.22474487139… have shipped/digitally sold over 6 million and 1 million units respectively!

Whether you've cried over androids fighting a war for survival or an older brother trying to save his sister, thank you for all your support ? pic.twitter.com/yCBYySCq7N

— NieR Series (@NieRGame) June 22, 2023
NieR Replicant Ver.1.22474487139… launched this year on Playstation 4, Xbox One and PC worldwide on April 23rd. The title which offers upgraded graphics, a new dungeon and previously downloadable content as well as reworked combat giving it a more Automata experience.. If you want to know what we thought of the game you can find it here in Nier Replicant Review Impressions: Is The Nier Remaster Worth It? Should You Buy Nier Replicant V 1.22?.
---
If you're currently making your way through either game be sure to drop by our NieR Automata wiki and NieR Ver.1.22474487139… For more RPG news find it here in Cyberpunk 2077 Returns To The Playstation Store and Salt And Sacrifice Gets 10 Minute Gameplay Video.
Fextralife

Source link
Related Post: