NieR Re[in]carnation is melancholy and beautiful. It feels like a bite-sized version of the counterpart console releases NieR Replicant and NieR: Automata. Combat animations are slick and refined, with traversal feeling more cinematic when compared to other mobile titles in its vein. In its beta phase, it presents a future, more so than Genshin Impact in some ways, in which mobile titles could be the new future of AA productions by companies like Square Enix.
The NieR Re[in]carnation user interface is slick and retains that same minimalist visual style as NieR: Automata. Sometimes this works to great effect, especially when keeping the display clean and not obfuscated by a cumbersome interface. However, when telling various level up materials apart, the beta unravel at the seams. There aren't enough visual distinctions between some enhancement materials for characters and weapons. A lot of the time I would have to hold down on a material to understand what the game required in order to enhance, ascend, or level up weapons and characters. Additionally, the ascension system wasn't detailed in full, so I more or less had to learn by doing.
As I played the NieR Re[in]carnation closed beta test, this could be rectified with a more in-depth tutorial system when the game officially releases. That being said, the bit of tutorial in the game is integrated seamlessly via Mama. Mama guides you through the motions of learning the systems without breaking immersion. Additionally, there are prompts that allow players to skip through tutorials if they are already familiar with the systems or want to learn on their own.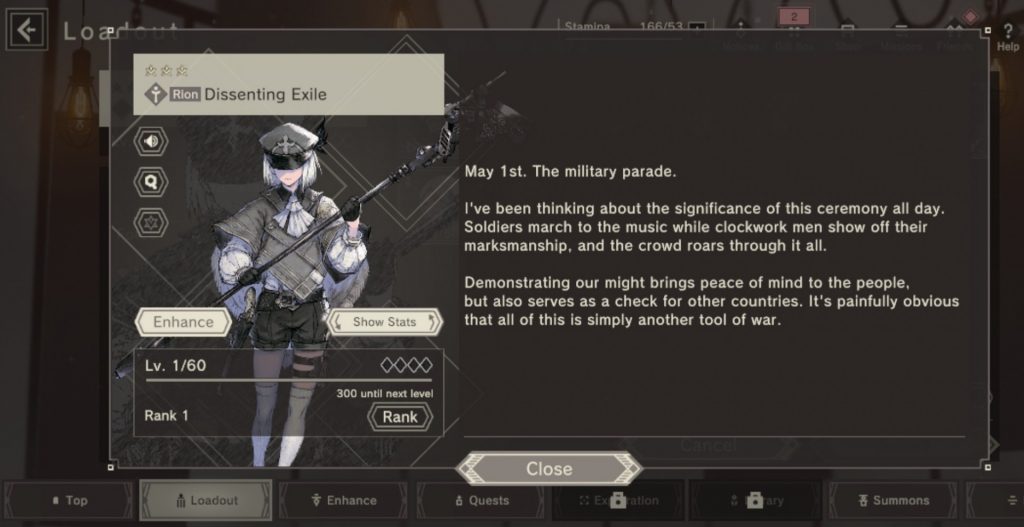 That being said, NieR Re[in]carnation borrows a lot from SINoALICE, which is something like a tangential installment to the Drakengard (and by proxy, NieR) series. It is a character and weapon gacha. This already makes me somewhat nervous for the future, as this was largely one of my least favorite things about SINoALICE, along with its Guerilla quest system. This does in fact make a return in here too. The idea of needing to set aside time every day to gather various enhancement materials for potential player versus player quests has me cautious. Not only are the drop rates somewhat low, I really dislike the option to grind for valuable materials locked to certain times of the day.
Regarding the gacha element, as I previously mentioned this offers a character and weapon gacha. This means that players can obtain weapons and characters from the same banners, with your pity roll either netting you a valuable character and their accompanying weapon or just a rare weapon. I was gifted roughly 60,000 of the in-game currency as part of the closed beta test. During that time, I only managed to obtain one of the max rarity characters, with the rest of my pity rolls netting me more max rarity handguns and spears than I could count.
However, lower rarity characters are still valuable in their own way. While they will more than likely not net you loads of Arena points (which are obtained through a player versus player style system) later in the game, they are more than sufficient enough to clear story chapters. And this is where NieR Re[in]carnation shines.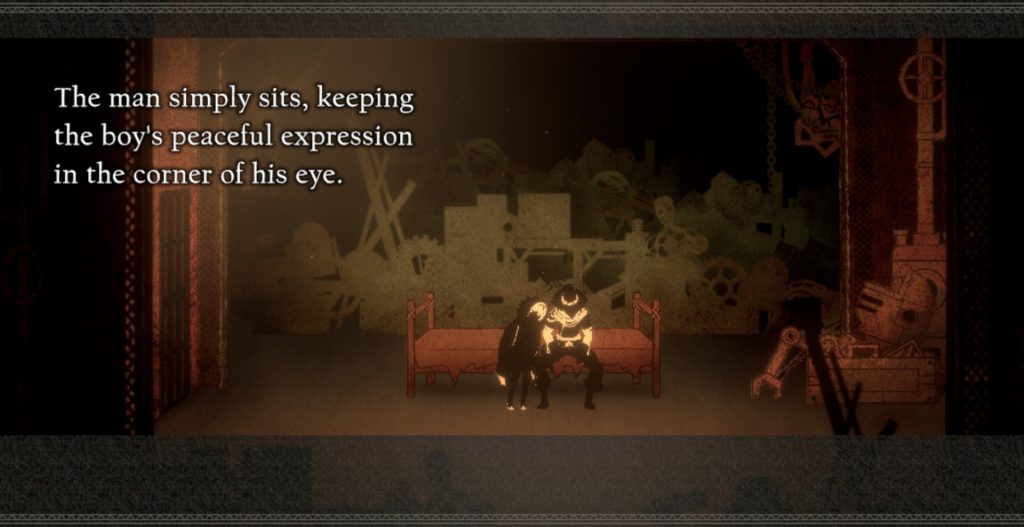 The writing and translation is phenomenal so far. Presently, only a handful of characters and their stories are available to experience. But each of them I found to be incredibly moving and extremely solemn. I was so wrapped up in the story of a sickly prince and his clockwork soldier that I spent hours grinding through quests to up my affinity level with them to learn more about their relationship with one another. I felt a twinge of sadness when I learned how their story would eventually end, but ultimately loved what the game had given me. Weapon stories also return, which add more flavor text to these characters in ways that only add to the overall experience.
The music in the beta was incredible, which is to be expected. The game even suggests that you turn the audio on while playing. I highly recommend doing this. Even if you clear some missions in a handful of seconds, the opening notes of some tracks are just too good not to listen to. This in conjunction with the more cinematic aspect of traversal through The Tower helped elevate my overall experience.
I honestly cannot wait for the full release. While I am very cautious regarding its rates and systems, I hope this is a game I can enjoy casually at the very least. I want to know where the story goes, and I want to know more about the people within the world of NieR Re[in]carnation. This is a game that I will be looking forward to either way.
NieR Re[in]carnation is available now on Android and iOS devices in Japan. A global version is currently in development, with pre-registration now available. However, a release date for the global client has yet to be announced.
Siliconera

Source link
Related Post: