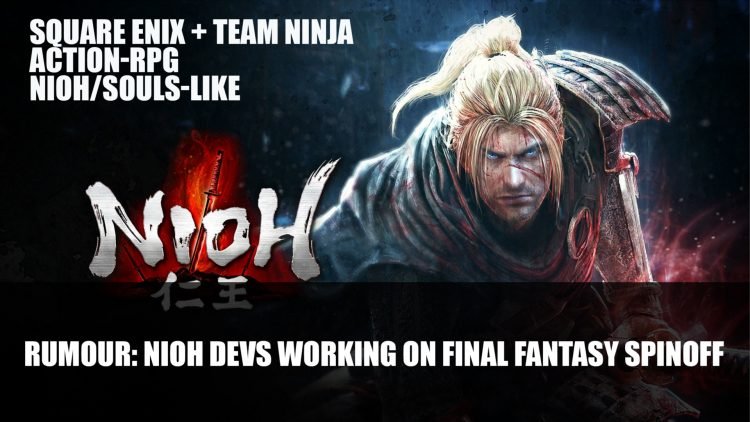 Developer Team Ninja is apparently working on a new RPG Final Fantasy spinoff Final Fantasy Odyssey with Square Enix.
Rumour: Nioh Developer Working with Square Enix on An Action-RPG Final Fantasy Spinoff
With E3 2023 drawing nearer, more rumours have arisen, especially on the likes of Reddit and Resetera, but this time surrounding a new Final Fantasy spinoff which Square Enix could be announcing this year. The rumour is about a particular title that allegedly being worked on by Nioh and Ninja Gaiden developer Team Ninja with Square Enix. The rumour also shares details that the genre is not too dissimilar to the likes of Nioh or a Souls game, suggesting that this Final Fantasy title might be something similar to the first Final Fantasy title on the NES. According to the website Fanbyte, who claim they have sources that also support the rumour and are putting forward that the title is Final Fantasy Origin.
The title appears also to be an exclusive for Playstation 5 according to the article with a possible PC release further down the road which wouldn't be too unheard of. The rumours suggest that this title will be part of Square Enix's upcoming E3 press conference which they are already confirmed to be part of the lineup, with a public alpha version coming out this summer under the name 'Stranger in Paradise'. The development consists of Dissidia Final Fantasy NT staff, who will be able to gain feedback from the early stage of development with the alpha according to the article.
The Reddit posts about the game share details of a "souls-like, Jedi Fallen Order mentioned as comparison point", which came from a "renowned leaker" who shared the Ghost of Tsushima DLC previously.
Of course all this has so far no confirmation from either Team Ninja or Square Enix so take this with a pinch of salt. But with E3 coming up next month we'll keep an eye on this possible title.
---
If you're interested in more E3 speculation be sure to check out next Rumour: Xbox And Bethesda To Hold Joint Conference In June.
Fextralife

Source link
Related Post: