Featuring the latest news from studios and partners worldwide, Microsoft's Xbox and Bethesda Games Showcase made its E3 2023 debut earlier today. Catch up on all the highlights with our recap post – no multi-page clickthrough required.
The first new universe in 25 years from Bethesda Game Studios, this next generation will send players on a journey to answer humanity's greatest mystery. Get ready to explore the cosmos when it comes out for the Xbox Series S/X and PC on November 11, 2023.
The underground labs and open-world fields of S.T.A.L.K.E.R. 2: Heart of Chernobyl were on full display with the first gameplay trailer for the game. The title will come out on April 28, 2023.
It's player versus player with the new PVP mode in WB Games and Turtle Rock Studios' Back 4 Blood. The title will hit store shelves on October 12, 2023.
Avalanche Studios and Xbox Game Studios have teamed up for Contraband, a co-operative title that is set in 1970s Bayan.
An epic new swashbuckling adventure, Rare's Sea of Thieves: A Pirate's Life sees the infamous Captain Jack Sparrow sailing in from beyond the horizon. The title will be split across five Tall Tales chock full of side quests and secrets.
The misadventures of Ichiban Kasuga will make their way to Xbox Games Pass today with the release of SEGA and Ryu Ga Gotoku Studio's Yakuza: Like a Dragon.
The first official gameplay trailer for Electronic Arts and EA Dice's Battlefield 2042 served as a showcase of its 128 player battles. The title will come out on October 22, 2023.
Annapurna Interactive's Twelve Minutes is an interactive thriller about a man trapped in a time loop. Featuring the talents of James McAvoy, Daisy Ridley, and Willem Dafoe, players can dive in when it comes out on August 19.
Psychonauts 2
Combining quirky missions with mysterious conspiracies, the world of Double Fine's Psychonauts 2 sends series mainstay Raz on a journey through the minds of friends and foes as he sets out to take down a murderous psychic villain. The title will come out on August 25.
Fallout 76: Steel Reign
The conclusion of the Brotherhood of Steel storyline, Fallout 76's Steel Reign features a new questline, new locations and gear, a season five scoreboard, and legendary crafting. It will be available on July 7.
Fallout 76: Expeditions – The Pitt
A free update to Fallout 76, Expeditions – The Pitt will take players outside of Appalachia. These story driven, repeatable missions will begin with the Pitt in 2023.
The Elder Scrolls Online: Console Enhanced
A new version of The Elder Scrolls Online for Xbox Series S/X, the Console Enhanced version of the game will provide boosts to graphical fidelity and performance. Players can see it for themselves when it launches on June 15.
Party Animals
A competitive brawler, Party Animals has players choosing a character from a diverse cast of adorable animals as they duke it out across different game modes. The title will come to Xbox Game Pass in 2023.
Hades Coming to Xbox Game Pass
After winning more than 50 Game of the Year awards, the world of Hades will make its way to Xbox Game Pass on console, PC, and cloud on August 13.
Somerville
A sci-fi adventure that is grounded in the repercussions of large scale conflict, Somerville tasks players with finding a way to make your family whole again.
Halo Infinite
Coming out Holiday 2023, the free-to-play multiplayer functionality of 343 Industries' Halo Infinite was showcased today.
Diablo II Resurrected
The definitive remastering of Diablo II and its Lord of Destruction expansion, Blizzard's Diablo II Resurrected will come out on September 23 for the Xbox One and Xbox Series S/X.
A Plague Tale: Requiem
The sequel to A Plague Tale: Innocence, A Plague Tale: Requiem will send Amicia and her brother Hugo on a perilous new quest. It will come out for the Xbox Series S/X and PC in 2023.
Far Cry 6
New gameplay footage of Ubisoft's Far Cry 6 was showcased today, putting the spotlight on the angry alligator Fang for Hire. This title will allow players to bring freedom back to Yara with co-op matchmaking.
Slime Rancher 2
Beatrix LeBeau will return to the Far, Far Range in the release of Monomi Park's Slime Rancher 2. This wiggly adventure will make its debut in 2023.
Shredders
A love letter to snowboarding, Foam Punch's Shredders has been designed as a passion project that takes full advantage of the Xbox Series S/X.
Atomic Heart
Taking place in the Soviet Union in an alternative 1955 reality, Mundfiish's Atomic Heart puts players in the shoes of special agent P-3. A manufacturing facility has fallen silent, and players must set out to find out what happened.
REPLACED
Players will be able to discover the dark secrets of Phoenix-City with REPLACED, a new title by Sad Cat and Coatsink. The title will come out on the Xbox One and Xbox Series S/X in 2023.
Grounded – The Shroom & Doom Update
Available June 30, the Shroom & Doom update for Obsidian's Grounded will allow players to befriend pets, build castles, unlock achievements, and fight the Broodmother.
Among Us 15 Player Lobbies
To celebrate its third birthday, 15 player lobbies will make their way to Innersloth's Among Us. This update will come later this year.
Eiyuden Chronicle: Hundred Heroes
Published by 505 Games and developed by Rabbit & Bear Studios, Eiyuden Chronicle: Hundred Heroes is an RPG that features a six character battle system, 2D sprites, and 3D backgrounds.
The Ascent
Starting August 19, the action shooter RPG The Ascent will be available on console, PC, and cloud via Xbox Game Pass. The title can be played both solo and co-op.
Age of Empires IV
Coming October 28, players will be able to dive into the center of epic historical battles with Age of Empires IV. Eight diverse civilizations, four distinct campaigns, and 35 missions have all been included.
The Outer Worlds 2
Featuring a new solar system and new crew, The Outer Worlds 2 has been revealed. More information will be released soon.
Microsoft Flight Simulator
Coming to the Xbox Series S/X on July 27, see Microsoft Flight Simulator running on consoles with the latest trailer for the game.
Forza Horizon 5
The vibrant and open world landscapes of Mexico are ripe for exploration with Forza Horizon 5. Players will be able to get behind the wheel of hundreds of the world's greatest cars.
Redfall
A legion of vampires have blocked out the sun and cut the island of Redfall, Massachusetts off from the outside world. Enter the player, who must team up with other survivors to fight back. Developed by Arkane Austin, the title will launch in Summer 2023.
Xbox Games
For those who'd like a quick recap of the event, scope out the games coming to the Xbox ecosystem with this trailer.
Xbox Mini Fridge
Coming this holiday season, keep your drinks cool with the Xbox Mini Fridge. Xbox Velocity Cooling Architecture has been thrown in for good measure.
Source: Press Release, YouTube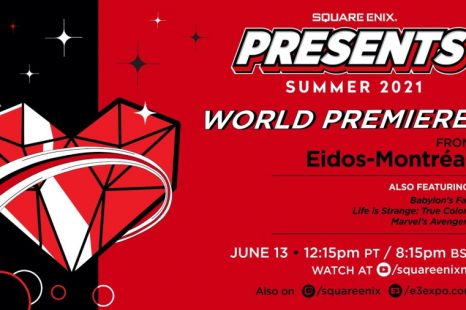 Posted
2 hours ago
in News
Day two of E3 2023 saw Square Enix swinging out of the gate with their Square Enix Presents Summer 2023 event. See what the house of Cloud has in store with our recap post – no multi-page
GamersHeroes

Source link
Related Post: