The brutal Viking survival game, Valheim, has just announced that it will not be delivering the planned four updates for this year. The developer, Iron Gate AB, has been too busy working on patches to fix urgent issues in the game. As a result, the Hearth and Home content for Valheim has been delayed until Q3 2023 and the roadmap has been taken down to receive some changes.
Valheim launched into Steam Early Access in February 2023 and far exceeded the expectations of the developer. The massive influx of players did what players always do best, uncovered tons of problems and bugs.
These issues haven't stopped tens of thousands of players from enjoying the game every month. However, Iron Gate AB was determined to make the gameplay experience as stable as possible before releasing new content. In the Hearth and Home delay announcement, the developer said it would not release an update it was not confident in.
Valheim is now in a stable state. And plenty of updates have been implemented to make improve gameplay. So, the developer is putting all of its resources into Hearth and Home. Following the release of that, it will move directly onto the big Mistlands update. Smaller updates will take a back seat for now. The team will still be releasing hotfixes each month.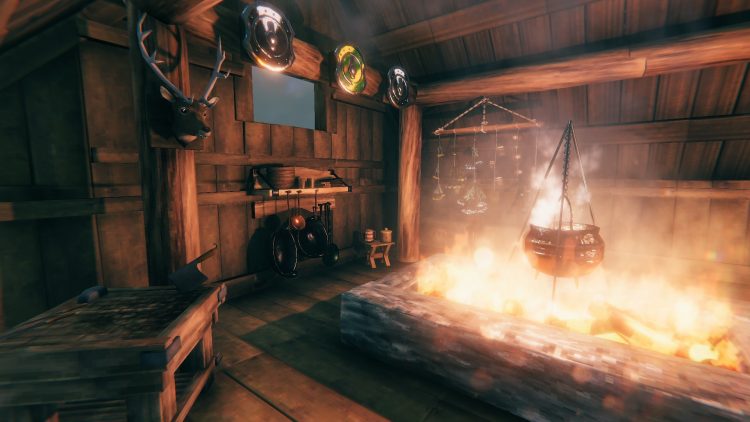 There's a lot cooking in Hearth and Home
To soften the blow of the delay announcement, Iron AB shared a few details and images of some of the new features coming to Valheim with Hearth and Home. As the name suggests, there's a lot of kitchen and home improvement stuff.
There are two new build pieces – Darkwood roofs and window hatches. You can see these in the features image at the top of this article. Your cooking station is getting plenty of extensions, including a spice rack, butcher's table, pots and pans, and more. The food system itself also receives a significant update.
Different foods will place more emphasis on boosting health or stamina. Stamina and health will also now impact your poise in combat. So, based on your playstyle, you'll need to make more considered decisions about which foods you eat. The Hearth and Home update will also add a table full of new food for you to cook. Plus, you will be able to grow onions in your garden. Which is useful and pleasant to look at.
Iron Gate AB wrapped up its announcement by committing to being more forthcoming with the game's ongoing development. It also thanked the community profusely for their support and ideas, which have helped guide the game's direction.
On that note, the developer is hosting an AMA on the Valheim subreddit at 8 AM on June 11. It is likely already finished by the time you're reading this. But you can still check out the aftermath, which is bound to be full of juicy details.
If you're new to Valheim or just want some tips to help you survive in the punishing Viking purgatory, you can check out our guides and features hub for the game. It will help you craft, cook, and defeat the powerful foes lurking throughout the land.
PC Invasion – FeedDDD

Source link
Related Post: