One of the biggest surprise announcements from Nintendo's E3 showcase was the Legend of Zelda Game & Watch to celebrate the franchise's 35th anniversary.
Similar to the Super Mario Bros Game & Watch released last year, we're expecting this to sell out quickly, so get your pre-orders now if you want one. You can pre-order The Legend of Zelda Game & Watch in the UK and US using the links below.
The Legend of Zelda Game & Watch UK and US pre-orders
Pre-orders are now live at most major retailers in the UK and US, and we'll be updating the list below when new pre-orders go live.
If you missed the E3 announcement for The Legend of Zelda Game and Watch, it contains three iconic games from the franchise, and an old-school Game & Watch title:
The Legend of Zelda (NES)
The Legend of Zelda II: The Adventure of Link (NES)
The Legend of Zelda: Link's Awakening
Game & Watch Vermin with a playable Link
Staying true to the Game & Watch name, the handheld also doubles up as a digital clock or timer. There's a clock built into the games, too.
Whether you're planning on buying this to keep unopened as a collector's item or you simply want to experience the original The Legend of Zelda titles on the go, be quick with those pre-orders.
Finding these in the wild after the November 12 launch is gonna be harder than finding all 900 Korok seeds in Breath of the Wild.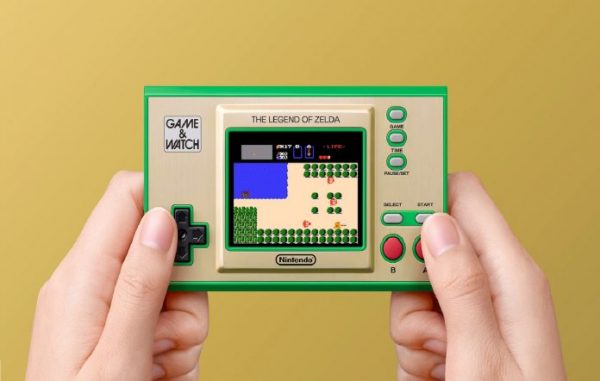 The Legend of Zelda Game & Watch pre-order US
A pre-order for The Legend of Zelda Game & Watch is available at the following retailers in the US:
The Legend of Zelda Game & Watch pre-order UK
Pre-ordering direct from the Nintendo Store is the only option in the UK at the moment. If you've got a preferred retailer, it's likely we'll see more names popping up in the future. We'll be updating this page to reflect that, so keep checking back!
That's it for now, but while we're on the topic of pre-orders, you can check out our pre-order guides for The Elden Ring, Marvel's The Guardians of the Galaxy and Battlefield 2042 if you want to grab those pre-order bonuses and save some money.
Don't forget: this year's Amazon Prime Day sale is just around the corner too, and we're expecting some great deals on consoles, software, accessories and loads more.
To be the first to hear about these deals as soon as they go live, make sure you give Jelly Deals a follow on Twitter.