Innersloth has revealed a roadmap of content coming to Among Us over the next couple of months.
The content roadmap for Among Us was revealed in the Summer Games Fest video showcase hosted by Geoff Keighley. It's available in video form as revealed on the stream, and also as a blog post posted on Innersloth's itch page.
????? The Among Us Roadmap ?????
what's next for us?? here are just a few of our future plans:
???? 15 players & new colors – Tan, Maroon, Gray, Rose, Banana, Coral
???? map 5
???? achievements
???? new roles & ways to play
???? visor cosmetics
???? more?!
link to all info in the thread ?? pic.twitter.com/frBjd15GIS
— Among Us ????? ROADMAP REVEAL!!! (@AmongUsGame) June 10, 2023
In terms of what content is coming up for Among Us, Innersloth has teased "Map 5", a new map coming to the game but is still remaining very secretive about what it'll be themed after and what kind of unique gameplay features will be attached to it.
Meanwhile, the developer has also showed off new player colours that are coming with the expansion to 15-player lobbies that were teased earlier this year. The new colours are Tan, Maroon, Gray, Rose, Banana, Coral.
Among Us currently only supports ten players in a lobby, so an expansion of five more should do a great job for those large parties who want to play together.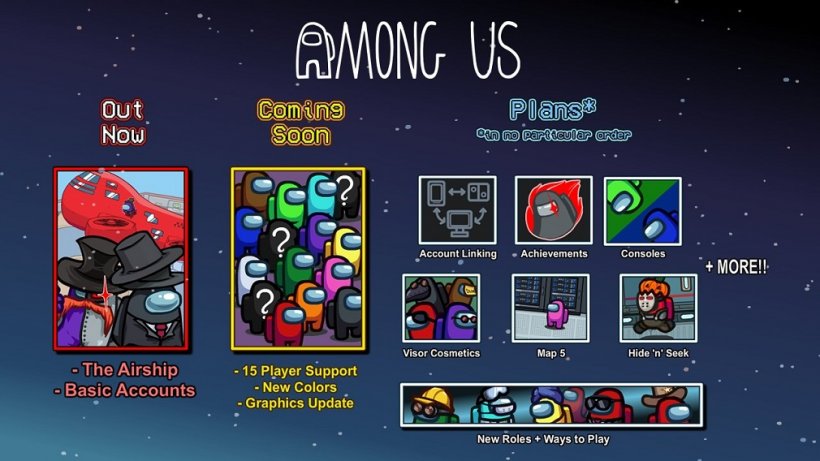 Other new content coming to the game includes visor cosmetics, achievements, and a hide and seek mode. Hide and seek is already an unofficial mode created by players, so it's nice to see it receive a proper implementation by the devs.
Finally, cross-platform integration is being expanded to include account linking. This means all your save data and cosmetics will be available on any platform you choose to play on.
You can download Among Us now from the iOS App Store and the Google Play for Android store, where it is a free to play title with adverts and in-app purchases.
Check out our list of the best strategy games available for Android.

Want more?
Check out our growing collection of
Among Us articles!

Latest Articles | Pocket Gamer

Source link
Related Post: