Larian Studios recently gave an update on how Baldur's Gate 3 is progressing currently in Early Access. In a recent interview they shared about the current state of the game's development, features they are concentrating on, and when they're hoping to fully launch the game.
Baldur's Gate 3 Not Leaving Early Access Before 2022; Patch 5, Early Access Development and More
The next update which is Patch 5 for Baldur's Gate 3 will focus on features of the game rather than the addition of new content. In a recent interview with the founder of Larian Studios Swen Vincke with Gamespot, the developer revealed more about the current developmental focuses for BG3 as well as what we can expect in the next update.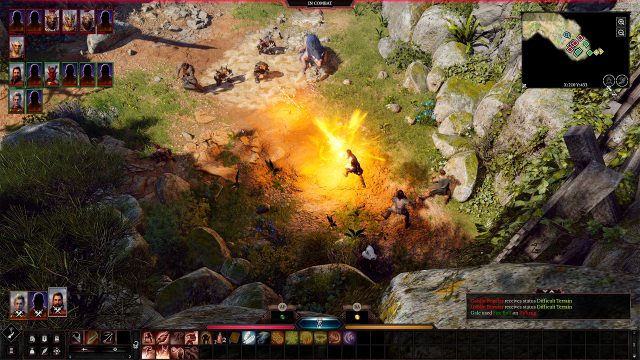 Current State of Development & Future Updates
The current state of the game's development was mentioned, Vincke shared that they haven't been sharing much recently, and silence usually means they are busy with development. He also explained that it is taking longer than expected and that the focus is on features rather than new content. While the last update added the Druid class, the next update is more to do with onboarding and learning from player feedback. Combat is the core focus as trying to improve this can be a little challenging as there are some things that don't translate well from the tabletop.
Vincke also later on explains that Baldur's Gate 3 is more extensive in terms of what Larian has done so far. This means it might take some time to implement things compared to previous titles, as it takes longer as they get further into the development process. The developer seems to be keeping things close to the chest, asks for fans to be patient and says to "hang in there".
One thing Vincke did reveal is that there will be a change to the starter area, the beach which is one of his favourite locations. Players can expect a "big change" for the beach in the next update, which will be dependent on which choices you make, but he has kept this rather cryptic for now.
Fighter Class
However some systems have been working well with the melee class such as shoving or throwing. But melee suffers from a different kind of problem currently. According to Vincke a lot of Divinity Original Sin players might expect being able to do more with a melee class in Baldur's Gate 3, but traditionally a D&D Fighter class is considered more as a tutorial class. This means they tend to have less to do compared with other Classes. BG3 is quite a different game, but Vincke assures it "doesn't mean you can't do really cool stuff" with them. Their focus as a developer is to help communicate this with a better user experience, communicating what you can do in the game.
We are passionate about making [Baldur's Gate 3] a really, really good game — a really good RPG that we can be very proud of and that you are gonna love playing and that is going to respect your choices as a player. But to be able to deliver that, we need time.
Player Agency
Ruled out (well at least for the moment) is the Dungeon Master Mode, when asked about whether this will be coming to Baldur's Gate 3 at launch or even as part of post-launch content it isn't looking very likely as part of the plans at the moment. The main focus seems to be getting the game out the door, and there is plenty that Larian are currently focused on in terms of features. The ultimate goal is player experience, for example, while you may have one experience with your playthrough of the game, your friend may have a completely different outcome due to their choices. The idea is Baldur's Gate 3 will "respect your choices as a player" but in order to do this, it will take some time.
Release Window & Consoles
If you were hoping that Baldur's Gate 3 will leave Early Access within this year, prepare to have those hopes dashed. Larian are currently aiming for a 2022 release window, while this isn't set in stone it is the current goal for the CRPG. Due to the pandemic causing quite the set back, Vincke hopes things will begin to pick up speed again as things get better. The studio has grown and they are in the process of adding more members to their team.
As for whether we'll be seeing PS5 and Xbox Series X added as platforms, there is no current word on these versions as the developer continues to focus on PC and Stadia.
Will there be another Panel from Hell?
When asked about whether the studio plans to do another Panel from Hell, Vincke is very much hoping to do another in the future. From the sounds of it, Larian is very passionate about keeping fans up to date and sharing more about the game in great detail…when they're ready of course.
Major differences between Divinity Origin Sin Early Access Development and Baldur's Gate 3
One of the topics touched upon during the interview is the contrast between Divinity Original Sin development and Baldur's Gate 3. Both had the Early Access portion of their development, however one big difference between the games is the general scope. While BG3 isn't more in terms of content according to the developer, there is much more going into it in terms of detail to every minute of gameplay, this includes cutscenes and gameplay requiring more focus. BG3 is vastly more complex in nature compared to the DOS series, being generally "more ambitious".
One thing players can count on is that there will be quite a big jump between the Early Access version and the fully launched version, even some things being completely under wraps as "some surprises" will be in store for fans.
If you enjoyed reading about Baldur's Gate 3 you can check out the previous update details for the Druid class in case you missed it. You can also drop by the Baldur's Gate 3 wiki for all the latest info and Early Access Baldur's Gate 3 Builds.
---
For more news find it here in The Legend Of Zelda: Breath Of The Wild Sequel Launches 2022 and Elden Ring Gains More Details Through Hidetaka Miyazaki Interview.
Fextralife

Source link
Related Post: