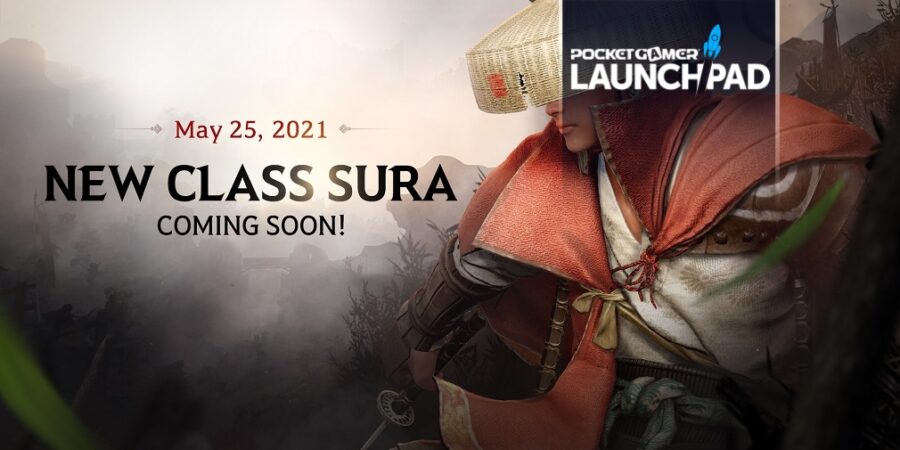 As we showcased on the Pocket Gamer LaunchPad stream last night, Pearl Abyss has announced its mobile MMO Black Desert Mobile is getting a new class called Sura. The update will be available soon for both iOS and Android devices, but you can pre-create your own version of Sura starting today.
Sura is a melee-based Ninja class that uses lightning-quick swordsmanship to bedazzle and conquer his foes. Sura wields a special katana which is actually forged from six individual legendary katanas and also has a set of kunai throwing knives at his disposal. He moves around the battlefield like a shadow, delivering quick and powerful single blows to his enemies.
You can check out James and Dann's impressions of Sura in the stream VOD archive from last night embedded inside this article. He is the 17th class to join the mobile MMO's already massive roster.
The video showcases Sura's swift, elusive combos that include a bunch of skills including Blinding Slash, where you charge forward in the blink of an eye, Shadow Cloak, where you perform a quick slash before disappearing out of sight, and Heavy Rain where you throw the katana into the air and attack with a rain of highly damaging blades that pour down on all enemies.
Sura arrives in Black Desert Mobile next week, and will surely become a force to be reckoned with when the update launches. To celebrate the launch, you can now pre-create your own Sura before he gets added to the game, and anyone who logs into the game between 18th May and 6th June will receive a Tier-6 horse, a Tier-5 pet, and a permanent costume set that is specifically designed for Sura.
Download Black Desert Mobile now from the iOS App Store and the Google Play for Android store, where it is a free to play game with in-app purchases.
Check out the rest of our LaunchPad #4 reveals at the official hub page

Want more?
Check out our 60 other
Black Desert Mobile news stories!

Latest Articles | Pocket Gamer

Source link
Related Post: