Medieval melee combat games have fast become a popular PvP multiplayer subgenre, as demonstrated by the success of games like For Honor and Mordhau. But developer Torn Banner Studios' Chivalry franchise is among its founding fathers, and ever since the launch of Chivalry II in June, it has proven itself an all-conquering force. Following critical acclaim, Chivalry II has now hit over 1 million units sold across PlayStation, Xbox, and PC platforms.
Naturally, there's cause for celebration, for Torn Banner, and its two publishers Tripwire Presents and Deep Silver, as the trio has today revealed the impressive figure alongside an infographic that reveals a number of interesting in-game statistics.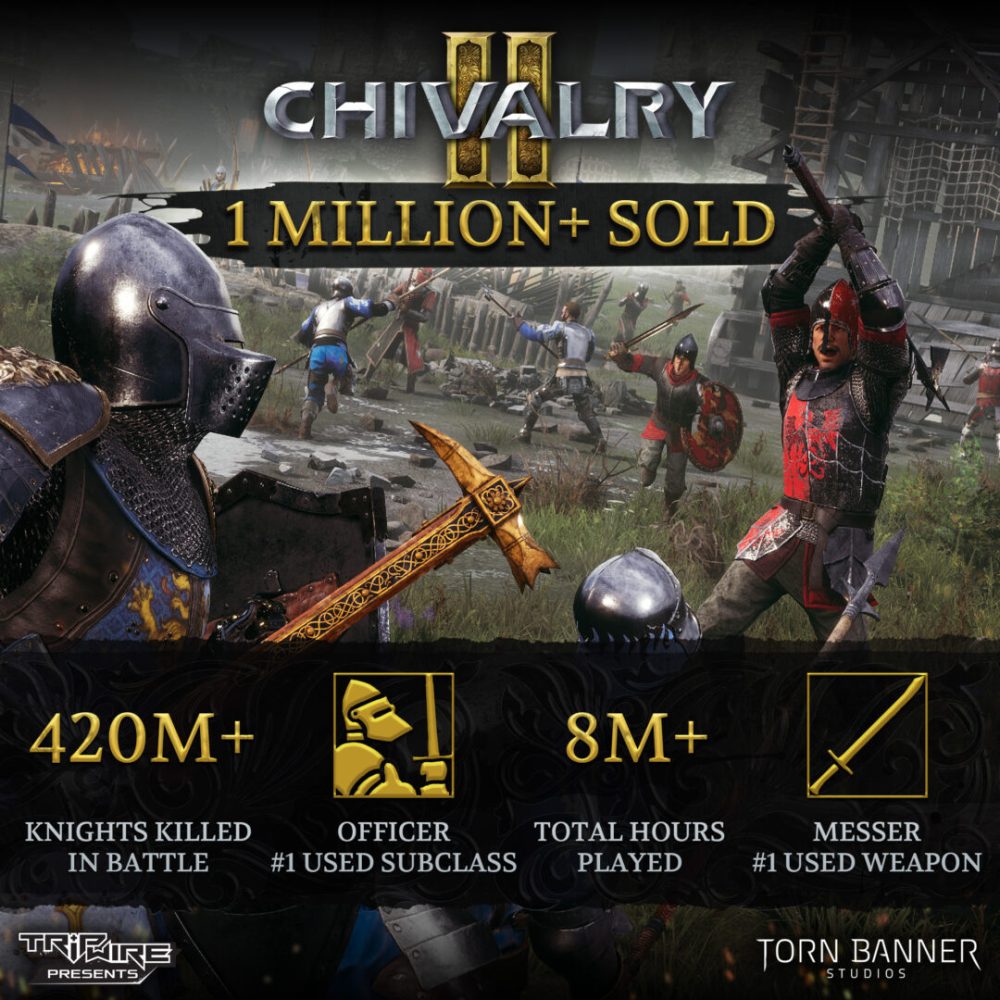 A press release explains that The Chivalry II community has been active and growing following the title's launch, with over 8 million hours of playtime logged and over 420 million combatants killed in battle. To date, the most popular subclass amongst players is the Officer and the most popular weapon is the Messer.
Steve Piggott, president of Torn Banner Studios said of today's news:
"Despite just launching in June, over a million people across five platforms have already played Chivalry II, which tells us how much more potential the game has to grow. We are so happy to have brought Chivalry II's unique experience of bloody, epic medieval warfare to so many people – and we're already hard at work expanding the game much, much more."
John Gibson, Tripwire CEO, also weighed in:
"Today we're thrilled to celebrate the amazing milestone of Chivalry II selling over one million units in less than two months! We've been blown away by the response from players and critics alike, and the team is already hard at work on more great free content and adding highly requested features such as cross-platform parties."
Chivalry II is a cross-generation for PS5, Xbox Series X, PS4, Xbox One, and PC (via the Epic Games Store), which launched pn June 8, 2023.
For more on Chivalry II, check out a trailer showcasing the Rudhelm map, which provides a siege and urban environment for knights of both sides to maim each other in brutal combat. If you're interested in a more detailed overview of the game's combat,
Twinfinite

Source link
Related Post: