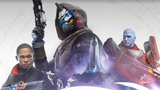 If you've been patiently waiting for Destiny 2 to finally receive crossplay, you'll be glad to know that we're one step closer to that happening. Developer Bungie has announced a crossplay beta consisting of unique Vanguard Strikes will be available from the 25 to 27 of May, on its
weekly blog
.Whilst this isn't a full-on crossplay drop, it does suggest that the long-awaited feature is still on track to be rolling out later this year. Bungie will use the data it receives back from this beta to continue its development of the Destiny 2 crossplay, polishing it up for its eventual release.The beta will be open, meaning anyone that plays the game on any of the game's supported platforms (Playstation, Xbox, Steam, and Stadia) will be able to join in on the crossplay beta. Perhaps the coolest thing about the beta test for fans is that anyone who takes part and completes three Vanguard Strikes will receive an exclusive Star Crossed emblem as a result.
However, this is very much a beta test, and therefore not all of the features of crossplay will be available during the beta period. Unfortunately, players won't be able to add friends or form fireteams in the beta, though this will be available when the full crossplay update is released.
Of course, this isn't the first taste of crossplay that Destiny 2 fans have had, as a bug previously caused crossplay to go live months ahead of its scheduled release, before being manually disabled. Bungie plans to release Destiny 2 crossplay this fall, as part of Season 15.
Liam Wiseman is a Freelance News Writer for IGN. Follow him on Twitter @liamthewiseman
IGN Video Games

Source link
Related Post: