If you are looking for some space adventure along with RPG elements, then you will surely want to try out NetEase's hit MMO, EVE Echoes. The game is about exploring the corners of outer space, forming an alliance with other pilots and a host of other wonderful things.
Recently, the game announced an extensive content update that's set to go live in June. We already have an article covering the information about the upcoming update, which you can check out if you wish to learn more.
As the game progresses, you will complete numerous story missions and upon beating them, you will be rewarded with numerous items. Now we will take a detailed look at the EVE Echoes story missions and the rewards they yield.
What are Story Missions?
In Eve Echoes, Story Missions are pre-defined tasks with stories behind them that the game assigns you. After completing the chain of story missions, players get to play the main ones. Story Missions can be bought from the in-game market or players can choose to unlock them for free by completing the aforementioned quest chains. But make sure to complete them within 10 days before they expire.
How many Story Missions are there in EVE Echoes?
There is a total of 7 Story Mission. They are Caldari, Minmatar, Amarr, Gallente, T6, T8 and T10. The T's signify the level of difficulty. Apart from that, each mission comes with different task difficulty and the rewards also vary.
How to unlock the Missions?
Before you start playing the Main or Story missions, the game asks you to complete several small quests that can be found in the Encounters section. To proceed with that, head to the character section in-game and you can find numbers of quests, 10 to be exact, listed in the Encounters, which will lead you to the Missions' section once you've beaten them.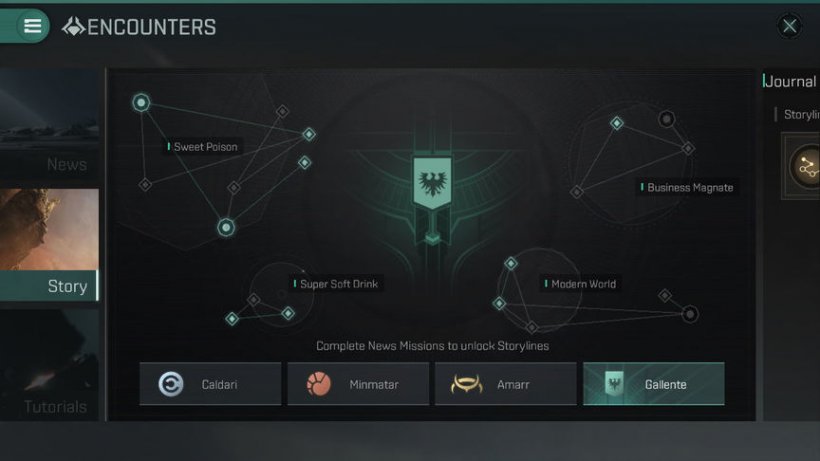 What are the rewards for completing the EVE Echoes Story Missions?
After completing each story mission, the game gives you some juicy rewards. The reward' amount depends on the level of difficulty. So, the higher the level, the bigger the reward. Here is a list of rewards you can collect after the completion of each level:
Gallente Story Mission Rewards
Super Soft Drink (T6) – 35M ISK
Modern World (T8) – 40M ISK
Business Magnate (T8) – 50M ISK
Sweet Poison (T10) – 250M ISK
Story Mission Rewards for Amarr
Spark of rebellion (T6) – 35M ISK
Divine Redemption (T8) – 35M ISK 
True Divine Trial (T8) – 60M ISK
Friends By Blood (T10) – 250M ISK
Story Mission Rewards for Minmatar
For Freedom (T6) – 25M ISK
Disaster Relief (T8) – 35M ISK
Matar Reborn (T8) – 80M ISK
Angel Or Devil (T10) – 300M ISK
Story Mission Rewards for Caldari
For Patriotism (T6) – 25M ISK
Mega Corporation (T8) – 30M ISK
A Soldier's Way (T8) – 55M ISK
Bad Hare Day (T10) – 300M ISK
For now, that's all the information regarding the rewards, which the developers update once in a while. We will make sure to update this article when the new reward pool arrives.
EVE Echoes is available now over on the App Store and Google Play. It's a free-to-play game with in-app purchases.
On the hunt for the very best RPGs on mobile? Well, here are 25 of our favourites for iPhone & iPad

Want more?
Check out our growing collection of
EVE Echoes articles!

Latest Articles | Pocket Gamer

Source link
Related Post: