Mauer Der Toten, the next Zombies map for Call of Duty: Black Ops Cold War, as well as a wealth of new Warzone content, is coming to the game on July 15.
Call of Duty fans, there's a lot to look forward to in the coming weeks of Warzone and Black Ops Cold War. A classic Multiplayer map and new modes are coming to Black Ops Cold War, while Warzone is getting its own new objective mode with Payload  – as well as other meta-changing updates.
For this update, there will be a download size of approximately 11.4GB to 21.3GB for those who own the full version of Black Ops Cold War, and 8.9GB to 10.4GB for those who own the free-to-play Warzone and are current on the latest updates on either or both games.
As detailed over on the Call of Duty blog, close-quarters Operators will have two new armaments in their arsenal once Season 4 Reloaded drops later in the week:
The OTs 9 SMG will arrive in the game on Season 4 Reloaded launch day. It's a full-auto submachine gun with impressive firepower at close range with good visibility when firing. You have reliable recoil control with smaller magazine size. It can either be unlocked via in-game challenge or have one of its Weapon Blueprints purchased via the Inside Job Store Bundle.
The mace is a melee weapon designed to cave in skulls. Lovely. "Obtain the Mace later this season either by in-game challenge, or by acquiring one of its Weapon Blueprints through the Mystic's Scepter Store Bundle," says Activision.
There's a new operator, too. Weaver (who belongs to the NATO faction) was raised in America after his mother fled the USSR with him in tow. Now part of the CIA Clandestine Service, Grigori Weaver "straddles both sides of the Cold War divide" and lost that eye to Kravchenko during a covert mission to steal space-race secrets.
"Within this bundle is his "Kremlin's Eye" Operator Skin based on his original Black Ops incarnation, in addition to three Legendary Weapon Blueprints and a new Finishing Move, where he fools the undead into ripping an enemy limb from limb!" says the blog.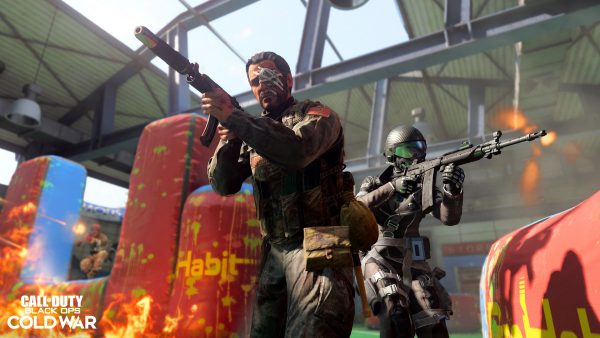 As for Warzone, the developers are introducing Warzone's first-ever objective-based game mode with this update: Payload.
"Inspired by previous traditional Call of Duty game modes like Call of Duty: WWII's War Mode, Payload pits two teams of 20 players against each other in a race against time for crucial intel, as these vehicles carry satellite parts that could help shift the balance of the war between Perseus and NATO," says the blog.
If the attacking team escorts all vehicles across all Checkpoints within the time limit, they win the match. The defending team can build obstacles to slow progress and pick off enemy fighters to help stop the push.
Warzone is also going to turn into a 'Blueprint Blitz' apparently. "Similar to Double XP weekends, Raven Software is planning to activate a new special global event where Contraband Contracts automatically spawn after you complete two regular Contracts. Contraband Contracts award you with a permanent Weapon Blueprint reward if you're able to extract it from the DZ, in addition to tons of Cash within your current match."
If you're after Blueprints from past seasons, this is going to be a good time to get them, then.
There's also a lot of new information about the incoming Zombies content for the game: you can read more about that on the blog page itself (linked above) or on our dedicated Mauer Der Toten page.
There's also loads of information about incoming bundles at the link, if you're into that kind of thing.