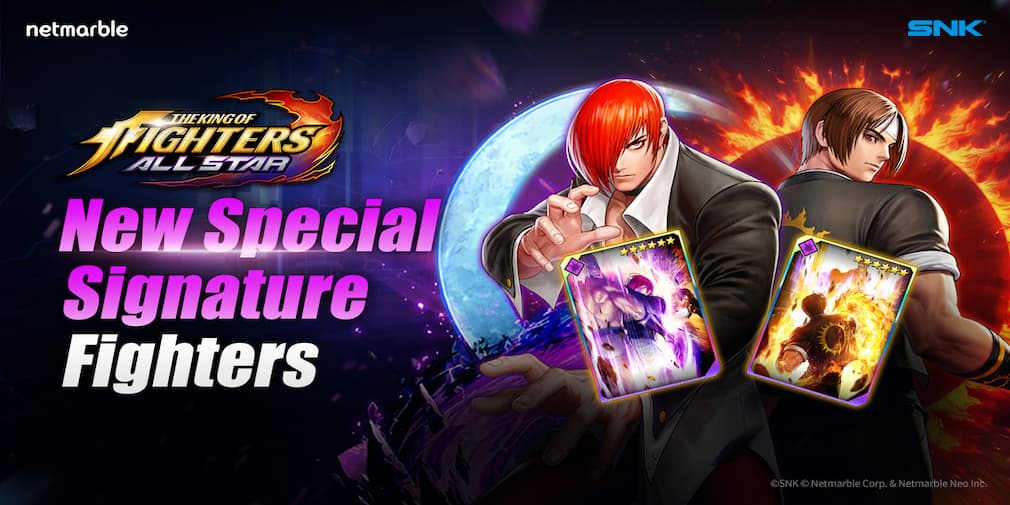 Netmarble's hit RPG, King of Fighters: All Stars, has received a new update that once again introduces Iori Yagami and Kyo Kusanagi. But this time with Special Signature variants. In addition to that, the update also adds several in-game activities based on the characters.
In this update, Yellow Element Attack type fighter, Special Signature Kyo now deals extra ATK damage along with extra Starlight DMG with his Finisher Skill. Also, his ATK attributes gain a boost when he's on low HP.
Special Signature Iori, meanwhile, is a Purple Element Balance-type Fighter who also deals powerful DMG and adds extra Burn DMG with his Finisher Skill.
Aside from the Signature characters, players can now collect Special Battle and Option Cards based on the two fighters. Below you can see everything else that has arrived with this update:
New Guild Raid: Geese Howard – A new Geese Howard Guild Raid Boss, is introduced where different players need to apply multiple Metas to overcome each difficulty level.
After completion of each level and surpassing the in-game total DMG record, rewards are up for grabs including Mystery Box rewards, Memory, Plus Imprint Stone, Skill Level Up Cards and lots more.
Rush Dungeon: Burning Dream Match (5/27 – 6/9) – This new Rush Dungeon lets you play the Kyo & Iori's Dream Match story. Rewards in this dungeon include Rubies, Enhancement Hammers, and Gold, along with Element Fest Memory Selection Boxes, Plus Imprint Stone Mystery Boxes via the Exchange Shop.
SS Awakening Event: Awaken the Special Signatures of Kyo and Iori to claim Special Signature Imprint Stone Selection Boxes, Elite Enhancement Hammers and Rubies
Carnival Event (5/27 – 6/2) – Earn points by summoning fighters, combining memories and also by exchanging dimensional invitations. Exclusive rewards contain Rare Enhancement Hammers, Plus Imprint Stone and SS Memories
Super Mission (5/27 – 6/9) – Complete the Super Missions and the selected missions to earn Element Gold Memories for their selected fighter. During this mission, 99 Whip, 99 Maxima and 99 K' will be available as selectable fighters
The King of Fighters ALLSTAR is available now over on the App Store and Google Play. It's a free-to-play game with in-app purchases.
On the hunt for a quality fighting game that you can play on your phone? Here are 25 of our favourites for iPhone & iPad

Want more?
Check out our 17 other
The King of Fighters ALLSTAR news stories!

Latest Articles | Pocket Gamer

Source link
Related Post: