A recent apparent leak for upcoming RPG Starfield shows a few images from an old build of the game, showing both third-person, first-person perspectives, HUD details and more.
Rumour: Leaked Starfield Images from 2018 Build
Recently a streamer who goes by the name of Skullzi, apparently who has sources close to the Starfield development, shared a number of Starfield screenshots apparently from an early 2018 build of the game. These include a few third-person shots and even some in first-person, as well as previewing what appears to be a collection of assets and fonts. These include a mixture of company logos and warning signs, including Axion Energy.
What's also interesting is that you can also see the HUD details, these show Oxygen capacity, stamina, health and weapons. While these images have not been confirmed by Bethesda, they look pretty real. The poster also added some details including that this is from an older build of the game. Despite that, the images seem to show lighting effects, especially with the underlighting strips.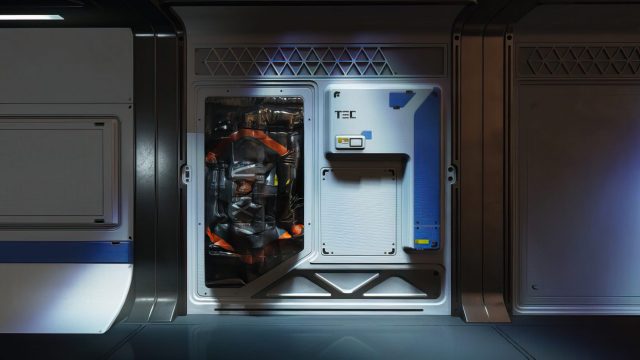 Other details that were shared were that Starfield will have factions, exactly how many is unknown, but two are mentioned, The Black Fleet and Space Nation Alliance.
Here is another "leak", not sure what you consider this one, but Starfield will have factions, and one is called The Black Fleet, and another is called the Space Nation Alliance. Have fun.

— SKULLZI ?? (@SkullziTV) May 14, 2022
Skullzi also goes on to outline a supposed feature of the game spacewalking, but doesn't want to "100% come out and confirm it". The reason for the mention of gravity is due to the gravity meter on the HUD, according to the poster there are "high gravity or low gravity" instances, which makes for an interesting challenge. If spacewalking is really part of it, it could add some interesting gameplay.
BREAKING NEWS! NEW STARFIELD LEAK!
WHAT IS HAPPENING LOL#Bethesda #E32021 pic.twitter.com/yIbDfLy5iQ

— SKULLZI ?? (@SkullziTV) May 14, 2022
While none of these details have been confirmed by the developers themselves, the images and details shared look to be on par with what we know about the game so far. What has been confirmed so far is that Starfield will be single-player RPG, and is a brand new IP for Bethesda, meaning it's one we still have little details on. But first-person/third-person perspectives is something Bethesda has done before, and all seems to fit into the Starfield aesthetic of an IP based in space.
Here are a couple more Starfield leaks: pic.twitter.com/I9Am0IfCns

— SKULLZI ?? (@SkullziTV) May 14, 2022
Here are two more Starfield leaks I guess: pic.twitter.com/yAAyAe6V95

— SKULLZI ?? (@SkullziTV) May 14, 2022
As for the release date for Starfield, that still looks to be still some time away, not this year at least according to this Twitter poster. The poster also commented about 2022 was the best bet. This sort of lines up with other recent rumours that shared a possible release date was planned for 2022 and a new copyright reservation but due to developments schedules shifting due to the pandemic, this might not be the case anymore. But until we hear something concrete from Bethesda, take all this info with your usual dose of internet salt.
If you want more Starfield be sure to drop by our Starfield wiki for all the latest info.
---
For more RPG news be sure to check out next Genshin Impact Eula Demo & Release Date and Final Fantasy XIV: Endwalker Expansion Releases On November 23rd.
Fextralife

Source link
Related Post: