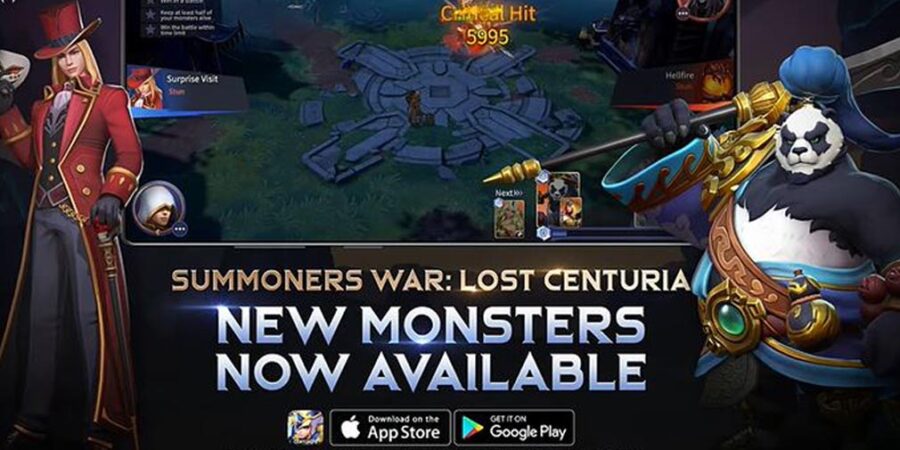 Com2uS has just given us another reason – or three – to dive into the world of Summoners War with two new Monsters and a Spell for Summoners War: Lost Centuria. The popular real-time strategy now lets players up their game in thrilling card-based PvP battles with Jean aka Phantom Thief and Panda Warrior.
Longtime fans of the franchise will likely recognize Panda Warrior from Summoners War: Sky Arena, as this powerful water attribute monster can deal devastating damage to enemies who are in mid-strike. As Mo Long, this Legendary HP-type monster can also Stun the enemy, nullifying its attack. Who says these adorable bamboo-loving balls of fluff can't be deadly on the battlefield?
On the other hand, Jean aka Phantom Thief is a fire attribute Hero monster who can target the foe with the highest attack power, dealing damage with a nasty dose of Stun as well. And finally, the lethal new Spell "Brand of Doomsday" weakens the defense of the enemy with the lowest HP and the enemy with the highest attack power. If the enemy with the Brand of Doomsday effect perishes, other enemies who are affected by the Brand will also take damage.
From now until June 17th, there will also be a Rate-Up summon event for these two Monsters to give players better opportunities to add them to their 8v8 PvP fights. With Season 2 well underway, there's no better time than now to get into the game! Summoners War: Lost Centuria is available to download on the App Store and on Google Play; it's a free-to-play game with in-app purchases. You can visit the official website or join the community of fans on Facebook to know more about the game.
Want more multiplayer mayhem? Check out our list of the top 28 best multiplayer games for Android phones and tablets!

Want more?
Check out our growing collection of
Summoners War: Lost Centuria news stories!

Latest Articles | Pocket Gamer

Source link
Related Post: