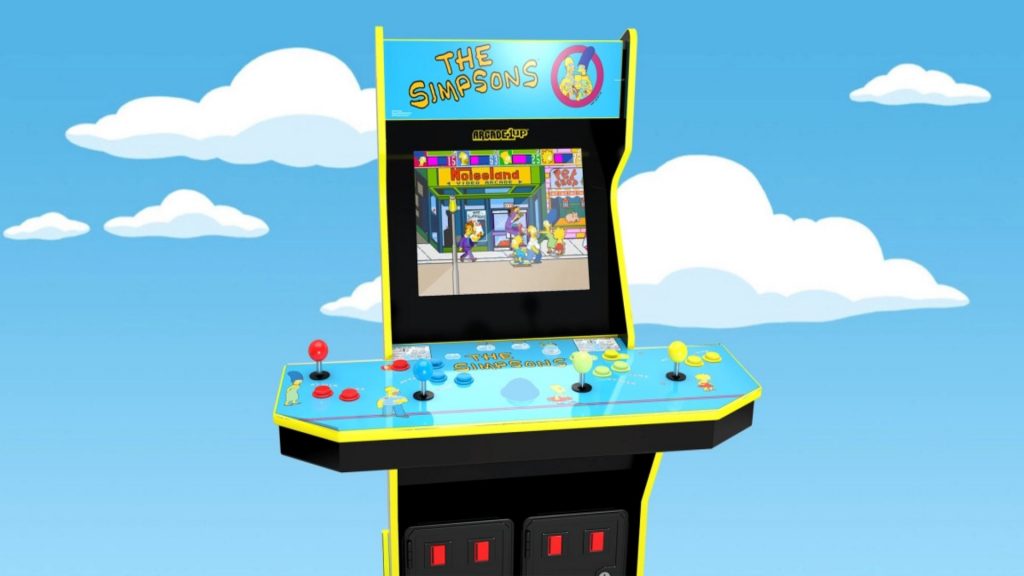 If you've been jonesing to play The Simpsons  arcade game beat-'em-up, you're in luck. The game is coming back to homes as a arcade cabinet courtesy of Arcade 1up. While the original title was released in 1991, it's still a great beat-'em-up from a bygone era when Konami made some of the greatest games out there, or at least video games in general.
The Simpsons arcade game was re-released on both the Xbox 360 and the PS3, but the game was delisted due to licensing issues. According to Siliconera, the arcade cabinet will not only include the 1991 arcade games but another mystery game that the company has not announced. Since the arcade cabinet comes with a trackball in addition to the four-player arcade controls that players will need to control The Simpsons arcade game, it's safe to assume whatever the mystery game is will require the trackball.
The cabinet's release will celebrate The Simpson's 30th anniversary. Like most of the recent commemorative and premium releases from Arcade 1up, The Simpsons will support wi-fi connections for updates and online multiplayer. The cabinet also comes with a light-up marquee, a branded stool, and a protector for the panel's surface. Like all Arcade 1up cabinets, the cabinet is 75% the size of a regular cabinet and includes a riser to bring it up to regular height. The cabinet will release sometime this year.
---
Video Game News, Reviews, Walkthroughs And Guides | GamingBolt

Source link
Related Post: